Steve Backshall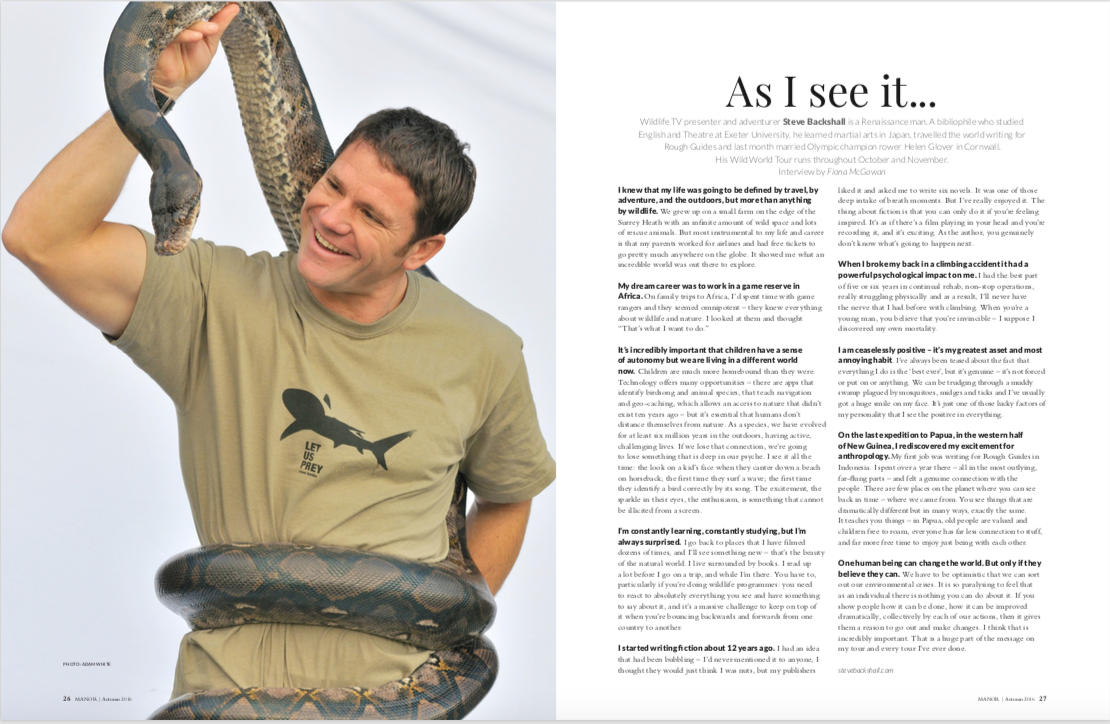 I knew that my life was going to be defined by travel, by adventure, and the outdoors, but more than anything by wildlife. We grew up on a small farm on the edge of the Surrey Heath with an infinite amount of wild space and lots of rescue animals. But most instrumental to my life and career is that my parents worked for airlines and had free tickets to go pretty much anywhere on the globe. It showed me what an incredible world was out there to explore.
My dream career was to work in a game reserve in Africa. On family trips to Africa, I'd spent time with game rangers and they seemed omnipotent – they knew everything about wildlife and nature. I looked at them and thought "That's what I want to do."
It's incredibly important that children have a sense of autonomy but we are living in a different world now. Children are much more homebound than they were. Technology offers many opportunities – there are apps that identify birdsong and animal species, that teach navigation and geo-caching, which allows an access to nature that didn't exist ten years ago – but it's essential that humans don't distance themselves from nature. As a species, we have evolved for at least six million years in the outdoors, having active, challenging lives. If we lose that connection, we're going to lose something that is deep in our psyche. I see it all the time: the look on a kid's face when they canter down a beach on horseback; the first time they surf a wave; the first time they identify a bird correctly by its song. The excitement, the sparkle in their eyes, the enthusiasm, is something that cannot be illicited from a screen.
I'm constantly learning, constantly studying, but I'm always surprised. I go back to places that I have filmed dozens of times, and I'll see something new – that's the beauty of the natural world. I live surrounded by books. I read up a lot before I go on a trip, and while I'm there. You have to, particularly if you're doing wildlife programmes: you need to react to absolutely everything you see and have something to say about it, and it's a massive challenge to keep on top of it when you're bouncing backwards and forwards from one country to another.
I started writing fiction about 12 years ago. I had an idea that had been bubbling – I'd never mentioned it to anyone, I thought they would just think I was nuts, but my publishers liked it and asked me to write six novels. It was one of those deep intake of breath moments. But I've really enjoyed it. The thing about fiction is that you can only do it if you're feeling inspired. It's as if there's a film playing in your head and you're recording it, and it's exciting. As the author, you genuinely don't know what's going to happen next.
When I broke my back in a climbing accident it had a powerful psychological impact on me. I had the best part of five or six years in continual rehab, non-stop operations, really struggling physically and as a result, I'll never have the nerve that I had before with climbing. When you're a young man, you believe that you're invincible – I suppose I discovered my own mortality.
I am ceaselessly positive – it's my greatest asset and most annoying habit. I've always been teased about the fact that everything I do is the 'best ever', but it's genuine – it's not forced or put on or anything. We can be trudging through a muddy swamp plagued by mosquitoes, midges and ticks and I've usually got a huge smile on my face. It's just one of those lucky factors of my personality that I see the positive in everything.
On the last expedition to Papua, in the western half of New Guinea, I rediscovered my excitement for anthropology. My first job was writing for Rough Guides in Indonesia. I spent over a year there – all in the most outlying, far-flung parts – and felt a genuine connection with the people. There are few places on the planet where you can see back in time – where we came from. You see things that are dramatically different but in many ways, exactly the same. It teaches you things – in Papua, old people are valued and children free to roam, everyone has far less connection to stuff, and far more free time to enjoy just being with each other.
One human being can change the world. But only if they believe they can. We have to be optimistic that we can sort out our environmental crises. It is so paralysing to feel that as an individual there is nothing you can do about it. If you show people how it can be done, how it can be improved dramatically, collectively by each of our actions, then it gives them a reason to go out and make changes. I think that is incredibly important. That is a huge part of the message on my tour and every tour I've ever done.
stevebackshall.com