Be Kind, Work Hard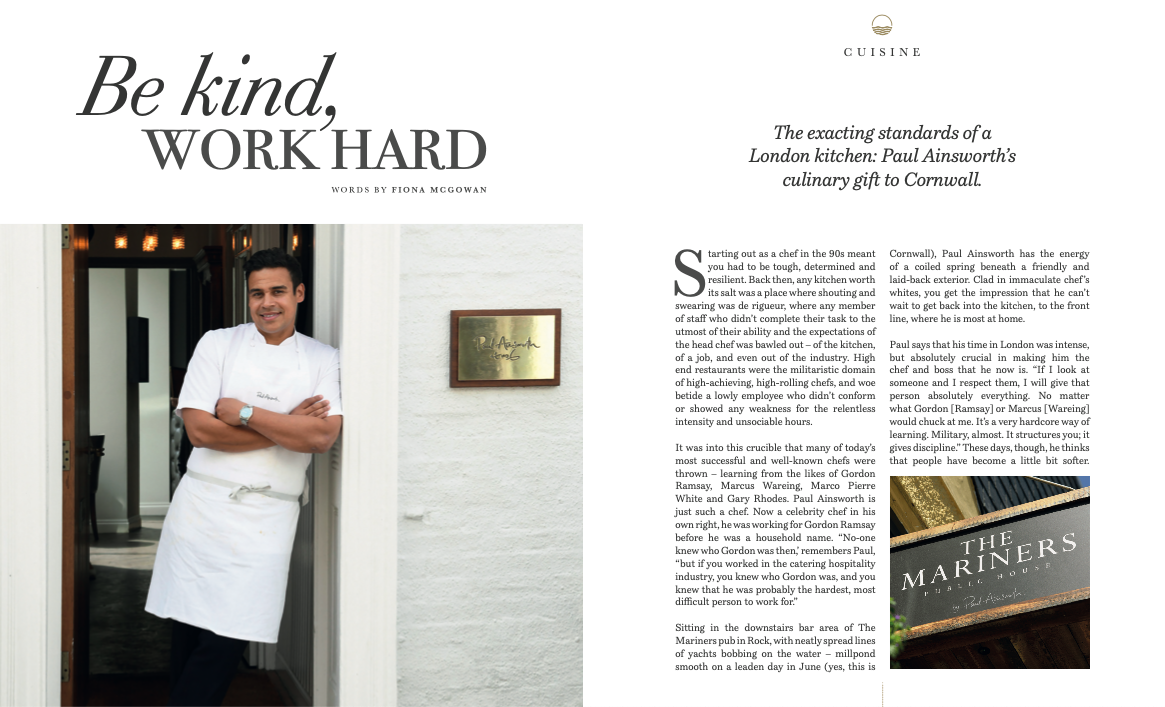 Starting out as a chef in the 90s meant you had to be tough, determined and resilient. Back then, any kitchen worth its salt was a place where shouting and swearing was de rigueur, where any member of staff who didn't complete their task to the utmost of their ability and the expectations of the head chef was bawled out – of the kitchen, of a job, and even out of the industry. High end restaurants were the militaristic domain of high-achieving, high-rolling chefs, and woe betide a lowly employee who didn't conform or showed any weakness for the relentless intensity and unsociable hours.
It was into this crucible that many of today's most successful and well-known chefs were thrown – learning from the likes of Gordon Ramsay, Marcus Wareing, Marco Pierre White and Gary Rhodes. Paul Ainsworth is just such a chef. Now a celebrity chef in his own right, he was working for Gordon Ramsay before he was a household name. "No-one knew who Gordon was then,' remembers Paul, "but if you worked in the catering hospitality industry, you knew who Gordon was, and you knew that he was probably the hardest, most difficult person to work for."
Sitting in the downstairs bar area of The Mariners pub in Rock, looking out at neatly spread lines of yachts bobbing on the water – millpond smooth on a leaden day in June (yes, this is Cornwall), Paul Ainsworth has the energy of a coiled spring beneath a friendly and laid-back exterior. Clad in immaculate chef's whites, you get the impression that he can't wait to get back into the kitchen, to the front line, where he is most at home.
Paul says that his time in London was intense, but absolutely crucial in making him the chef and boss that he now is. "If I look at someone and I respect them, I will give that person absolutely everything. No matter what Gordon [Ramsay] or Marcus [Wareing] would chuck at me. It's a very hardcore way of learning. Military, almost. It structures you; it gives discipline." These days, though, he thinks that people have become a little bit softer.
And as a boss, he has also had to adapt his style of management.
He is still strict, he says – ensuring that the exacting standards of a London kitchen are applied to each of his eateries in Cornwall. But instead of yelling at someone for slacking in front of the whole team, he'll take them aside and have a word after service is finished. At The Mariners, you can tell that he has the staff on a tight leash. Well before lunch service has started, there is a buzz of efficient activity. The staff are smartly dressed and polite – eyes constantly roving to monitor the customers' needs. Their keenness to impress Paul is palpable.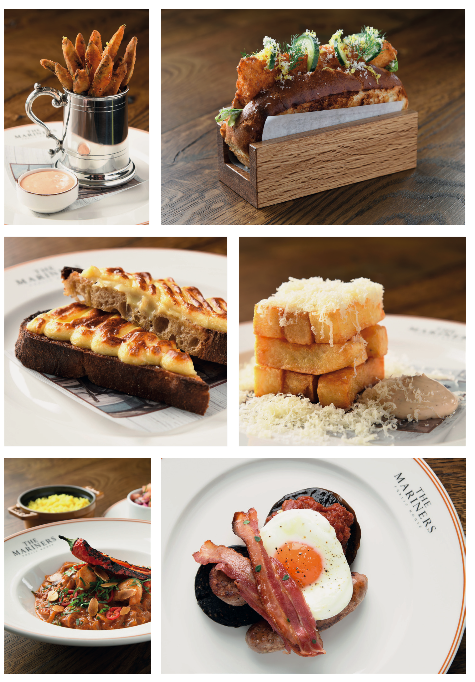 The Mariners is the latest venture in the Ainsworth collection. The pub, owned by Sharp's Brewery, was previously run by another of Cornwall's young success stories: Nathan Outlaw. After five years, Outlaw decided to move on, and Paul jumped at the chance to branch out from his Padstow base. Although it is just across a small stretch of water from the foodie destination, Rock is a very different kettle of fish. It is small and fairly unprepossessing, but renowned as a hideaway for second-homers and discerning vacationers. The winding seafront is dominated by a watersports centre, slipway and small harbour, and it's backed by a smattering of low-key properties. A little boat service ferries people back and forth to neighbouring Padstow. There is a big café and a couple of beachy shops. And then there's the big pub building called The Mariners.
The Mariners has been an institution since the 90s – and favourite drinking spot of the young royals. Paul and Emma Ainsworth have put their own stamp on the place. The interior is all understated dark wood and slightly steam-punky bar vibe. Downstairs is an open space with massive wide-screen wood-burner (yes, alight even in June) and comfortable russet-themed bucket seats.
Although this is not an olde worlde pub, explains Paul, he wants people to feel the comforting vibe of walking into your local. Downstairs, food orders can be made at the bar, and (if you can find a seat), you can eat without needing a reservation. Upstairs feels more like a gastropub – tables in the high season will certainly need to be booked, and it's waiting-staff service. You can sense more than hear the busy activity in the kitchen as the chefs prep for lunchtime. The menu is a stroke of genius, offering pub classics with the panache and ingredients you would expect from a Michelin-starred chef. A delicious-looking Ploughman's Lunch that isn't your standard lump of cheddar, chunk of bread and limp iceberg lettuce. Pies that look like works of art, but taste the business. Fish and chips and shepherds' pie – all the old favourites that Emma's gran would eat, explains Paul with a twinkle.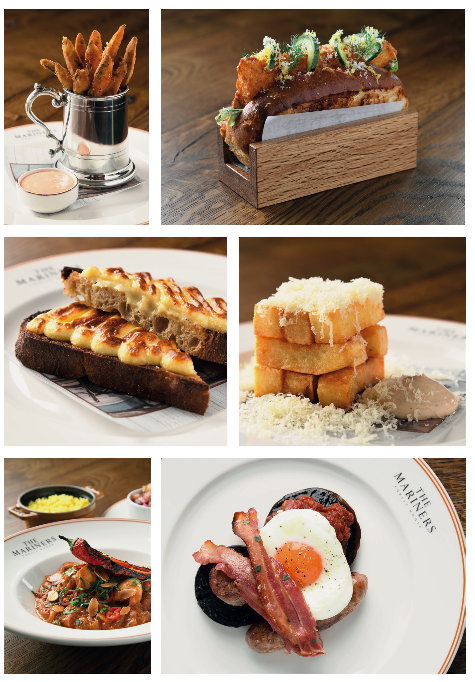 "We opened three weeks ago," says Paul, almost nonchalantly, although there must have been a frenetic amount going on in the background. The Ainsworth empire has slowly been expanding since Paul first arrived in Padstow on a wing and a prayer. Unusually for people choosing to work in Cornwall, Paul didn't pick Padstow as a lifestyle choice. He has always been driven towards success – but not for the sake of any financial or status rewards. "I always wanted to do something good with my life," he says, passionately, "I knew that the only way to do that was just to work hard – as hard as I can – somewhere good." He pauses for a second, and adds, "And learn. And never ever, ever give up."
When he decided to leave for north Cornwall, his previous boss, Marcus Wareing was less than enthusiastic. He gave dire warnings that it would be the death knell for his career – he had recognised that Paul was a rising star, and couldn't imagine that he could have an impact in what Marcus viewed as a 'fish n chips and bucket n spade town'. But Paul followed an instinct. Rick Stein had already got a hold on Padstow, but his fish eateries had not yet reached their pinnacle, and when Paul and three colleagues had a chance to open a new restaurant in the town, they jumped at it. Within three years, the others had moved on, and Paul was left to run the restaurant as he pleased.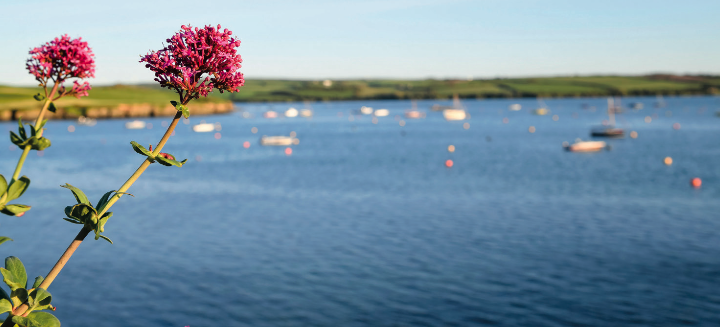 Being in coastal Cornwall, as anyone in the catering industry will tell you, is all about the seasons. And that doesn't just mean the seasonal influx of tourists. It means that the food you serve is genuinely seasonal. "In London," says Paul, "I honestly didn't really understand what seasons were. That sounds mad as a chef. But I didn't. Cornwall taught me about seasons." From locally grown asparagus ("we only serve it for six to eight weeks of the year") to choosing what seafood to serve ("local fishermanJohnny Murt is trying to get everyone to eat spider crab at the moment"), the menu changes with the seasons. Local produce is not just a marketing ploy; it guarantees quality. Having a relationship with the suppliers is key to sourcing the best ingredients, and of course, import costs – both financial and environmental – are reduced.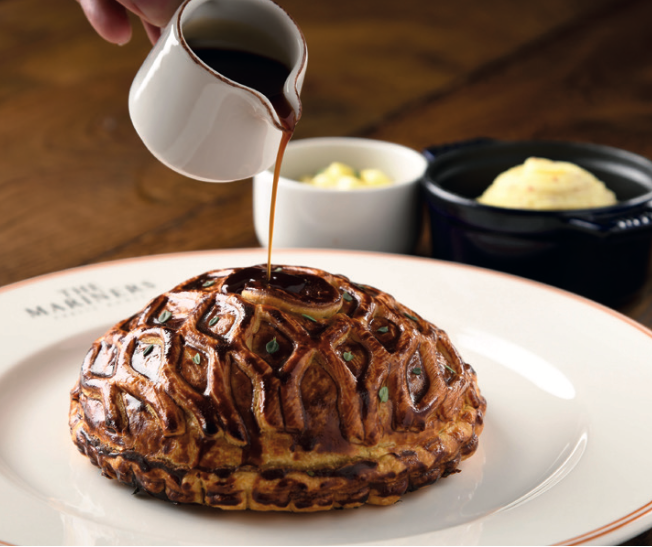 Initially, though, Paul Ainsworth had to deal with the downside of seasonal fluctuations. When he started out in Padstow, No.6, his fine-dining restaurant, was dependent on visitors in the school holidays. He struggled to deal with the downtime. While others were able to take the time to relax and make improvements to their businesses, Paul, used to the mad whirl of London cheffing, was at his wits end. "You should ask Emma about it," he says, ruefully, "I'd start work at 7am and be back by 7pm, and just be pacing around the front room." It is this energy that clearly drives Paul to set up more businesses. After five years of running No.6 as a successful Michelin-starred restaurant, he and Emma set up Italian eatery Rojanos. Creating a dramatically different offering (unlike the Steins, who simply developed variations on a very successful theme) was a huge benefit. Paul says that a big, busy, affordable bistro serving pizza and pasta with his trademark quality ingredients and expert chefs was a financial boon.
Paul Ainsworth now employs 130 people in Padstow and Rock. It is an achievement that he has worked hard to gain. He has learned so much along the way, he felt motivated togive something back to his industry. He first started donating money to national charity Springboard several years ago. But over time, he wanted to offer something more to this
organisation that helps people who have fallen on rough times to get employment in catering and hospitality. He and Springboard created an apprenticeship course at Truro and Penwith College – where students who show particular promise are offered a place at the Ainsworth Academy and get a chance to work in one of his businesses. While their college tuition is being paid for, the students can choose to work in any area, from accountancy to front of house to chef-ing. There are already a number of success stories, not least 17-year-old Olivia, who is now working front of house at No.6.
It's almost by-the-by that Paul mentions another recent string to his business: Mahé, the culinary workshop-slash-chef's table at No.6. There will be no resting on laurels for the Ainsworths – especially given that the seasonal nature of tourism is changing. With more and more holiday makers heading for the coast of Cornwall year-round, and withPadstow becoming one of the UK's top foodie destinations, it seems that Paul picked just the right place to set up shop. Paul's business acumen and his determination to offer the very best in hospitality to every single customer is underpinned by his mantra. "It may sound corny or cliché'd but I've always said: be kind, work hard and get on."
paul-ainsworth.co.uk