Bean to Bar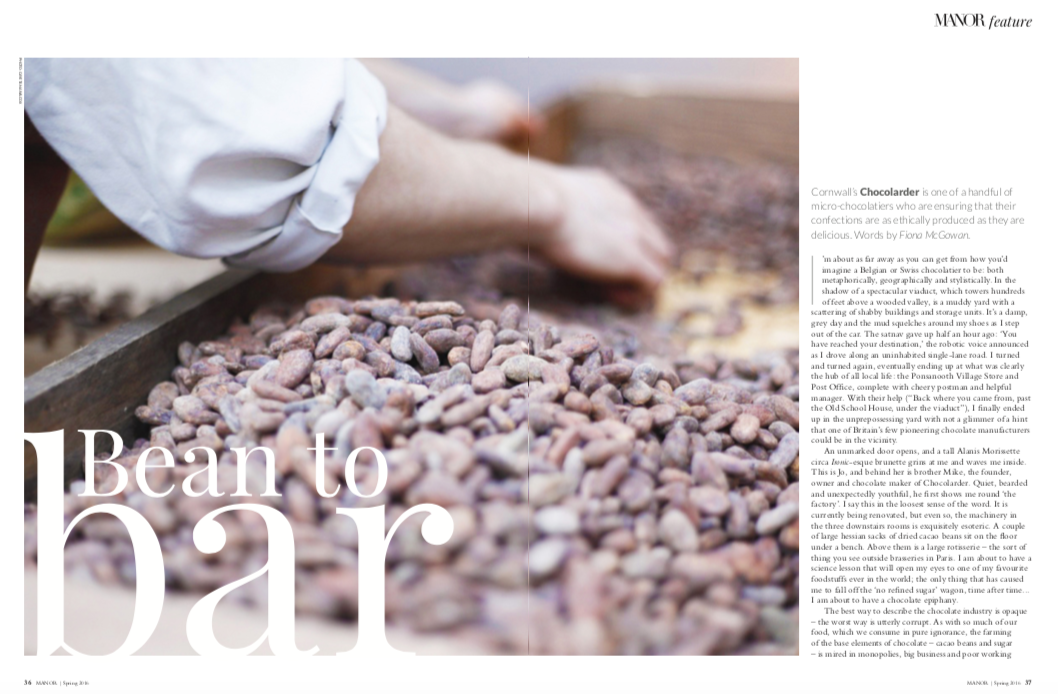 I'm about as far away as you can get from how you'd imagine a Belgian or Swiss chocolatier to be: both metaphorically, geographically and stylistically. In the shadow of a spectacular viaduct, which towers hundreds of feet above a wooded valley, is a muddy yard with a scattering of shabby buildings and storage units. It's a damp, grey day and the mud squelches around my shoes as I step out of the car. The satnav gave up half an hour ago: 'You have reached your destination,' the robotic voice announced as I drove along an uninhabited single-lane road. I turned and turned again, eventually ending up at what was clearly the hub of all local life: the Ponsanooth Village Store and Post Office, complete with cheery postman and helpful manager. With their help ("Back where you came from, past the Old School House, under the viaduct"), I finally ended up in the unprepossessing yard with not a glimmer of a hint that one of Britain's few pioneering chocolate manufacturers could be in the vicinity.
An unmarked door opens, and a tall brunette grins at me and waves me inside. This is Jo, and behind her is brother Mike, the founder, owner and chocolate maker of Chocolarder. Quiet, bearded and unexpectedly youthful, he first shows me round 'the factory'. I say this in the loosest sense of the word. It is currently being renovated, but even so, the machinery in the three downstairs rooms is certainly esoteric. A couple of large hessian sacks of dried cacao beans sit on the floor under a bench. Above them is a large rotisserie – the sort of thing you see outside brasseries in Paris. I am about to have a science lesson that will open my eyes to one of my favourite foodstuffs... I am about to have a chocolate epiphany.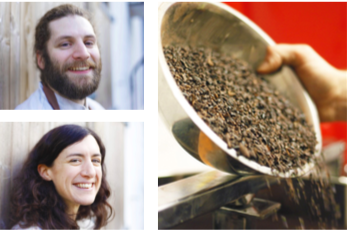 The best way to describe the chocolate industry is opaque – the worst way is utterly corrupt. As with so much of our food, which we consume in pure ignorance, farming the base elements of chocolate – cacao beans and sugar – is mired in monopolies, big business and poor working conditions. Both products grow in the tropical regions of developing countries. Due to the power and wealth of the big businesses, and the desperation of local communities, what minimal regulations are in place are poorly enforced, and child labour is rife. Even products carrying the 'Fair Trade' label have to be treated with suspicion, says Chocolarder's Mike Longman, who has become deeply engaged with the ethical side of importing cacao.
Collecting, fermenting and drying cacao beans is highly labour-intensive and is entirely done by hand. People have to climb the trees to collect cacao pods; they have to individually pick out the pith-coated beans from the pods and put them into wooden crates lined with banana leaves, where they are fermented in their own juices and the tropical heat for several hours, before they are spread out on the ground to dry for two or three days.
What is fascinating is that each stage of this process has an effect on the taste of the bean: the amount of time they are fermented, how long they spend drying in the sun, and the very soil in which the cacao trees grows, all have an impact on the taste. And just like coffee beans or the grapes for wine, different countries and regions produce very different flavours. Big conglomerates, however, have never differentiated the beans; they simply buy the highest yield commodity from all over the world – from Venezuela to Congo and from Brazil to Madagascar – and combine the beans to sell on the mass market. Usually, the beans are taken to giant factories, machine sorted, roasted and milled into a fine powder. At this stage, the multinational chocolate makers buy the powder, then combine it with an array of ingredients including palm oil, preservatives, sugar, milk powder and flavourings to produce the sweet confection we know and love.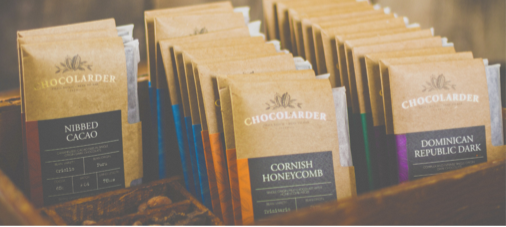 I'm afraid I will never look at a bar of Dairy Milk or even an exclusive box of Swiss chocs in the same way again. Turn over the ultra-recycled and recyclable packaging of a bar of Chocolarder dark chocolate, and the ingredients list reads thus: cacao beans, sugar. The milk chocolate is a bit more elaborate: cacao beans, sugar, milk powder. That's impressive.
Back to the beans in the factory under the Ponsanooth viaduct... Having been hand sorted (a 75kg bag takes nearly two hours to sort), they are gently turned in their re-assigned rotisserie until they are brittle and ready to be cracked open in a hand-operated grinder. Mike guides me across a floor littered with building materials ("you must come back when this is all finished," he says, apologetically) to the next machine. It's like something out of Scrapheap Challenge or Robot Wars. A bastardised sausage-stuffing machine feeds into a plastic plumbing tube, which splits in two – one part emptying into a big bucket, and the other leading through a hole in a cardboard box. The nozzle of a vacuum cleaner is attached to a hole on the other side of the cardboard box. "This is a prototype," explains Mike, with a scientist's enthusiasm (he's actually an ex-pastry chef with an Economics degree). "I'm going to send it off
to a manufacturer to create it in metal." 
I hope he gets a patent out on it; it could transform the micro-chocolatier market... This machine is designed to shuck the husks from the roasted beans and filter the 'nibs' – the bitter dark brown bits of bean. The vacuum cleaner pulls the husks – which are very light – into the cardboard box. They are massively high in minerals and nutrients and are passed on to local plant nurseries and allotments, where they are used as a sort of compost super-food. The nibs are then put into a blender, which heats up, melting the cocoa butter in the beans, and turning the whole lot into a soupy paste.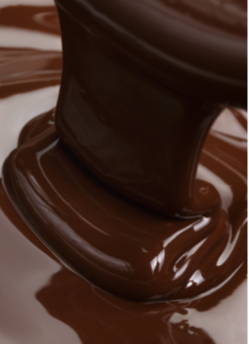 Into Room 2. Here are two large barrel-like vats, which look purpose-built. Mike opens the metal lid of one. Like a child in Charlie and the Chocolate Factory, I gaze into a creamy, chocolatey liquid and can hardly restrain myself from dipping a finger in. It looks gooood. They are not exactly purpose-built, however: these 'conching' machines are Indian dosa grinders, designed for making flatbreads. They work perfectly for grinding cacao beans: two milling stones roll around the base of the vat, crushing the beans with such force that they generate 45 degrees of heat and turn them first into a paste, and, after several hours, into a creamy sauce. Raw sugar is added and the mixture gets 'conched' – which basically means stirring it to change the shape of the particles from jagged to rounded and smooth, which actually alters the way you taste it.
We step over some recently painted bright red struts lying on the floor and into Room 3. "The conched chocolate gets poured into big square blocks and aged for 30 to 40 days on these racks here," explains Mike. Next step – and finally a genuinely purpose-built piece of equipment – machine that stirs the conched bean liquid, heating it and cooling it as it circulates.
Phew. This is hardly Willy Wonka world, but I am still agog at the complexity behind the lowly chocolate bar. It genuinely should be the food of royalty. Surely a product with this much provenance should be a once-a-year luxury treat. Surely it should be up there with caviar and dodo meat as a delicacy. Upstairs in the Chocolarder office, I hear a little more about this divided industry. "There are basically two industries: the bean-to-bar chocolate makers like us – of which there are only about seven businesses in the UK at the moment – and every other so-called 'artisan' chocolate maker, who buy in ready-made Belgian chocolate, melt it down, mix in other ingredients, re-package and put 'Handmade in' Cornwall or Devon or wherever. I don't have any problem with them doing this, but it's a different industry. There's no comparison."
I look down at the coffee table. A bar of chocolate is sitting there, making eyes at me. "Can I – er – try some?"
I ask tentatively. It is 65% dark chocolate. "I love dark chocolate," I say, trying not to salivate. "The darker the better, really." I break off a piece, remembering something I read about the texture of the chocolate being a huge part of the dopamine-releasing, serotonin-increasing experience of chocolate. I have to say that this was when I had the epiphany moment. I have never eaten chocolate like it. There were actual flavours. I felt myself turning into one of those wine-buff types – I could taste elements that I could only describe using words like 'berries' and 'sandalwood'. I restrained myself.
"That is made from a Peruvian bean," Mike cuts into my taste-bud reverie. "It's very deep and aggressive in its flavour. It has longer fermentation with fewer turns. It has more acidity to it. It sits a lot better as a sweeter chocolate. Whereas the Dominican bean is much fruitier and more floral, so it works much better as a darker chocolate like the 80% bar here."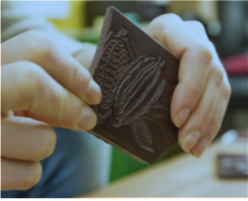 I could have sat there all day, eating that manna from heaven, but Mike had to rush off to pick up his youngest daughter from nursery – but before he left, he had to sort out a bag-full of cacao nibs for the boss of local gin and vodka maker, Curio. Of course he does. Curio's chocolate vodka is made with Chocolarder's ethically sourced cacao nibs.
As I step out of the factory, I see that the popular Dynamite Valley micro brewery is right next door. It strikes me that, like the huge burgeoning of micro breweries, there is a future for genuine artisan 'bean-to-bar' chocolatiers in this country. And Mike Longman is one of only a handful of pioneers so far – including Willie Harcourt-Cooze in Devon, who shot to fame when he was featured in a Channel 4 reality programme in 2008, and now runs the internationally successful Willie's Cacao brand. Other brands that have carved out a niche include Hotel Chocolat, Duffy's Chocolate, Seaforth and Forever Cacao. 
In America, it's a rapidly growing industry, especially as North American chocolate-makers have relatively easy access to Central and South America. It is these independent micro-chocolatiers who help Chocolarder to ensure that their beans are 100% ethically sourced: they travel down to the plantations themselves and pay workers much higher wages than the big multinational distributors. Similarly, the unrefined sugar is sourced only using personal contacts who have visited the farms and plantations that produce the sugar cane. Mike's also determined to avoid the massive carbon footprint of importing the beans halfway across the world via cargo ship or plane, so the next step is putting the beans on the magnificent Tres Hombres sailing schooner, which will dock at Falmouth, where an electric van will transport the beans to the factory.
It is pretty clear that making chocolate to these standards, with these overheads, cannot be making much profit. So what exactly is in it for Mike, who, along with his healthcare-worker wife, is supporting his young family? "I just want to educate people, really, about where chocolate comes from, and how to minimise the damage of making chocolate. And it's about the flexibility and the lifestyle, rather than the money..." With a happy grin, he climbs into his car and drives off to attend to the next generation.
Chocolarder products can be ordered from the website: chocolarder.com
Available in various outlets and cafes across Cornwall, including the Finisterre shops, and cafés like Espressini in Falmouth, the Brew House in Porthleven (when it reopens), Strong Adolfo's, the Jam Jar (Newquay), Muddy Beach in Penryn, Scarlet wine shop in Hayle. It is also sold at the Earth & Water and Baileys Country Store in Penryn; The Natural Store in Helston and Falmouth; Picnic, and Create Arts Café in Falmouth; Archie Browns and Cornish Food Box Company in Truro; the Common Wanderer in St Ives; the Scarlet Hotel and Bedruthan Steps Hotel, theEden Project, St Michaels Mount; then further afield, in The Better FoodCompany in Bristol and Claire's Cornish Kitchen in Primrose Hill.