Cheers of Jubelation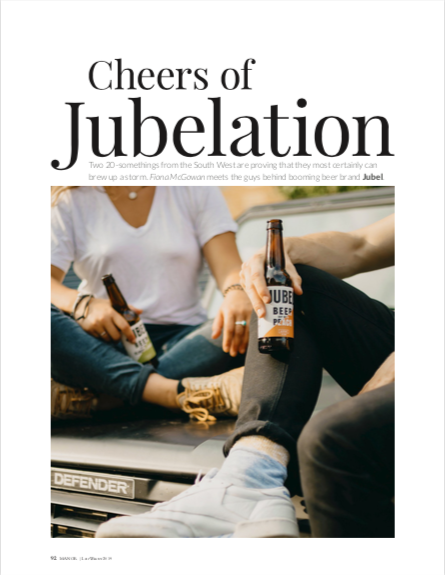 I am not a beer drinker. Once upon a university, I used to drink pints of ale, not because I particularly liked it, but because it was cheap and because it wasn't gassy, so you could drink more of it, more quickly. We'll gloss over a brief period of sickly, flavoured alcopop drinking... As a 20-something wannabe-sophisticate, bottled lagers were de rigueur – especially if they were golden-pale, Spanish-sounding and had a chunk of lime shoved in the top. As time caught up with me, I realised that beer was a no-no: like cheap wine, beer would leave me with a hangover, puffy face and bloated body that took days to get over. And don't even go there with all the late-night calories that my ageing metabolism couldn't burn through.
The gluten-free market is booming, and beer brands have jumped on the bandwagon. The debate on gluten rages: are people becoming more intolerant to foodstuffs? Is mass-produced grain more liable to cause gluten issues? Are people blaming gluten for the fact that they are overweight? Are we all becoming dreadful fusspots? Intolerance is, for the most part, highly subjective. Short of doing elimination diets and reintroducing specific foodstuffs incrementally and charting the results, none of us will really know why we get headaches, puffiness, digestive problems or brain fog after consuming food or drink. But it stands to reason that the less mass-produced and less processed our food and drink, the better it is for our bodies.
Gluten-free lager is relatively easy to produce. Beers are usually made with malted barley and/or hops, and barley is fairly low in gluten to start with. Understanding that gluten is such a big deal in the Western market (a recent Mintel report showed that 15 per cent of households now avoid gluten) means that a lot of beer brands are offering gluten-free alternatives. So says Tom Jordan, 25-year-old co-founder of Jubel beer, whose learning curve about the beer business has been nothing short of vertiginous since its inception in 2017.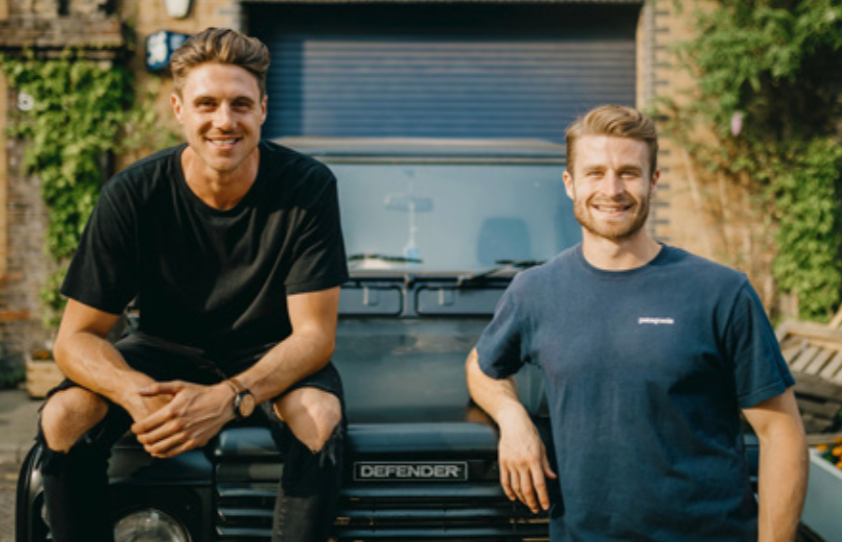 Friends Jesse Wilson and Tom Jordan were reminiscing about a university skiing holiday in the Alps – where they drank lagers flavoured with peach syrup and danced to a tune called Jubel. The peach syrup idea had appealed so much that they brought a bottle of it back home and started lacing their friends' lagers with it. A couple of years later, both were on the corporate career ladder in London – Tom working in sales at the London Stock Exchange and Jesse in marketing at Mars – when they heard that song in a bar. And, with the insouciance of youth, they thought – why don't we make peach beer and try to sell it?
Both Tom and Jesse had a strong connection to the South West – Jesse is half Cornish, Tom grew up in Falmouth, and they both went to Exeter University – so it was natural that they decided to brew their first batch of beer in Cornwall. "We put together our savings and we brewed 5,000 bottles down in Cornwall," says Tom, "We wanted a nice crisp lager with peach extract added to it." 
They did their homework: looking at the market for flavoured ciders, and getting in touch with the likes of Fever Tree to research the best quality flavourings. "We are pretty good at talking to people in the industry and people who had drinks brands," says Tom. And then they spent the summer of 2016 carting their beers around to festivals in the South West. Taking a punt with 5,000 bottles was quite a risk, admits Tom: "We hadn't really tasted it – we'd only done really small batches before. The risk was: if it didn't sell, we would have lost the money we'd put into it 10 grand or whatever – but we'd at least be able to carry on doing our jobs." And, at the tender age of 23 with their careers ahead of them, perhaps that wasn't such a huge risk.
They had made a commitment to each other that if they sold all 5,000 bottles, they would quit their jobs and start a business. They sold out at every single event. And  the Cornish flavoured beer brand was born. By 2017, they had a business plan, an investment deck and were on the way to a crowdfunding campaign when they found a lead investor: "Someone who had been following our story and loved the product and thought we had a good opportunity. He's pretty passive, he likes to leave it to us to run the business, which is what we always wanted."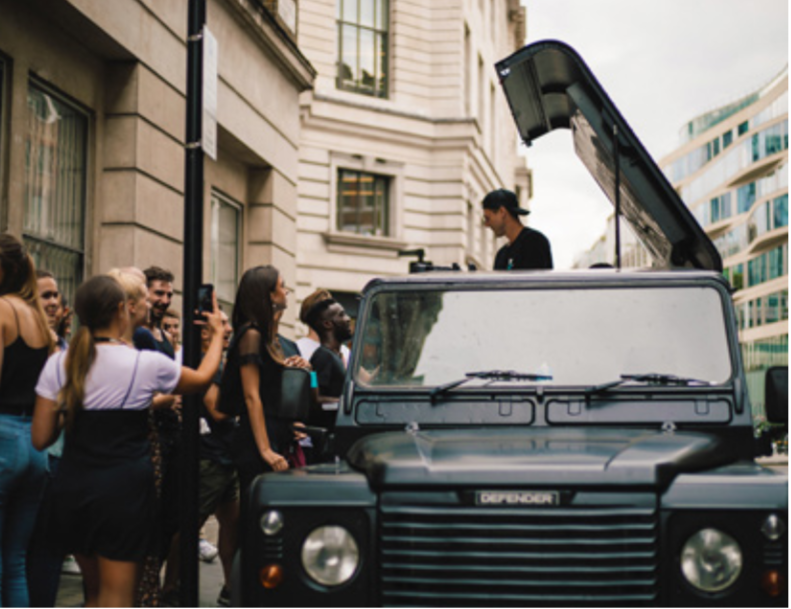 Although Tom and Jesse were living in London, they were keen for the brand's roots to be Cornish, and they started a contract with St Austell Brewery. "We wanted to represent the contemporary side of Cornwall – along with cool brands like Finisterre. It's not necessarily about embedding yourself in one place – we were never going to put a Cornish flag on our packaging. But there's a lifestyle side to it that is very much about Cornwall."
In the spirit of bridging the gap between Cornwall and the rest of the world, Jubel has an office near Falmouth and an office in 'the beer mile' in Bermondsey – surrounded by other beer companies – says Tom as "a fun part of town to be in". His background in sales (albeit only a couple of years) has meant he has taken the mantle of garnering contracts with pubs, bars and retailers, while Jesse has got stuck in with marketing and production. 
Jubel has spread quickly. It has been taken on by big pub chains and numerous smaller pubs and bars across the country. It is available in bottles and on draft in Fullers and Everards pubs. And recently, Tom has scored a contract with Sainsbury's – Jubel is now available in 600 of their supermarkets around the country. At the end of 2017, they did a funky re-brand  and developed their distinctive slash-through logo – "We were trying to show that we were cutting through the beer and cider industries" – and introduced an elderflower infusion version of Jubel.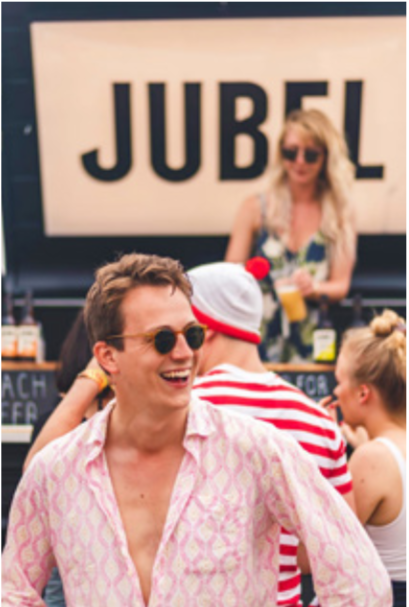 Like most millennials, Tom and Jesse are deeply conscious of the environment and nutrition. While the 'eco' and 'free from' tags are often used as cynical marketing ploys by more established brands, the younger generation has grown up with this awareness. Jubel has found a company that produces waterproof labels entirely without plastic or foil – surprisingly difficult to do, as pure paper labels tend to disintegrate as soon as they get wet. Their draft beer has the advantage not just of tasting better ("If you minimise oxygen through less packaging, it improves the taste"), but of reducing the amount of weight and bulk for transportation. They are looking at putting Jubel in cans, not because it's any cheaper to produce, but because it will reduce the weight and reduce transportation emissions. Jubel also offsets the emissions from every bottle made by getting trees planted around the world. "We'd really like to put sustainability at the core of every business decision that is made," enthuses Tom.
So back to the gluten-free thing: Jubel wasn't initially a 'gluten-free lager'. But in that first summer of touting on the festival scene, Tom and Jesse were right at the sharp end of customer reactions: "I think we served about 30,000 people over that summer," says Tom. "We were so close to all the feedback on the product..." They found that a lot of drinkers ("definitely more skewed towards females") would have liked it more if it were gluten-free. Quick to respond, they took their request to St Austell Brewery. "We add an enzyme to the beer that breaks down any residual gluten particles," Tom explains. "Every single batch is tested, to make sure it is below a certain number of parts per million." The result, he says, is a lighter beer, and of course, a benefit to sales.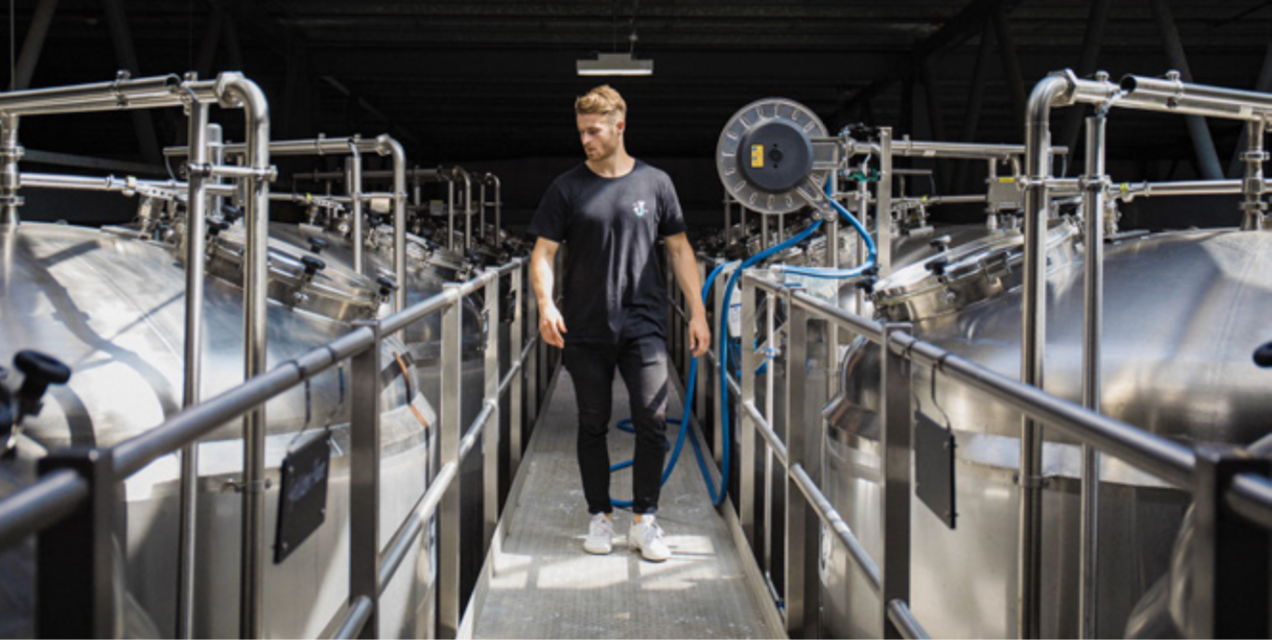 I wonder whether he thinks gluten intolerance is a genuine issue, or just a finicky consumer market which can be pandered to. As it happens, both he and Jesse have first-hand experience of gluten intolerance. "I've known Jesse for seven years. He used to drink beers, and he always just thought he had bad hangovers the next day. But he's cut out gluten in the last year and a half, and you notice a considerable difference with him – especially working with him the next day. If he's had gluten the night before, he's a bit slower and not quite on it as much. They call it brain fog." Now, he grins, "he can put Jubel beers away, no problem."
The two flavours of Jubel lager are very distinctive. The peach one has a sweet taste to it, edging towards a flavoured cider. The elderflower flavour is so mild
that it is more of a hint of a taste. But this is still very much a light, clean lager – not so far away from the lime-in-the-neck lagers of my younger days. With plans to add another infusion and to expand nationally and internationally, these young entrepreneurs may well be at the cusp of a lager revolution. Move over G&T infusions and flavoured ciders – beer-with-a-twist might be the next big thing on your bar tab.
jubelbeer.com