Dishing it out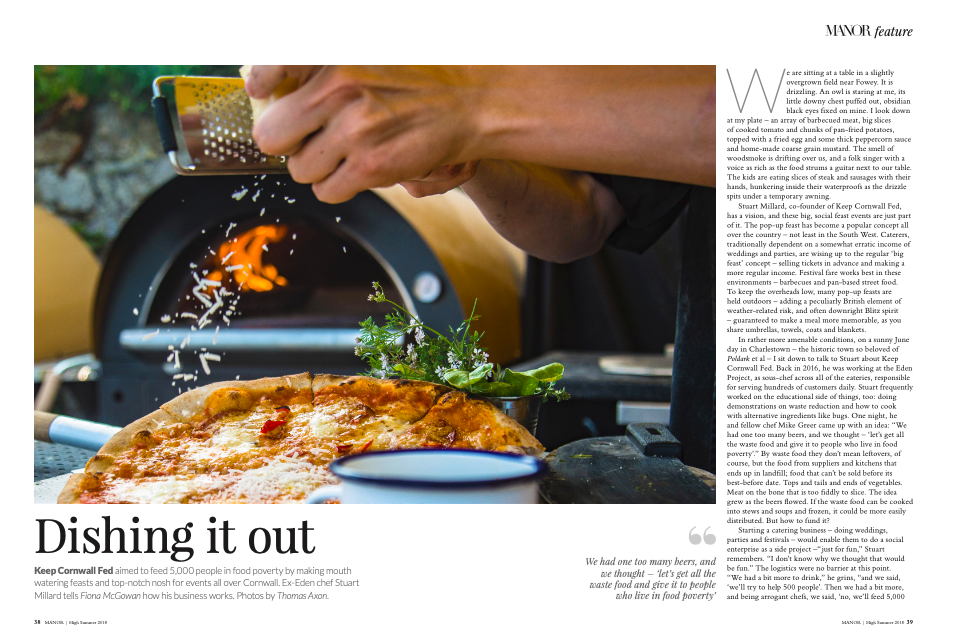 We are sitting at a table in a slightly overgrown field near Fowey. It is drizzling. An owl is staring at me, its little downy chest puffed out, obsidian black eyes fixed on mine. I look down at my plate – an array of barbecued meat, big slices
of cooked tomato and chunks of pan-fried potatoes, topped with a fried egg and some thick peppercorn sauce and home-made coarse grain mustard. The smell of woodsmoke is drifting over us, and a folk singer with a voice as rich as the food strums a guitar next to our table. The kids are eating slices of steak and sausages with their hands, hunkering inside their waterproofs as the drizzle spits under a temporary awning.
Stuart Millard, co-founder of Keep Cornwall Fed, has a vision, and these big, social feast events are just part of it. The pop-up feast has become a popular concept all over the country – not least in the South West. Caterers, traditionally dependent on a somewhat erratic income of weddings and parties, are wising up to the regular 'big feast' concept – selling tickets in advance and making a more regular income. Festival fare works best in these environments – barbecues and pan-based street food.

To keep the overheads low, many pop-up feasts are held outdoors – adding a peculiarly British element of weather-related risk, and often downright Blitz spirit – guaranteed to make a meal more memorable, as you share umbrellas, towels, coats and blankets.
In rather more amenable conditions, on a sunny June day in Charlestown – the historic town so beloved of Poldark et al – I sit down to talk to Stuart about Keep Cornwall Fed. Back in 2016, he was working at the Eden Project, as sous-chef across all of the eateries, responsible for serving hundreds of customers daily. Stuart frequently worked on the educational side of things, too: doing demonstrations on waste reduction and how to cook with alternative ingredients like bugs. One night, he and fellow chef Mike Greer came up with an idea...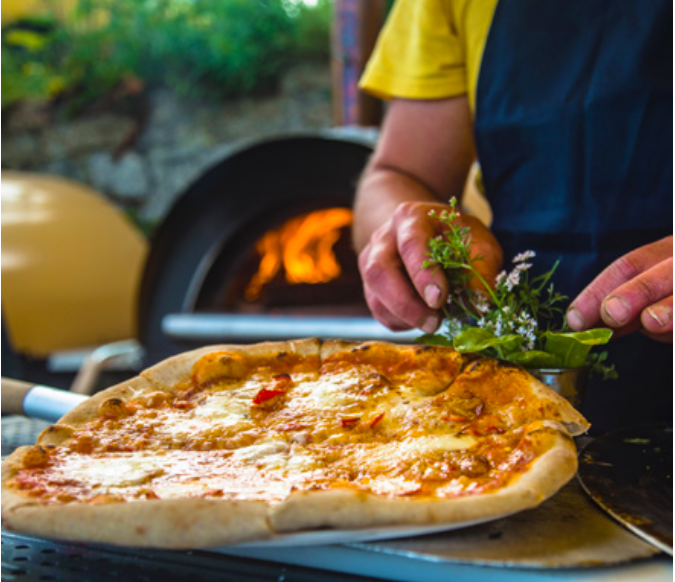 We had one too many beers, and we thought – 'let's get all the waste food and give it to people who live in food poverty'." By waste food they don't mean leftovers, of course, but the food from suppliers and kitchens that ends up in landfill; food that can't be sold before its best-before date. Tops and tails and ends of vegetables. Meat on the bone that is too fiddly to slice. The idea grew as the beers flowed. If the waste food can be cooked into stews and soups and frozen, it could be more easily distributed. But how to fund it?
Starting a catering business – doing weddings, parties and festivals – would enable them to do a social enterprise as a side project –"just for fun," Stuart remembers. "I don't know why we thought that would be fun." The logistics were no barrier at this point. "We had a bit more to drink," he grins, "and we said, 'we'll try to help 500 people'. Then we had a bit more, and being arrogant chefs, we said, 'no, we'll feed 5,000 people'." The germ of an idea refused to go away, even in the sober light of day. A plan to feed 5,000 people in food poverty began to form. In reality, they realised, in order to run a business in which you feed 5,000 people for free, you probably need to sell 30,000 meals.
Stuart is confident and determined. With the concept in his head, he didn't back off when faced with the practicalities. "It took a while to figure how to do it.
We knew a lot about food waste, but not so much about food poverty. People don't all gather in a field where you can just go and feed them, like with that other bloke who fed 5,000..." Two years later, the structure is now pretty much in place. Food poverty, he says, drops off dramatically in the summer – mainly due to the increase in seasonal work – which is ideal for him and his team of two young chefs (ex-Eden chef Craig, and Kalum, who he refers to as 'the boy'). The summer months are spent working in Charlestown, Fowey, and driving all over the county to cater at weddings and parties at weekends.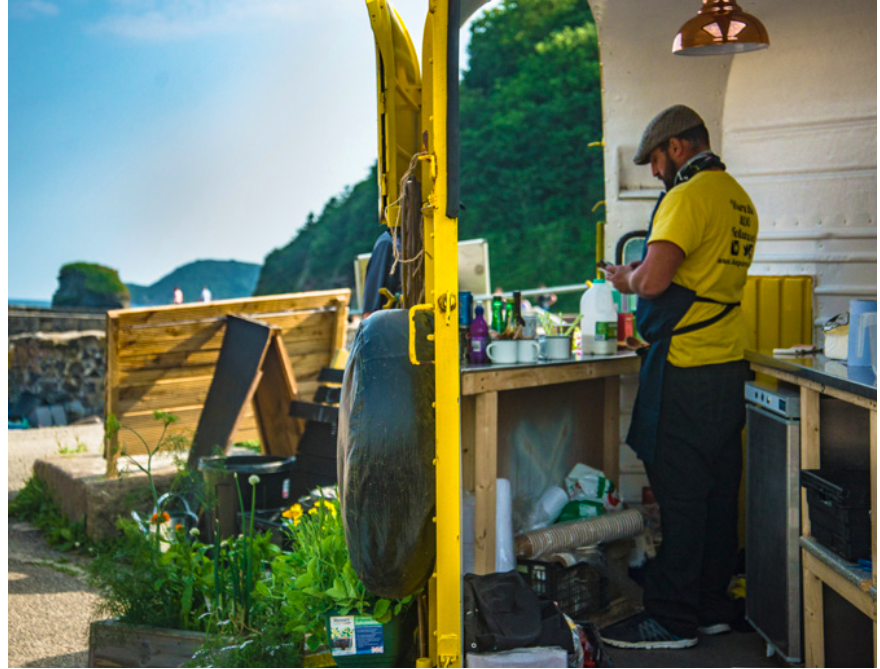 While Mike still works at the Eden Project – maintaining non-exec directorship with KCF – Stuart and his team are mostly based at Charlestown. A bright yellow horsebox is parked on the quayside – its side dropped down to reveal a mini kitchen and serving hatch. A couple of state-of-the-art wood-fired ovens stand counterpoint to a big, beaten-up looking barrel barbecue grill, and a bright yellow gazebo shelters a couple of gigantic paella pans. Tables and chairs are scattered around, backed by a handful of upended pallets forming a makeshift barrier to prevent the clientele tipping into the harbour. There are pictures and pot plants. It feels positively Continental. There is a regular bustle here during the day, and to help bump the income, Stuart holds regular ticketed feast events at Charlestown and in the field near Fowey, where the owls are part of the dining experience.
While waste food is a big part of the winter stews and soups, the summer meals are freshly made. Dough for bread and pizza, and the bases for meals are prepped off-site in nearby Par, and then cooked in the wood- fired ovens or in the big pans, and grilled on the giant barbecues. The smell of outdoor cooked food is a big draw to the Charlestown harbour front. Like any top chef, Stuart knows that your food is only as good as your suppliers. 
"I never change my butcher – we use James Kittow. He grazes his own cattle," he says. "He doesn't want to kill his own cows and put half of them in the bin. He'll tweet me and say, 'boys, I've got this two kilo of mince, I can't shift it today – it's on its last day'." The Keep Cornwall Fed team will pick it up, cook it and freeze it. The butcher gives them his waste for free, and Stuart uses his meat for all the events that he caters: the biggest one being the 13,000-strong Creation Festival. All of his suppliers work on the same system: "It's not rocket science: give me your rubbish. And in return, I'll give you about ten grand's worth of trade. Each."
Once the wedding, feast and café custom begins to slow in the autumn, the Keep Cornwall Fed team focuses on sourcing unused vegetables from allotments and farmers, meat from the butcher, and unwanted pheasants from a local gamekeeper. They start cooking up huge vats of stews, sausage ragu, soups of every description, then freezing them in big 20-portion containers. They then give them to various local charities and food banks. There are churches and groups such as Addaction, STAK (St Austell Community Kitchen) and DISC (drop in centre for the homeless) in Newquay. They will supply food to charity and community events; they go into schools in deprived areas and teach the kids how to cook and eat healthily on a budget.
They have learned so much in the two years since they first invested a "couple of hundred quid" on a rusty old horsebox, "and pillaged the rest" from skips at Eden and from donations and defunct restaurants. They discovered that if you ask for volunteers, they will always come. The young chefs have stayed with Keep Cornwall Fed – impressive stickability in an industry where there is a serious shortage of chefs. "I'm just building the boys to have the arrogance and the confidence to hold their heads up high. We're working out of a horsebox and they're banging out better food, banging out better gumbos and stuff, than all the pubs with a proper fitted kitchen. We're doing it right."
With the business model in place, Stuart has a clear three-year plan. "We took out a massive fat loan," he says, "and went – let's just go for it. You either believe or you don't believe." He wants to increase the educational element – going into schools on a regular basis. He would like to hire ex-convicts or first time offenders: "You have to teach them the brutality of it. Teach them how to work 18 hours in a kitchen. You say – I don't care who you are, who you think you are: this is your job." 
Most importantly, though, he is passionate about the quality of the food. Coming from a tough background – he and his girlfriend dropped out of school in a rough area of Northampton, had four children and moved to Cornwall, where the family has thrived. It was the Eden Project that really turned him around: "If I was to do this business 10 years ago, I'd be purely about the money. Back then, I didn't even know what a social enterprise was, but Eden has a clever way of teaching you... Now, the money isn't important. We just want to pay ourselves a wage. That's all we want. How many people we impact is just as important as how much money we make. So long as we don't want to go too far such that we start to lose money. It's about balance."