Gift from the Sea
Bursting with vitamins, awash with minerals, full of fibre and proven to help fat-loss... No, it's not yet another new diet fad, it's seaweed – used by cultures around the world for millennia as a staple part of their diet.
From the Inuit to the Incas and the Irish to the Japanese, coastal-dwelling people have relied on this lowly plant to provide vitamin C and all the minerals that a body needs. What's not to love?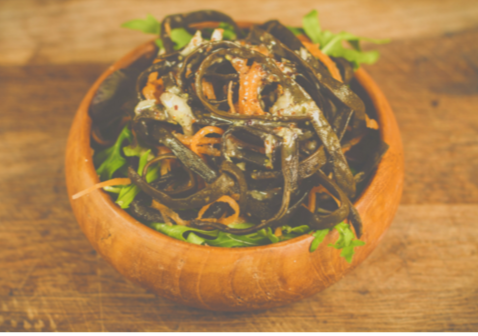 Well, unfortunately, seaweed has a bit of a bad name. First of all, its slimy texture (it's actually an algae, not a plant) is enough to put people off. The very thought of how it would taste (salty?) can produce an 'eurgh' reaction in the most open-minded of foodies. And yet so many of us love a sushi roll, and happily eat the sweet fried seaweed of Chinese cuisine. The other thing that bothers some people is the possibility of pollution – the idea of sewage being pumped into the sea near seaweed beds in the shallows of our oceans makes it less than appealing as a foodstuff.
The Cornish Seaweed Company, founded by friends Caro Warwick-Evans and Tim van Berkel in 2012, can turn that negativity on its head - the exacting science and labour-intensity behind the sustainable harvesting of seaweed is eye-opening, to say the least. Caro's background as a renewable energy engineer and Tim's as a conservationist are key to the development of the business. Having worked on projects around the world – Caro was a tall ships chef and then sailor, she's been a competition snowboarder and rafting instructor, and a renewable energy engineer for grassroots community projects overseas – has stood her in good stead for pioneering a new business. "Growing up in Southampton," she says of her yearning for exploration, "I just wanted to see what the world was about." Dutch- born Tim is also incredibly well-travelled: he worked on conservation projects in Borneo, Honduras, Peru and Bolivia before washing up on the shores of Cornwall.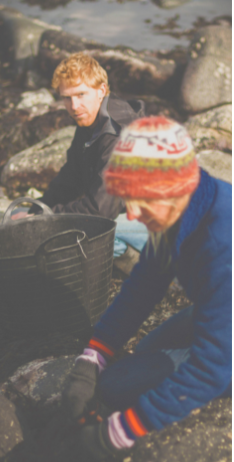 Four years ago, the two friends were living in vans near Falmouth, eating lentils and brown rice, with Tim working in the kitchen at Zizzi and Caro cleaning holiday lets to make ends meet ("We were living on £50 a week"). They hit on the idea of hand-picking seaweed after Caro heard a radio programme about seaweed farming. "I thought – we have this amazing seaweed resource here, so why don't we use it?" The pair decided to investigate further. "There was no-one else to follow in this country, but we found an organic seaweed producer in Ireland," says Caro. "We went out there and spent several weeks with them, learning about all the processes." Back in Falmouth, during a period of what can only be described as intense trial and error, Caro
and Tim found areas of seaweed and began to harvest it: using scissors to cut different types from rocks at low tide, building special drying racks and then selling it in local farmers' markets.
With their scientific minds and knowledge of conservation, not to mention the fact that they are both keen cooks, they began to spread the message about edible seaweed. It started to seep beyond the farmers' markets, and it wasn't long before their sustainably packaged goods were selling in farm shops, delis and health food shops around the region. Top chefs took an interest – seaweed is in the zeitgeist now, and as Caro says, "seaweed comes in very different flavours. It can be treated like any other vegetable – it can be steamed or fried or sprinkled on food as a condiment." She seems remarkably unfazed as she reels off the names of chefs who have ordered their seaweed: Heston Blumenthal, River Cottage, Jamie Oliver, Nathan Outlaw... And a number of Tesco and Waitrose stores now sell Cornish Seaweed Company's freshly harvested seaweed.
Harvesting the seaweed fresh comes with its own issues. In order for it to be properly saturated when it's picked, it can't have been semi-drying on the rocks at low tide, so Tim and various team members have to don diving gear and cut it from the sea-floor. It then has to be rushed to a cleaning factory, packaged up and transported around the country to the supermarkets. "We built the business with no investment, and now, four years later, we employ 10 people," says Caro.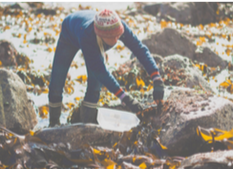 As for pollution concerns, Caro says that the Food Standards Agency is all over the seaweed to check that it reaches required cleanliness levels – which is why they get their seaweed rigorously tested for heavy metals and pollutants at a lab before drying it in a polytunnel and selling it. The location that was chosen to harvest is on the rocky reaches of the Lizard peninsula – far from the madding cows, farmers' fields and conurbations that are likely to create polluting run-off into streams and rivers after the rain. "We don't harvest after heavy rains, anyway," adds Caro, "just to be on the safe side." Presumably also to avoid the danger of scrambling about on steep cliffs and slippery rocks with great bags of seaweed on their backs... "Everyone who works here is in really good shape," she admits. "It's hard work on your body."
It's sustainably harvested, too. Caro and Tim and the team have licensed use of a five-mile area of the Lizard, and ensure that they only cut certain sections of seaweed before moving on to a new area, enabling the seaweed to continue growing healthily. As for the nutritional benefits – it's almost enough to convince you to eat the stuff raw, straight off the rocks. "Seaweed is the ultimate superfood," enthuses Caro. "It contains 56 different minerals – basically everything your body needs to function." Needless to say, she and Tim incorporate it into their diets – they'll have a shot of flaked kombu in the morning, a sea-salad lunch and maybe sea spaghetti for dinner. It's a far cry from the lentil and rice diet of four years ago. Although Caro says she's always had a healthy diet, she's noticed that she gets a lot fewer colds since eating seaweed. One of the staff members is using sea spaghetti to help lose weight – tests have shown that it inhibits the expression of lipids: the enzyme that breaks down fat. And if you don't break down the fat, it won't get into your body. This is the theory, anyway – and Jamie Oliver has credited it for his recent weight loss, so it must be true, right?
What is not in doubt is that seaweed is incredibly good for you, and with such a wide variety of flavours and cooking options, it's definitely one to experiment with. Cornish Seaweed Company sells five different types of dried seaweed online and in delis and farm shops around the region. You can also stick it in your bath. But that's a whole other level of engagement...
cornishseaweed.co.uk