Good to snow
Konrad Bartelski is telling me to breathe out at the end of my turns. I can hardly breathe at all, and might even be blushing, because all I can hear is the voice of Ski Sunday's David Vine coming out of my granddad's TV in 1981, saying "Konrad Bartelski is skiing like a madman". And I see an image of the British skier in the number 1 position in a men's downhill World Cup for the first time ever. I can see myself and my brother, chocolate digestives paused on the way to our mouths, thrilled at the excitement of Bartelski throwing himself down an icy mountain to find a place in British history (he ended up coming third). The words became a mantra when my brother and I had our first foray into skiing in the Scottish Cairngorms... "He is skiing like a madman," we would shout at each other as we snow-ploughed down the piste.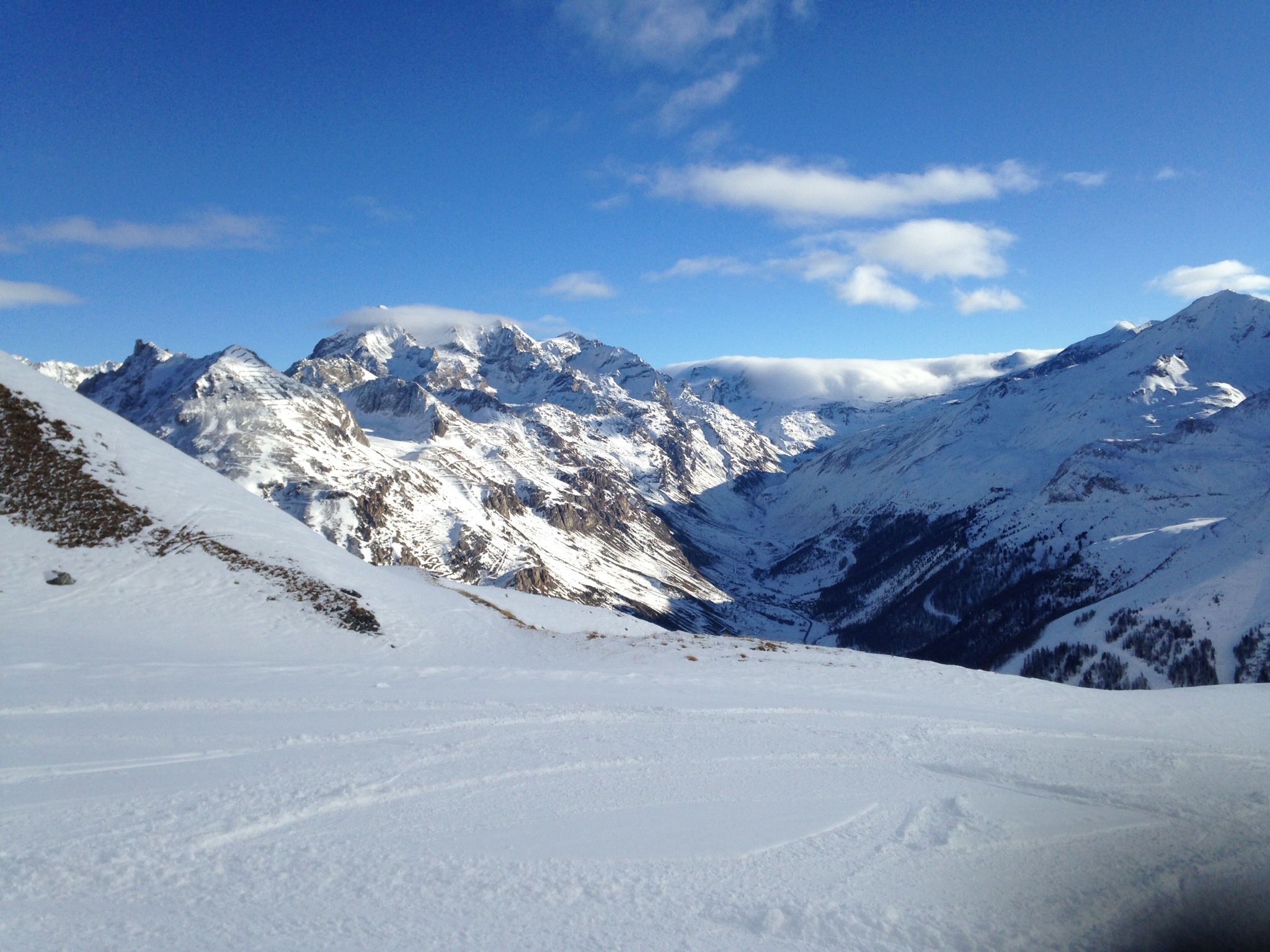 Val D'Isere is the sort of ski resort where you tend to bump into celebrities and famous skiers. A place where even the ski instructors can be ex- French champion ski racers, like Val D'Isere poster girl Geraldine Petit. And where the on-piste cafés are actually gourmet restaurants. I have skied in France, Italy and Switzerland, not to mention the ice/heather/blizzard conditions of the Cairngorms, but nowhere has been quite as classy as Val D'Isere. The place manages to be sophisticated without being pretentious: everyone is ready with a smiley 'bonjour', from the lift workers to the local children bombing down the pistes with their Saturday ski club.
Everything is incredibly well laid out for every level of skier, no matter what the conditions. A veritable maze of lifts, gondolas and rope-draggy things ensure that you rarely have to put any effort in to move from valley to mountain, and from piste to piste. I returned to the chalet to discover that I had actually skied in the neighbouring resort of Tignes earlier in the day – which means I was blindly following the rest of the group, but it also shows how easy it is to cross an extensive area. Having had a hiatus from skiing for many years, I had forgotten how extraordinary it is that humanity has managed to tame this most inhospitable of environments into a great big snowy playpark.
I am a rusty intermediate, which basically means I am in some danger of falling over for no apparent reason, but can get down most runs as long as I do enough turns, slides and fumbles to slow me down. It took me a full day to regain the courage to lean downhill and start to carve my turns rather than snatch a giant skid out of every one – thanks to the expert tuition of Benjamin Dubois, Technical Director of Ecole Ski Français.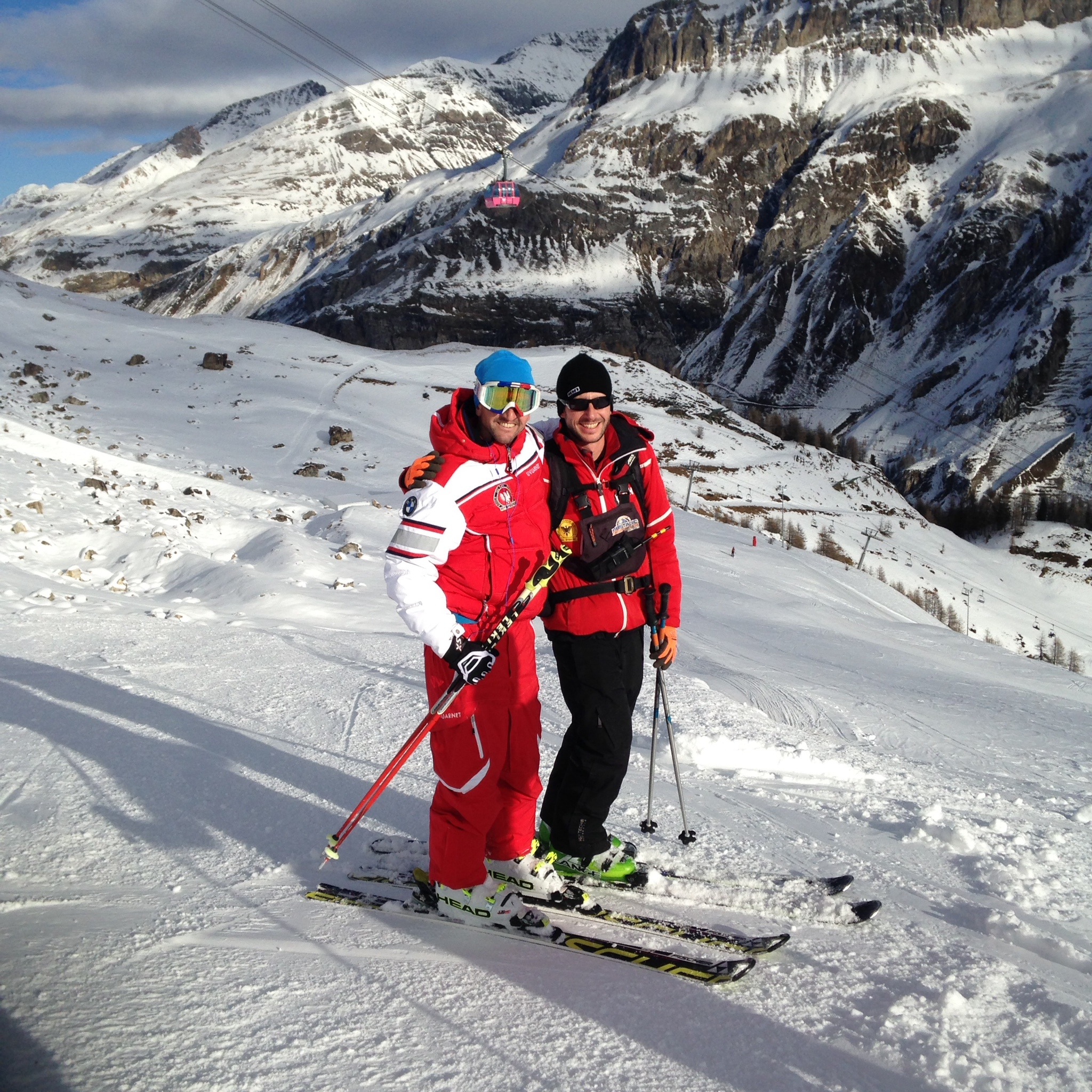 Benjamin is manager of some 300 instructors in Val D'Isere – 'the reds' as he calls them: all ESF instructors throughout the French Alps wear identical red uniforms. Traditionally, ESF instructors would teach French skiers, while the smaller ski schools would focus on the non-French visitors. But nowadays, says Benjamin, he encourages his instructors to learn English or other languages. 'This is why the young instructors can teach better than the older ones: not because they are better technically, but because they can communicate better," he explains, as we rise smoothly up the mountain, the sun glinting from a cobalt sky. Interrupting himself, he points to the pockmarked snow below us: "Those are the footprints of the hare. And the fox... Sometimes, you can see the giant bearded vulture," he enthuses. "Its wingspan is as wide as this chairlift." I'm not sure I'd be that keen to see a vulture with a three-metre wingspan circling above me, but his enthusiasm is infectious.
Val D'Isere likes to call itself 'the most beautiful ski area in the world'. It certainly takes your breath away – with exceptional views from every slope, chairlift or restaurant window. The resort has a prestigious skiing history. From the time when the first drag lift was built in the 1930s, to today's slick and efficient ski resort, the town of Val D'Isere has become one of the most popular ski areas in France. Three-time Olympic ski champion Jean-Claude Killy was born and raised here, and is so respected that the entire region of Tignes and Val is called 'Espace Killy'.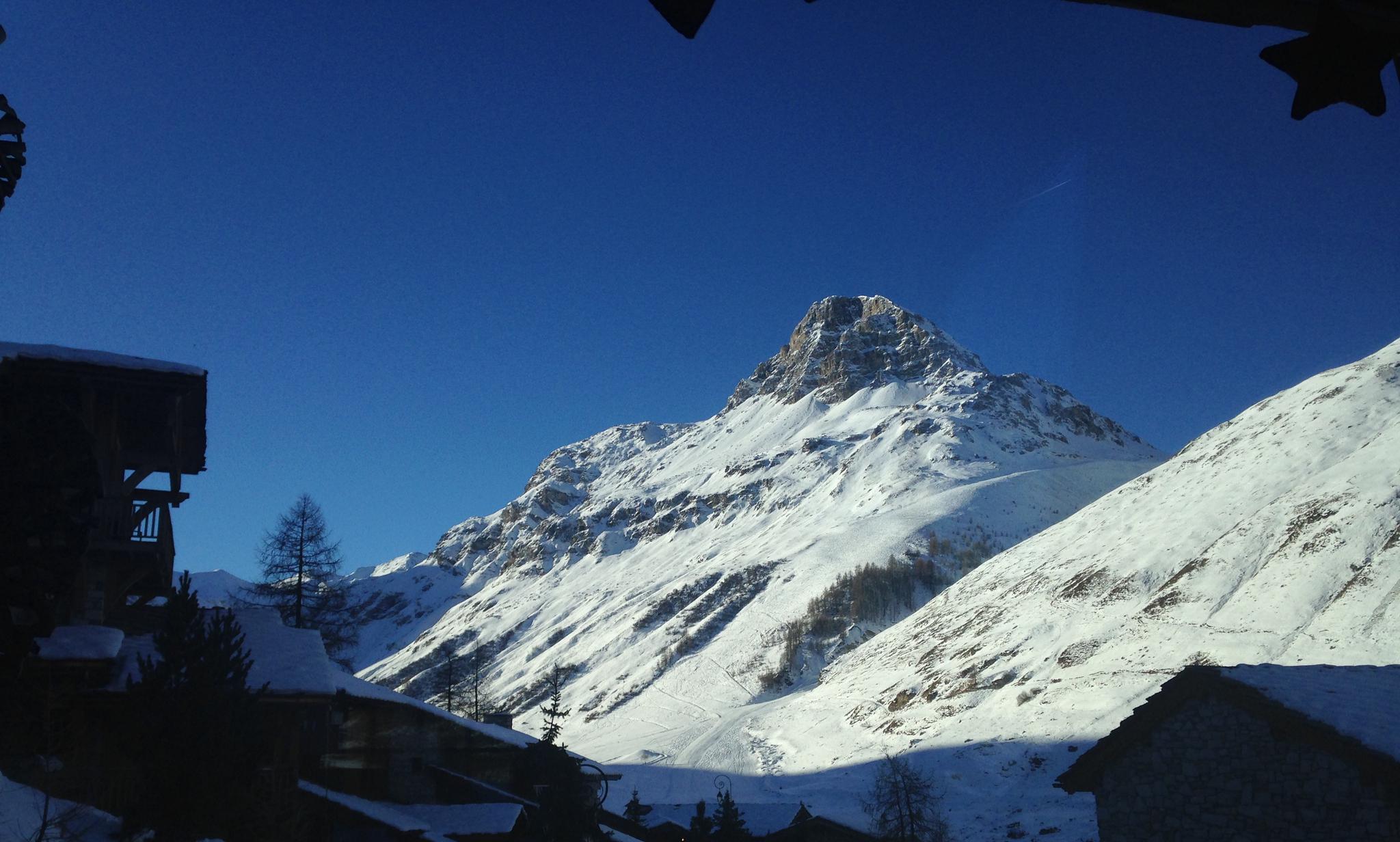 The road that starts at Lake Geneva snakes its way up through tunnels and along deep valleys until it reaches the modern developments of Val D'Isere. At the southerly end are more up-market wood-and-stone chalets, including the cluster of five luxury lodges known as Le Chardon (French for thistle). Back in 1983, a forward-thinking property developer from Scotland bought a plot of land at the base of peaceful Le Manchet valley. Luckily for him (and the guests of Le Chardon), the pristine area beyond the chalets will never be developed, as it has been declared an avalanche zone. Sitting on the balcony outside my room, all I can hear is the occasional whoop from invisible skiers, off-piste-ing somewhere on the slopes beyond, and the hubbub of a river that rushes towards the shimmering reservoir just below the town. The first chalet was built in 1986, and the fifth was completed in time for the Winter Olympics in 1992. With his wife and five sporty children, the developer divided his time between Scotland and France, and his family became something of an institution in the region. Today, Jamie Rennie, the eldest son, is the director of the business in Val D'Isere, as well as a luxury villa in surfy St Jean de Luz.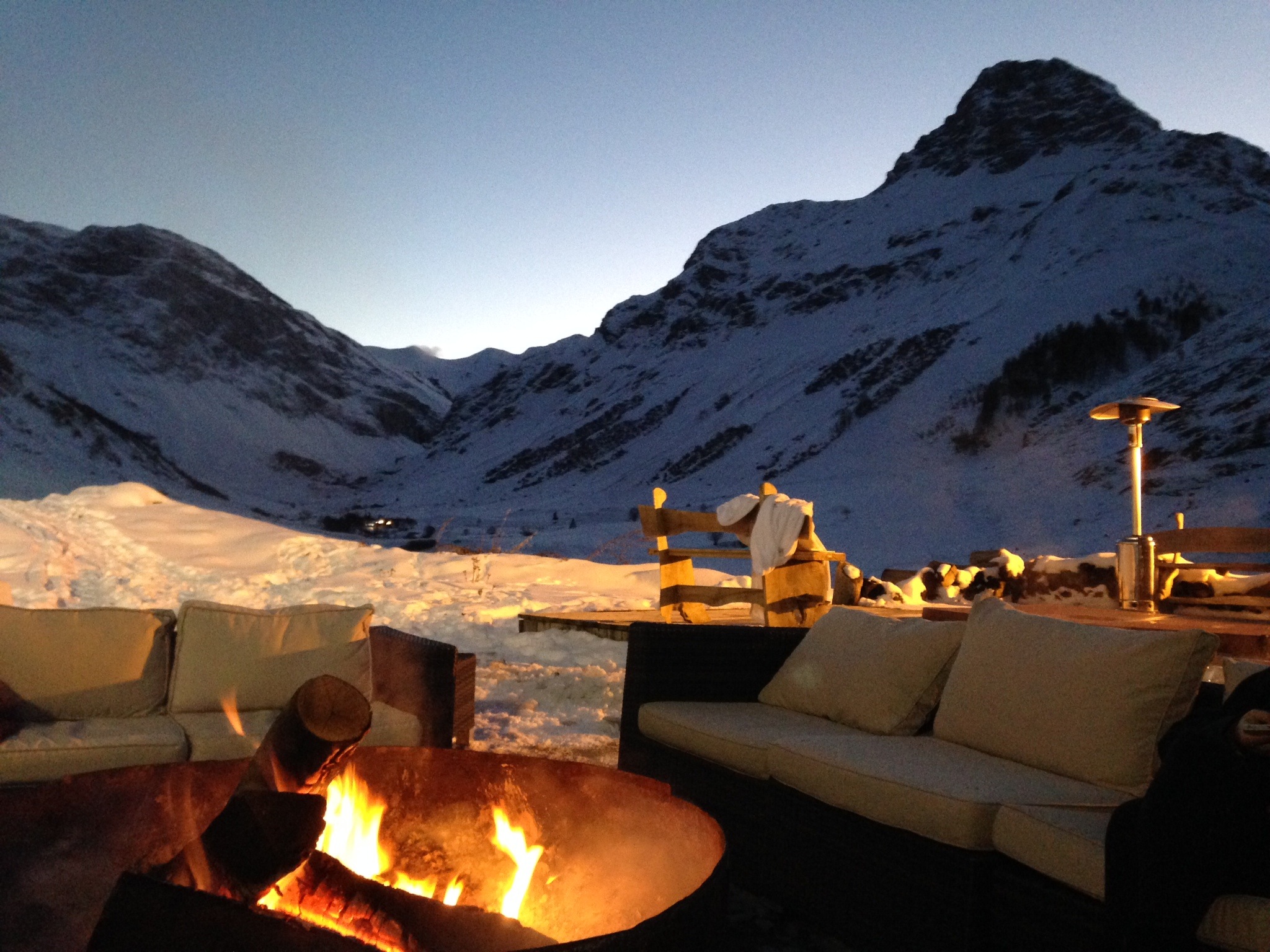 The lodges don't scrimp on anything: from the sheepskin-clad dining chairs to the gourmet menu – which is announced every day by the chefs while you sup your pre-dinner drinks and nibble on canapés. The décor has a Scottish twist, without descending into Braveheart kitsch. Massages are available in the in-chalet treatment room, and a spacious wooden deck holds a fire pit, big comfy sofas, patio heaters and a giant hot tub. Vin chaud is served while you lean back and watch the light fade from the empty valley beyond. The youthful staff – who are mostly Scottish – are exceptionally friendly and accommodating. They need to be: guests in uber-luxury destinations like this have very high expectations, from the people who insist that their dog only drinks Evian mineral water, to the Chinese family who wanted to avoid jet-lag by staying on Chinese time, which meant breakfast was served at 2am, lunch at breakfast time, skiing until 2pm, dinner at 3pm and lights out at 4pm. Or the guests who take a helicopter rather than endure the two-hour transfer from Geneva – their luggage still has to be picked up and driven back by the ever-so-calm drivers.
My memory of ski trips usually involves clunking around ski resorts, queuing up to get boots fitted in frenetic ski-hire shops, dropping mittens and getting hot and bothered in my ski wear. In 'Chardon', the largest of the lodges, there is a comfortable boot room, where a ski technician fits boots and skis, and
provides poles and helmets. Rather than walk down the road in our ski boots, we are ushered into a mini van and driven sedately to the main lift area at the foot of the intimidating-looking 'Olympique' ski run. The likes of Konrad Bartelski and Jean-Claude Killy would point their skis down the sheer face and descend at full pelt.
Reader, I skied that piste. After a day of expert tuition and the mantra 'breathe OUT at the end of your turn', I went down a big cliff of snow. I didn't fall. I executed some turns with a modicum of poise and came to a stop with a great, big, excited spray of snow. I remembered that, while the luxury is good and the food is fabulous, the real reason anyone comes here is for the swish of their skis on snow and the rush of a speedy descent down a mountainside...