Great Catch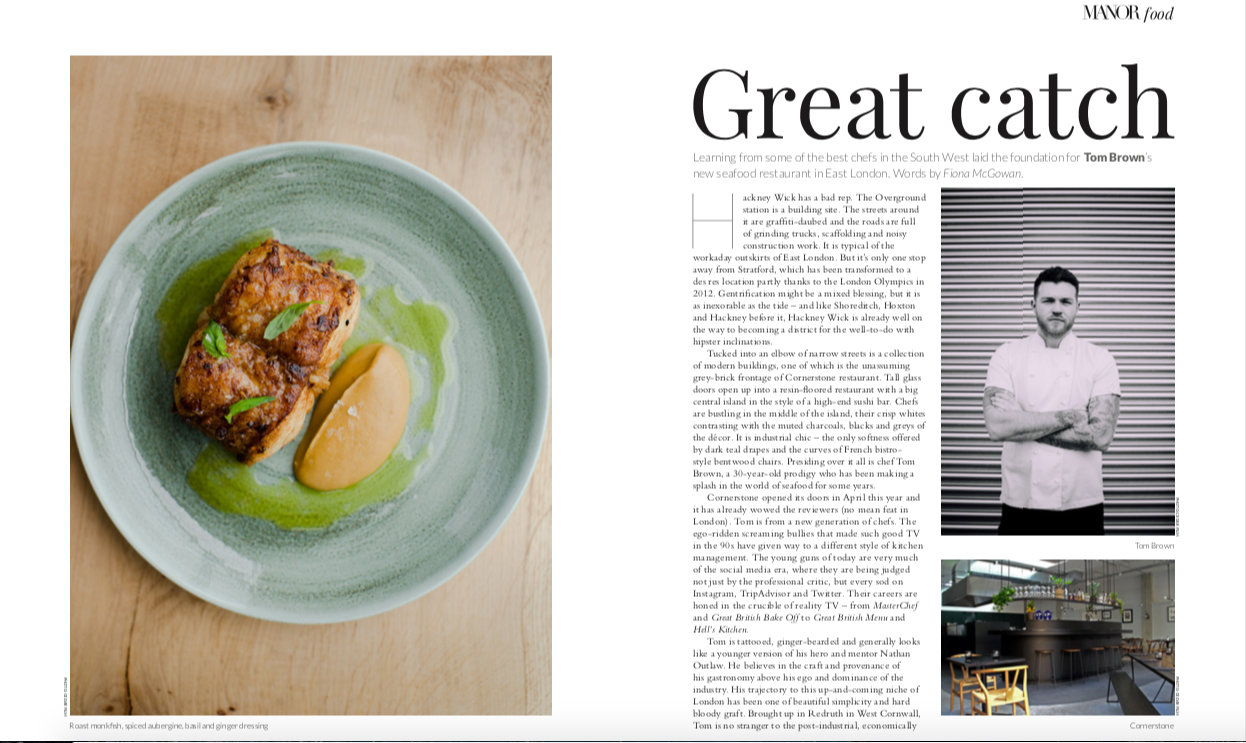 Hackney Wick has a bad rep. The Overground station is a building site. The streets around it are graffiti-daubed and the roads are full of grinding trucks, scaffolding and noisy construction work. It is typical of the workaday outskirts of East London. But it's only one stop away from Stratford, which has been transformed to a des res location partly thanks to the London Olympics in 2012. Gentrification might be a mixed blessing, but it is as inexorable as the tide – and like Shoreditch, Hoxton and Hackney before it, Hackney Wick is already well on the way to becoming a district for the well-to-do with hipster inclinations.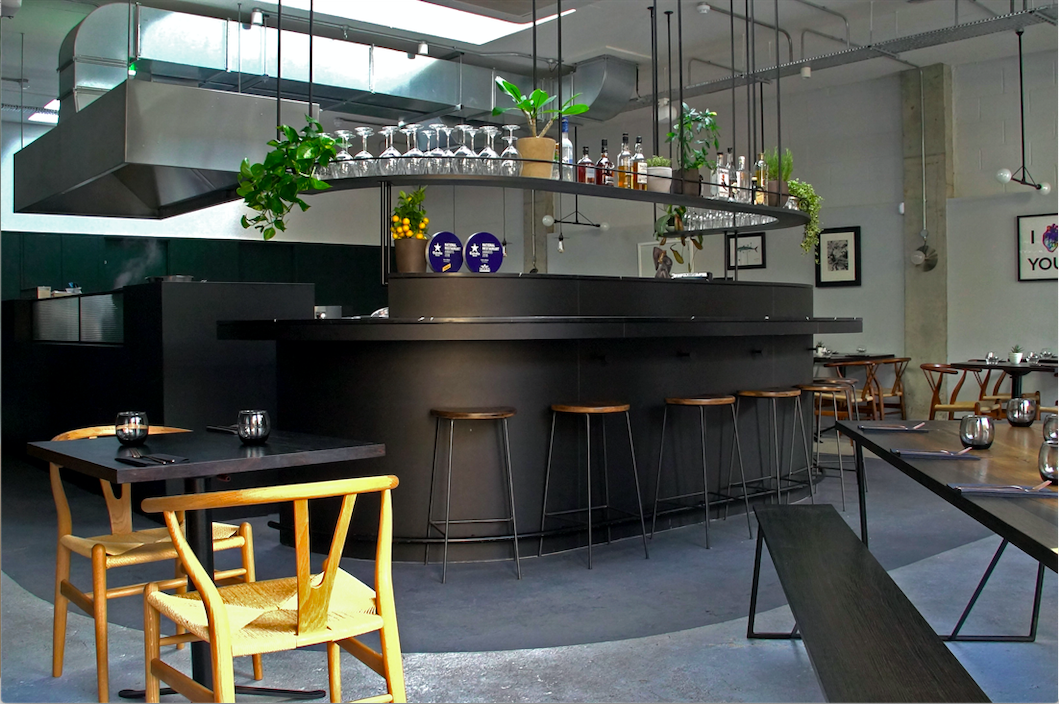 Tucked into an elbow of narrow streets is a collection of modern buildings, one of which is the unassuming grey-brick frontage of Cornerstone restaurant. Tall glass doors open up into a resin-floored restaurant with a big central island in the style of a high-end sushi bar. Chefs are bustling in the middle of the island, their crisp whites contrasting with the muted charcoals, blacks and greys of the décor. It is industrial chic – the only softness offered by dark teal drapes and the curves of French bistro-
style bentwood chairs. Presiding over it all is chef Tom Brown, a 30-year-old prodigy who has been making a splash in the world of seafood for some years.
Cornerstone opened its doors in April this year and it has already wowed the reviewers (no mean feat in London). Tom is from a new generation of chefs. The ego-ridden screaming bullies that made such good TV in the 90s have given way to a different style of kitchen management. The young guns of today are very much of the social media era, where they are being judged not just by the professional critic, but every sod on Instagram, TripAdvisor and Twitter. Their careers are honed in the crucible of reality TV – from MasterChef and Great British Bake Off to Great British Menu andHell's Kitchen.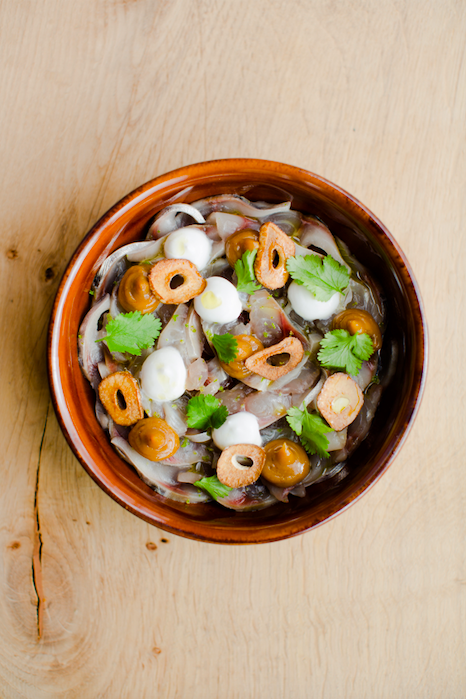 Tom is tattooed, ginger-bearded and generally looks like a younger version of his hero and mentor Nathan Outlaw. He believes in the craft and provenance of his gastronomy above his ego and dominance of the industry. His trajectory to this up-and-coming niche of London has been one of beautiful simplicity and hard bloody graft. Brought up in Redruth in West Cornwall, Tom is no stranger to the post-industrial, economically depressed environment here in Hackney Wick. Seafood, however, is in his blood – some of his best memories are of fishing with his dad and cooking their catch in the evening: "Although it was more catching than cooking," he admits.
Tom's career as a chef started as a kitchen porter in a pub near his home. When he realised that A levels weren't for him, he got stuck in, helping the chef out and completing an apprenticeship at Cornwall College Camborne. "I liked the creativity. It's like an instant gratification," he says. "You make something and then someone says they like it and that's that. It's very short- term." With the confidence of youth, he decided he "wanted to do something different" so he took it upon himself to send handwritten letters to all the chefs who had appeared on Great British Menu at the time. One of them, renowned Welsh chef Bryn Williams, rang him back and invited him to his restaurant in Primrose Hill for what was essentially a day of work experience. Tom grins at the memory: "I was so out of my depth, seeing it all. But I thought – there's a big world out there."
He was inspired to apply to bigger and better restaurants in Cornwall, and ended up working with Rick Stein's original head chef, Michelin-starred Paul Ripley. In him, he found a mentor who taught him not just about high-end cooking but about how to manage a team. "The chef I'd been working for was a bit of an idiot," says Tom. "He was one of those shouty chefs. But Paul said to me – you know, it doesn't have to be like that. You shouldn't come to work and feel bad." It was through Paul that he met Nathan Outlaw, who took him to work at the St Enodoc Hotel in Rock in 2012, and who quickly became his boss, mentor and friend. Soon, Tom became head chef for Nathan at the hotel's fine dining restaurant. Four years later, Nathan had the opportunity to open a restaurant at The Capital Hotel in Knightsbridge, and invited Tom to join him. He accepted, knowing that this would be a turning point in his career.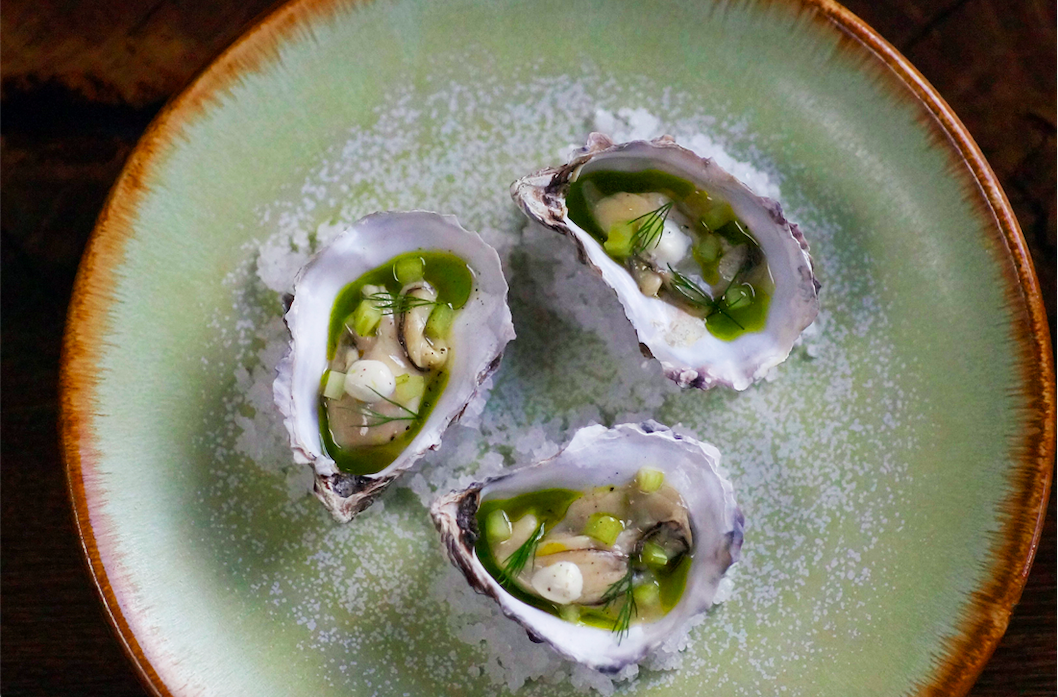 Nathan is reputed to be one of the best seafood chefs in the country, so it's no surprise that Tom's new creation is a seafood restaurant. "You wouldn't go and play for Barcelona and then decide you want to be a rugby player," says Tom with fervour. "If you learn from the best seafood cook in the world, you're obviously going to go into that." The critics have been nothing less than glowing about the food at Cornerstone, but Tom is just as keen on making the restaurant a positive experience. The Capital, he says, is one of the top fine dining restaurants in London: "It's very old school, a very grandiose, wonderful place. But that's not where I'm from. That's not my roots." Hackney Wick is a friendly community, he says, where you can go to the shop around the corner and see 10 people you know, and they'll all say hello. Just like Cornwall, in fact. He is determined that his restaurant will be welcoming to all: "Hospitality is called that for a reason – what we are in is  the business of happiness," he says with genuine passion. "We're the facilitators to make that happiness. It's not about our egos."
It's a fine line to walk. While Tom clearly wants to make people feel comfortable, he is also a purveyor of gastronomically exclusive food. Seafood itself is an expensive commodity, and his determination to source the best, most sustainable fruits of our oceans means that he can't charge rock-bottom prices. In spite of the rough-looking surroundings, he also knows that there is a discerning local clientele with a disposable income ("I can't even afford the rent in Hackney Wick," he admits). So he has conjured up a menu with an option of small plates. "We have people who come here and spend £25 a head and those who spend £200."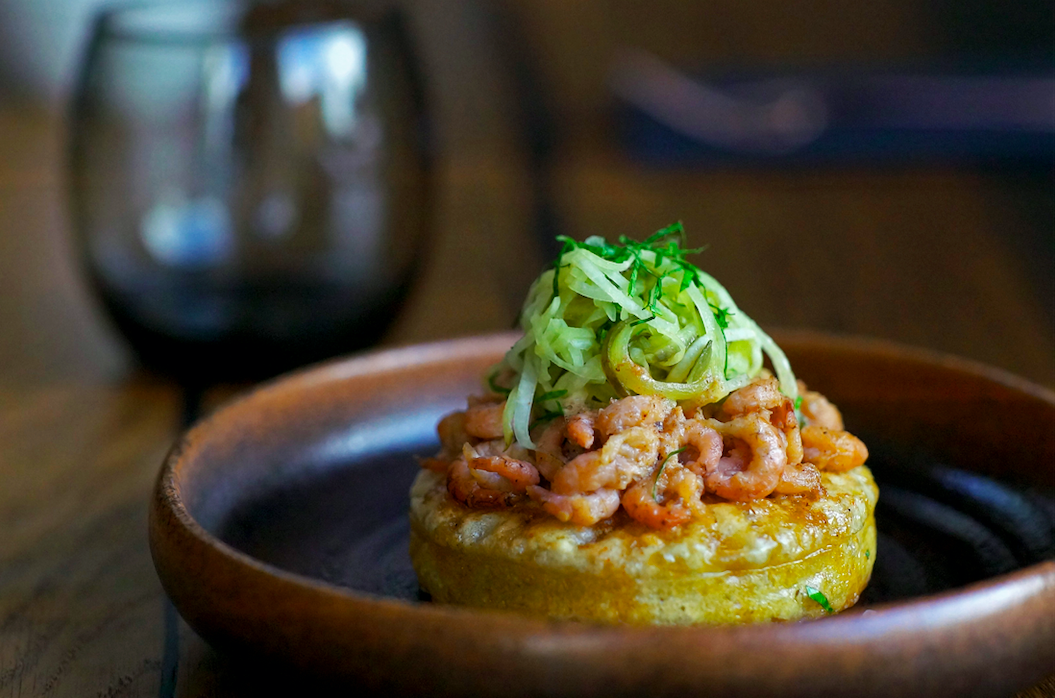 Almost all the seafood at Cornerstone is sourced from the West Country, and one of his main suppliers is the Wild Harbour Fish Company based in Hayle near St Ives – a tiny company that has become one of the top seafood suppliers in the country. Tom lights up when he talks about the provenance of his seafood – it's clearly an obsession. As an emerging celebrity chef (he's now done two seasons of Great British Menu and has a big social media following), he knows he has a platform to influence not only other chefs but the wider public as well. Almost all the fish that Tom buys is caught on a day boat. It is line-caught and transported up to London – often delivered in the middle of the night (the delivery drivers have a key and put the fish in the fridge).
Because Cornerstone is dependent on whatever is caught the day before, the menu can sometimes change two or three times in a day. "The front of house love it," chuckles Tom, as he explains how he can interchange certain species with the same recipe throughout the day and the evening. There are four chefs including Tom – a relatively small number for a fine dining restaurant with up to 100 covers, he says. He has so much faith in them that he often finds himself spending more time in the office than in the kitchen. "It's much more progressive to step back. These three are amazing. The job they do is unbelievable and they work so hard."
I wonder what Tom dreams of when he looks at the future. Is it a Jamie Oliver or Rick Stein brand of Tom Brown Cornerstones? He is dismissive of that business model: "I wouldn't think – oh yeah, we can roll out another 10 Cornerstones and retire and go to the Bahamas. That's not how I would want it." He is sure that there will be many opportunities for other interesting projects in the future, but for now he is keeping his gaze firmly in Hackney Wick. "What we would like is to establish this restaurant as one of the top restaurants in London. Our focus is very much on making this a viable, sustainable business that turns over good money every year and has a very happy, very loyal staff."
cornerstonehackney.com