← Back to portfolio
Healthy Minds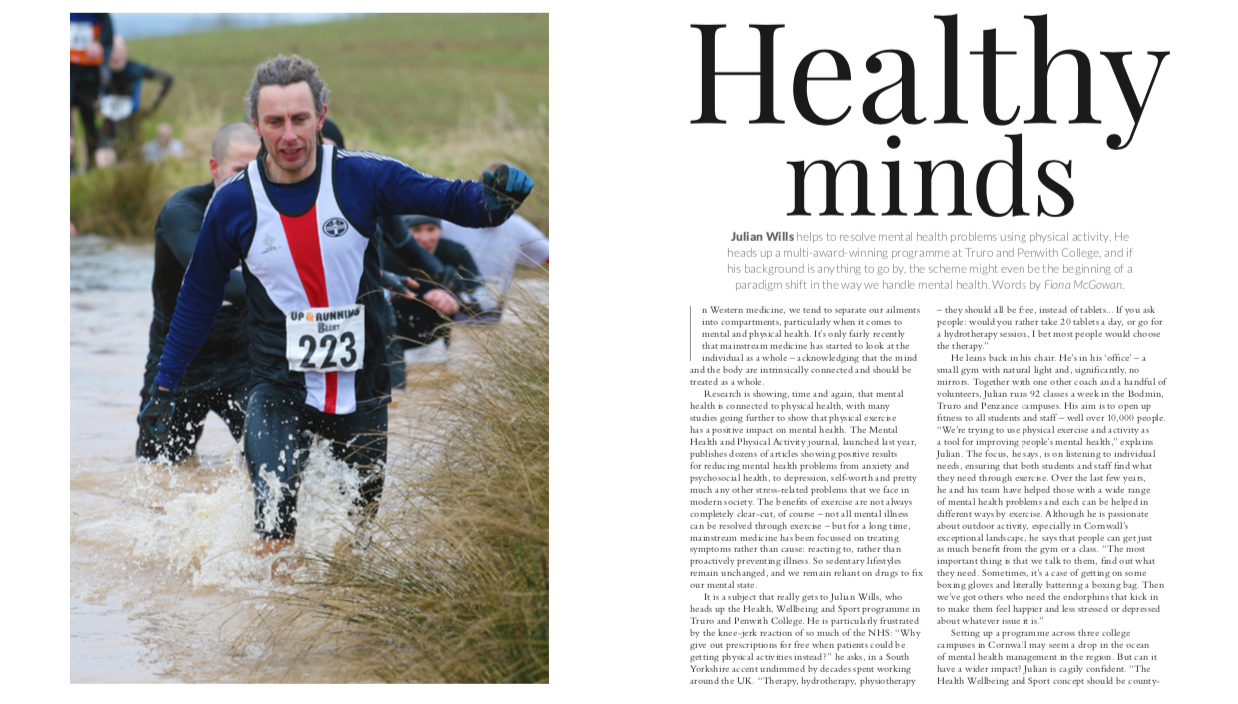 In Western medicine, we tend to separate our ailments into compartments, particularly when it comes to mental and physical health. It's only fairly recently that mainstream medicine has started to look at the individual as a whole – acknowledging that the mind and the body are intrinsically connected and should be treated as a whole.
Research is showing, time and again, that mental health is connected to physical health, with many studies going further to show that physical exercise has a positive impact on mental health. The Mental Health and Physical Activity journal, launched last year, publishes dozens of articles showing positive results for reducing mental health problems from anxiety and psychosocial health, to depression, self-worth and pretty much any other stress-related problems that we face in modern society. The benefits of exercise are not always completely clear-cut, of course – not all mental illness can be resolved through exercise – but for a long time, mainstream medicine has been focussed on treating symptoms rather than cause: reacting to, rather than proactively preventing illness. So sedentary lifestyles remain unchanged, and we remain reliant on drugs to fix our mental state.
It is a subject that really gets to Julian Wills, who heads up the Health, Wellbeing and Sport programme in Truro and Penwith College. He is particularly frustrated by the knee-jerk reaction of so much of the NHS: "Why give out prescriptions for free when patients could be getting physical activities instead?" he asks, in a South Yorkshire accent undimmed by decades spent working around the UK. "Therapy, hydrotherapy, physiotherapy – they should all be free, instead of tablets... If you ask people: would you rather take 20 tablets a day, or go for a hydrotherapy session, I bet most people would choose the therapy."
He leans back in his chair. He's in his 'office' – a small gym with natural light and, significantly, no mirrors. Together with one other coach and a handful of volunteers, Julian runs 92 classes a week in the Bodmin, Truro and Penzance campuses. His aim is to open up fitness to all students and staff – well over 10,000 people. "We're trying to use physical exercise and activity as a tool for improving people's mental health," explains Julian. The focus, he says, is on listening to individual needs, ensuring that both students and staff find what they need through exercise. Over the last few years, he and his team have helped those with a wide range of mental health problems and each can be helped in different ways by exercise. Although he is passionate about outdoor activity, especially in Cornwall's exceptional landscape, he says that people can get just as much benefit from the gym or a class. "The most important thing is that we talk to them, find out what they need. Sometimes, it's a case of getting on some boxing gloves and literally battering a boxing bag. Then we've got others who need the endorphins that kick in to make them feel happier and less stressed or depressed about whatever issue it is."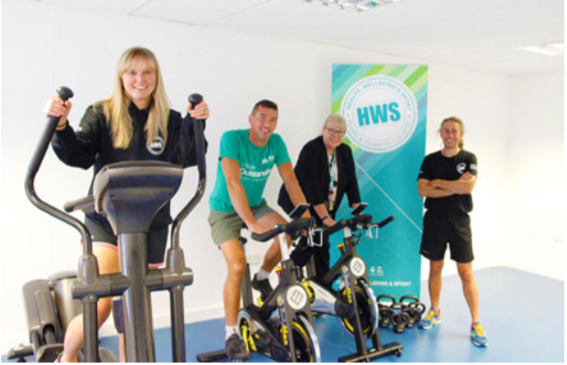 Setting up a programme across three college campuses in Cornwall may seem a drop in the ocean of mental health management in the region. But can it have a wider impact? Julian is cagily confident. "The Health Wellbeing and Sport concept should be county-wide," he says warmly, "And I believe that as long as you've got the passion and drive to make it happen – it will happen." Dip into the history of this man, and it's entirely possible that his programme might be re-writing the rule-book of mental health and physical activity not just for the county, but possibly the entire nation. Already, BBC Radio Cornwall has taken an interest in Julian's programme and is working with HWS to create a campaign to get non-active people into doing some sort of exercise.
Julian is no stranger to life's struggles – growing up in a disadvantaged area, "I was not really your ideal pupil," he says, in what might well be an understatement. "OK, I was a disruptive young hooligan," he adds. The classroom was no place for him, and he left school at 16. While he takes full responsibility for his behaviour, he was the product of the social situation of the time. "In Sheffield in the 80s, there wasn't a lot happening. The mining and steel industries had collapsed. In terms of opportunities, it was very, very limited." It was suggested that he joined the military – "To be honest," he admits, "if I hadn't gone into the Navy, I would have been detained at Her Majesty's pleasure. I either worked for her, or she'd have banged me up."
It was a formative time, teaching him to accept authority and developing self-discipline. It taught him both respect and empathy for those around him: many had been in the Falklands; many were suffering from PTSD. He was surrounded by men who came from backgrounds like his own – from mining and industrial towns and cities across the North East, where the opportunities for work were minimal.
He did three years of military service. It clearly gave him the methodical self-motivation that has fired his career ever since. Back on civvy street, he went straight to college and university, studying Child Psychology and Play. "I already had the understanding of it from the perspective of a participant. But the course put the academic background to it – studying the behavioural changes and impacts of physical activity."
Finding work in the leisure industry to fund his studies gave him the practical foundation. After a sojourn managing leisure centres in the wealthy South East (Kelly Holmes went to his circuits classes), Julian's social conscience led him to work in schemes aimed at providing wellbeing in the community. "It was fantastic. Sports development, rather than managing a site. That gave me the big break into using sport as a tool, rather than it just being a service."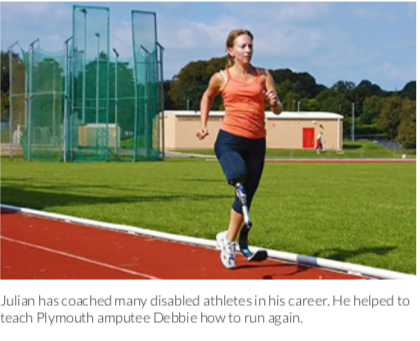 Julian's self-motivation is key to the way that he effects change. A passionate sportsman himself, he has played semi-professional football for a period, and following that, became a triathlete. The strings of his experience led to a job with British Triathlon – as regional head for the organisation. He chose the South West, as he and wife Ali both loved the region dreaming of living on the moors, and maybe one day raising children there. When she was headhunted for top marketing job in Plymouth, the deal was sealed.
While trying to increase participation in triathlon by improving accessibility and equality, Julian spearheaded a programme to take triathlon into the Paralympics. For two years, he wrote dozens of documents, created rule-books, and drafted para-triathlon coaching guides – and eventually convinced the International Olympic Committee to include the sport in the Paralympics. It was first introduced as an event in Rio 2016, almost entirely thanks to Julian and his team's tireless work.
In 2009, Julian got involved in the London Olympic Legacy Foundation – focussed on using the Olympics to tackle social exclusion and deprivation. It was at this time that he met Sir Keith Mills (Deputy Chairman of the London Organising Committee and Paralympic Games), "I learned a lot from him. He's like a nice Alan  Sugar; he's a genius." He adds: "I learned how to be a chameleon. How to work with anybody at any level and to be able to change your behaviour to suit the environment. Keith Mills could talk to kids from a really challenging community, in their language, then get on the phone to the Prime Minister, literally minutes later." He pauses, thinking about his job today: "Thanks to Sir Keith, I am able to engage with people differently... Although I'm a sports performer, I can now understand what other people are feeling or going through: they're not performers; they're participants. These are people who are using exercise as a tool to improve their lives."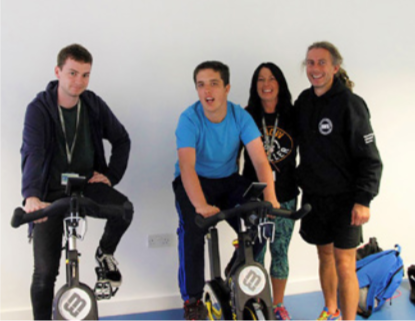 The mental health provision in Cornwall, admits Julian, is not great. But he sees the HWS scheme having a real impact. He hopes that one day, programmes such as this will filter into the mainstream of mental health management. Working with young people – the majority of students at Truro and Penwith are aged 16 to 18 – has made him more intent on passing the message on to the next generation. But he is determined that the older generation doesn't get left behind, which is why he has encouraged the staff to get involved in the programmes as much as the students. As for the future of our national mental health – well, "It could be very simple," he says. "You give the doctors and nurses the freedom to provide physical exercise as a service. Take the tablets away and provide physical activities and recreation on a much wider scale – which are affordable." It seems a no-brainer – a cost-effective, happier and longer-lasting approach to health, and Julian seems like just the type to get the ball rolling...