← Back to portfolio
Jean Ingenious

Rows of faded blue spectacle frames stare down from the wall as I stride up the bare wooden stairs at the back of a freezing workshop. The cold emanates bitterly from a concrete floor below. Tucked above the big workspace is a spacious office that looks like a techy design business – all big Mac screens, a large table scattered with a few half-finished iPhone cases, and a (not very effective) wood burner. I keep my coat on and cup my coffee in chilly hands.
Jack Spencer – or more accurately, Jack Mosevic Spencer – runs his sunglasses and phone-case design business from a small industrial unit in Ponsanooth, north of Falmouth. His products are made from recycled denim. Jack's diffident attitude belies a young man with a cast-iron determination and an inventiveness that would have made his Viking ancestors proud.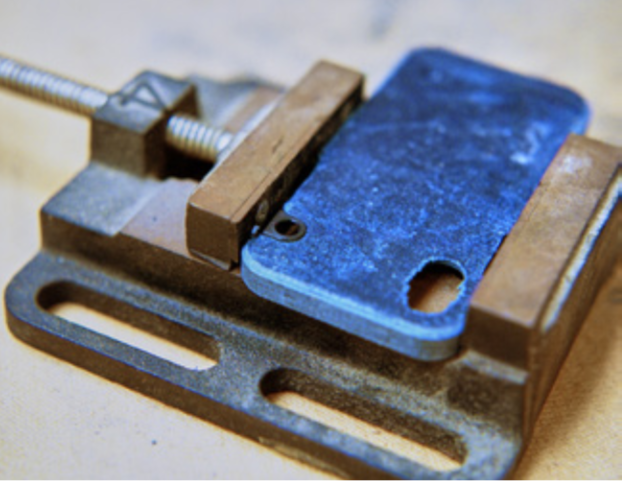 I pick up a prototype phone case. It is as hard and rigid as plastic, and smooth to touch. Yet it is still very clearly made from denim – not some graphic mimicking the fabric, but the real thing. Examine the edges and you can see the layers of fabric that make up the structure. It looks sturdy, and Jack tells me he has tested their resilience: "I hit them with hammers. I did try driving my car over them, but that was a bit too much," he grins wryly.
Why did he choose denim, I wonder. Jack speaks of his journey to producing the exclusive shades and classy phone cases like the inventor he is. Every step he took seems agonisingly painstaking to someone with a less single-minded drive. After graduating with a degree in 3D Sustainable Design from Falmouth University, and inspired by his passions of snowboarding and kite surfing, he began designing boards for land-boarding ("Like kite surfing, but on land," he explains). Learning to use glass fibre inspired him to experiment with different layers of fabric. Luckily, he says, he was living in a shared house with a large garden, so he could tinker to his heart's desire, when he wasn't earning a living working freelance in computer-animated product design (CAD).
Realising that making land-boards and developing ski bindings was not going to work on a small scale, Jack decided to apply his skills to making sunglasses. "I thought: there's no point making sunglasses like all the other sunglasses. There are no new shapes. But what if I could make them out of something else..." Denim was the first material that sprang to mind. "I went to the charity shop and bought some jeans. I cut them up and did a test." Layering up the denim, he poured resin over the cloth, and when it hardened, it formed a brick-like chunk of material that was rock solid.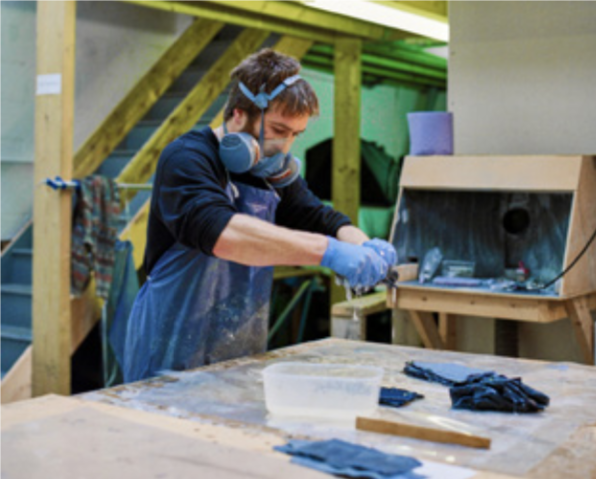 That was just the beginning. Acquiring a workshop in a corner of a brewery, Jack set about making moulds for sunglasses. It has taken him literally years of trial
and error to come up with the prototypes and develop them into the finished products he sells today. He built a computer-controlled cutting machine from pieces he bought online: "It took me well over six months to get it working. It was so frustrating. I didn't know what I was doing," and then took months more to learn how to use it ("and I'm still learning" he says, ruefully).
He used the machine to cut moulds out of big plywood sheets, and spent many hours getting them just right for the shapes he wanted. He worked out that the optimum number of layers of denim for one pre-cut block of 'solid denim' is 15. He discovered that using resin when it is warm is a nightmare: "It starts off as liquid, but as the chemical reaction kicks in, it begins to go gloopy. But when it's warm, it sets faster," he explains, recounting summer days spent racing against the clock to make sure the layers were free of air bubbles and packing them into the moulds before they hardened.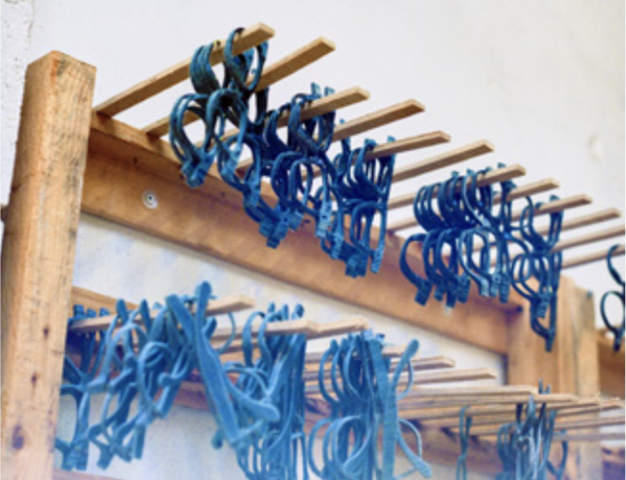 Trying to create the right finish for the glasses and phone cases has been an ongoing challenge. From building a spinning barrel filled with little beads, using kids' bicycle wheels, to working out how to make a tougher surface using wax, Jack seems to be addicted to the process of invention. I wonder whether he was ever tempted to give up and go back to the regular income from CAD work. "I do enjoy the experiments," he insists, "But the whole time, I'm thinking 'I wish these issues were solved'. I know the process to solve them involves doing something again and again and again. What's important to realise is that the whole time, I was getting somewhere. There were milestones. It sounds silly, but just getting a lens into a frame was a big result."
Although he didn't set out to make recycling a factor of his sunglasses, Jack enjoys the fact that he sources the jeans from charity shops. "I reckon I get about three pairs of sunglasses out of one pair of jeans." He currently makes a few hundred pairs of sunnies in a six-month period, formed into five different styles. Moving into making iPhone cases has taken him back to the drawing board, literally producing cases one-by-one – but now he's ready to get a production line going, and he's applying his new- found waxing techniques to the sunglasses.
While there are other denim sunglasses on the market, says Jack, he is confident that his put the others in the shade (so to speak). Comparing them to the denim offerings of Diesel and Ray-Ban, he says that Mosevic frames are carefully curved – essentially hand-crafted for the best ergonomic fit: "I've put a lot of effort into the inside and the outside finish. Ray-Ban and Diesel haven't put any effort into rounding off the edges. The sharp bits hurt your ears. With mine, where it touches your ears, they're completely rounded." He hesitates, then adds quietly: "Not to be blowing my own trumpet, but my frames are just better." He describes how he embeds wire in the arms of the glasses to give them strength, then heats them up and bends them so that they have a better shape for the ears. The fronts have to be heated too, to insert the lenses – as they cool, the lenses maintain the shape of the frame.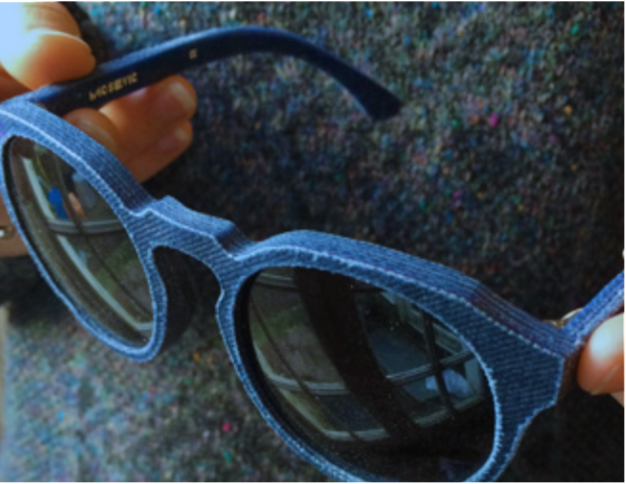 While he knows that 'recycled' is the ultimate marketing bon-mot, Jack is wary of bandying the 'eco' label around. The lenses are made of plastic, he points out, and the resin he uses is synthetic (a polycarbonate), although he is planning to switch to bio-resins within the next couple of months. In the end, he says, he's not sure how much people care about sustainability when they are choosing fashion eyewear. His glasses are certainly at the higher end of the market: costing around £150 a pair, they are no throwaway style fad.
His sunglasses have caught the eye of a few big brands – he's done collaborations with Wrangler jeans and with Vicunha, a Brazilian company that makes 100% sustainable denim. Their fabric is recycled and recycled again, and the rest gets fed to animals (yes, really – cotton is, after all, just another plant). Working with brands like this doesn't just give Mosevic a good name, it encourages him to experiment with other aesthetic ideas, such as inserting a stripe of red denim in the middle of the 15 layers, or adding a metal detail to the frame. As he tosses some battered prototypes onto the work-bench, I witness just some of the "fiddling about" that he has been doing over the months and years. Solid red or green denim arms, striped layers of blue, green, white and red. It seems as if the inventing will never end for the man behind Mosevic.
mosevic.com