Legendary location
Zennor Head is a part of Northwest Cornwall that is steeped in history and mystery. Along this section of coast, the greenstone cliffs and rock outcrops are interspersed with velvety green hillsides falling steeply down to sandy
coves and narrow, rocky zawns. Perched at the head of a steep fold in the coastal rim is a long, low building that follows the contours of the land. This is Carn Cobba, one-time home of author and bibliophile Eric Quayle, and now a rather fabulous holiday residence. The location is both secluded – it is a good few hundred yards down a narrow track beyond the clustered houses of Zennor village – and accessible: it's only a few minutes from the coast road that winds its scenic way to St Ives, which is just four miles away. The cosmopolitan harbour town offers art, culture and good food in abundance.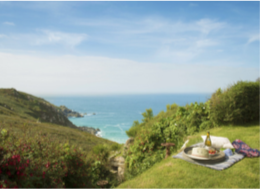 Eric Quayle's book of Cornish folk tales, Magic Ointment, beautifully illustrated by Michael Foreman, features myths of pixies, fairies, giants and witches set in the environs of West Penwith. It is no surprise that such legends came to the fore in a landscape such as this. The grounds of Carn Cobba are magical and liminal – the lawn around the house drops away steeply to a series of grassy terraces enclosed by stone walls and abutted by a rushing stream. There is no child who would not be captivated by the landscaping of little granite bridges, hidden twists and turns, fairy dells and paths leading up and down the bracken-clad hillside. A large pond – coated in springtime with a black blanket of tadpoles – sits just below the house, glittering in the sunlight and offering melancholy beauty on the greyest of days.
The gardens are very much an attraction of Carn Cobba: no matter what the weather (and it is variable in this part of the world), they provide an adventure
for families, and a pleasant place to stroll. Walk to the very lowest terrace through the semi-tropical plants, and a small wooden gate exits straight on to the South West Coastal Path. Right below is the stunning inlet of Zennor beach, with its striking clear turquoise waters. The path curves sharply downwards and then away to the west, towards Gurnard's Head, where a fantastic gastropub provides a welcome respite to those venturing further along the rise and fall of the clifftops.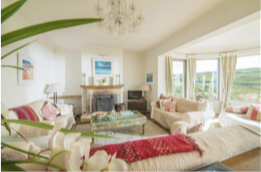 The house itself is like an echo of the landscaping of the grounds. Once again, this is particularly beloved by children: it is a maze of corridors and rooms, all decorated in a homely yet super-high-end style. The centrepiece is the large living room with a massive wrap- around bay window and a soft, circular seat that invites you to lounge on its scattered cushions. The views out across the lawns and down to the sea are exceptional on a clear day. Even when the sea mist presses up against the house, or the rain draws in curtains beyond the windows, the layers of garden give the place a sense of magic. With two 'wings', each containing its own set of bedrooms and luxurious bathrooms; a converted loft space with an office, living area and further bedroom; and a basement living room, there is enough space in the house to be comfortable no matter what the weather. With all this room, it would be ideal for extended families or larger groups coming to stay – without ever getting on top of each other.
The literary provenance of the house and its previous owner are resonant in the many bookcases bursting with reading material – it is hard to resist a yearning to browse the shelves and curl up on a sofa for hours... Or perhaps take a handful of paperbacks outside and pick your way along grassy paths to a pair of steamer chairs in a stone- walled alcove overlooking the gemstone inlet far below.
With all that space to explore and relax in, it could be tempting to stay put, perhaps with the occasional foray down to the cove below. Only a five-minute walk away is the Tinner's Arms: a welcoming pub with a large garden and a great atmosphere. The Chapel Café in Zennor is a delight, too – sit inside the lofty converted chapel, or out in the big back garden, and enjoy an array of teas and homemade treats. St Senara's Church dates back to Norman times, and is central to the legend of the Mermaid of Zennor – in which a mysterious woman with a gorgeous voice seduced 'the best singer in the parish'. He followed her home one day, and they were never seen again. After a sighting of a mermaid soon afterwards, the locals concluded that the mysterious woman was, in fact, a mermaid. Today, visitors can see a church bench which was carved with a mermaid to commemorate the story.
This is one of the most delightful sections of coast path in the whole of Cornwall – its dramatic drops and dips, cliffs and coves, bright gorse and teeming wildlife making it visually stunning, as well as an inspiring (and challenging) walk. For those looking for more of a challenge, Bosigran cliff, a 10-minute drive west of Zennor, is a great placed to learn to rock climb. Even absolute beginners and youngsters can get roped up and scramble perfectly safely up routes here: local outdoor activity companies such as Lizard Adventure will provide expert guides to give guests the experience of a lifetime. If all that's a bit too hardcore, there are masses of activities to be found in and around the nearby coastline: from strolling around the quaint streets of St Ives to playing golf on the links with incredible views at Lelant, or just pottering about on the sandy beaches and coves.