← Back to portfolio
Let there be light
"I went to Berlin not long after the Wall came down," remembers Sophie Miller of Skinflint Design. "I have photos of this desolate wasteland, and pictures of Gorbachev with graffiti sprayed over them. I think that's why I've always been fascinated by the Eastern Bloc." This lifelong fascination forms part of the creative impetus of the Falmouth-based company that she set up with husband Chris in 2007. Industrial chic is very much in the zeitgeist right now, and Skinflint's highly functional salvaged lighting hits the Shoreditch House- slash-steampunk vibe right at its sweet spot.
From outsized anglepoise floor lamps to Polish street lamps reinvented as kitchen pendants, Skinflint's reclaimed designs are all about bringing a no-nonsense factory aesthetic into the home – but they also have a story. "We're drawn to lighting from the Eastern Bloc because of the look of it," explains Sophie, "but the history is also very interesting. With the standardisation that they had over there, you can get the same light in three different sizes, and they can be found in factory after factory after factory. I love finding out about the heritage of the lights – they're so entwined with our social history."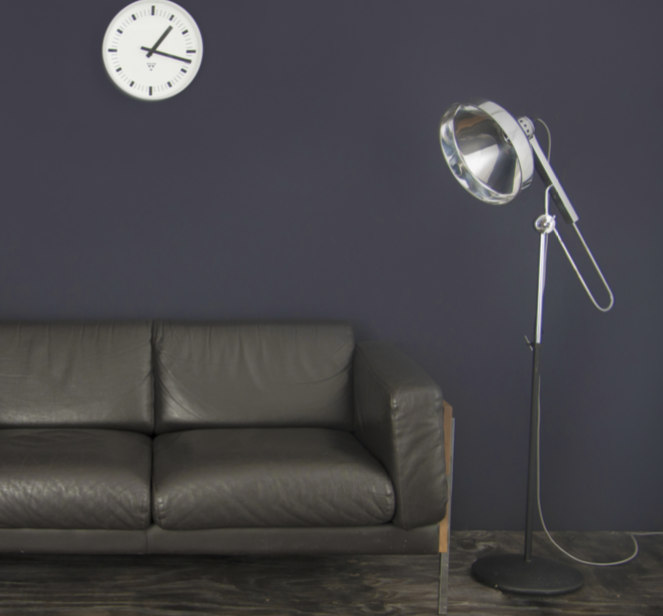 And it's not just the history of Eastern Europe – much of the collection comes from the UK, too: "Lots of our lights come from the factories in the Midlands because
so much British industry was based there." There is something nostalgic about these lights, salvaged from the carcasses of giant factories before they have been razed
to the ground. And yet it also seems refreshingly positive that a company like Skinflint is preserving a piece of our recent past, which might easily be overlooked as a grim  era – a small, almost organic growth coming from the ashes of former industrial giants.
Sophie's background leads from a childhood in Hertfordshire to a Fine Art Painting Degree at Central St Martins, to a seven-year career in the film and TV industry, working as an art director and set designer. As a keen stage actor, she briefly flirted with an acting career. "But I decided that, while it would be great fun, the life wouldn't be for me at all. I didn't like all the ego and the fact that everyone was constantly chasing after parts." So it was behind the camera that Sophie's creativity flourished, and her interest in design was ignited. When she met her now-husband Chris Miller, a designer at renowned architectural lighting company Isometrix, they spent hours of their free time trawling auctions and salvage yards to find interesting 'bits and bobs'. Clearly, sourcing the items was as much of a buzz for them as actually upcycling them and putting them into innovative settings. "I look back and join the dots and can quite easily see how I got to here," says Sophie as she sits in the office of Skinflint's studio on the outskirts of Falmouth.

A move to Cornwall was a less obvious element in the 'join the dots' career path. When their daughter was only six weeks old, Sophie and Chris made the move away from their London stomping ground. "I'd been tied to London for so long," explains Sophie, "and always felt that I wanted to move out, and I wanted to get quite a long way away." She pauses, thinking about the major shift that they made with a tiny baby in tow. "It was a bit of a gamble – everyone thought we'd gone absolutely barking mad. But I thought we'd be more mad to stay. And if it all went really, really wrong, we could always start again somewhere else."
Being in Falmouth, however, was the impetus that they needed to set up their own business. With their combined experience and their love of rescuing discarded items, it didn't take long for Chris to get the first project that would catapult Skinflint into existence. Back in London's salubrious Primrose Hill, Chris and Sophie were asked to consult on an industrial-style lighting scheme for a high-end renovation that was to last two years, and led to them building up an impressive network of local skills and salvage companies around Europe. Several years later, their business has consulted for numerous private interior design projects, sourced lighting for eateries and clubs including Benugo, Jamie's Italian, GBK and Soho House, and they have a limited range of lights that can be bought in Heal's. Their reclaimed lamps, lights and shades can be bought online and they sell to individuals and companies around the globe, from Australia and the Far East to the US and Europe.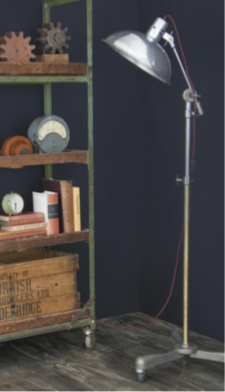 Skinflint is a small, sleek-looking business, but, like the proverbial swan, there is a lot of hard paddling that goes on beneath the surface. All of the sourcing of salvaged lights is done by Sophie and Chris, who take regular trips to auction houses and salvage yards around the UK and Eastern Europe, with their two young children in tow. Recently, the family went to the Czech Republic, where they sourced some exquisite glass pendant lights, travelling from Cornwall to Prague by train. Caught up in a rail strike in Germany, they found themselves standing on a platform late at night, waiting for a sleeper train to take them to Prague that never turned up. The journey ended up taking 12 hours longer than expected. "The children are used to doing things like that, which is a really good education," Sophie says. "They learn that when things don't go right, you have to figure out what you have to do. You have to be flexible." It does help that the children are part home-educated and enrolled part-time at a local Steiner-inspired school. Their flexible education means that they can be involved in the equally flexible cultural education of travelling around, imbued in the world of social history that is behind every salvaged item that their parents discover.
It is when the lights arrive at the workshop in Cornwall that a different sort of graft begins. Each light is painstakingly taken apart and careful plans are drawn for reconstruction ("It's like a jigsaw"). Each element of each item requires a different treatment: they are polished or sealed, and have different finishes applied to them.
Desk lights need rewiring and have to be PAT tested. The components then return to the studio for reassembly, before they are put on the website or sold to buyers, designers and home-owners. Again, Sophie says, flexibility is key: "When things arrive, they can be pretty battered, and sometimes you'll get 50 lights that all appear to be the same, but they're covered in muck and paint. They get taken apart and then we discover that we actually have three different styles." One of the huge advantages of locating themselves in Penryn (Falmouth's ship-building district) is the access to local specialists who can restore the individual components: "We use a lot of people who work in the ship-building industry. It's a really rich place for skills – and so important to support the local economy." While almost all of the lights get sold out of Cornwall, all of the money comes back into the county, Sophie explains – going back into wages for the Skinflint team and paying for the refurbishing contractors.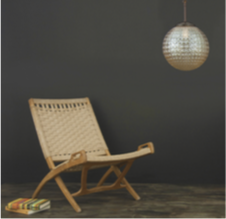 Skinflint's environmental policy says a lot about its founders and their genuine integrity. Their packaging is almost entirely made of recycled materials: even the bubble wrap – vital for preserving the lights and fittings in transit – is made of partially recycled plastic. All the products used in the renovation of the lights – from 
paint to polish to paint-stripper ("we use sodium bicarbonate") – is environmentally friendly. And, of course, they salvage stuff – a noble art in a world that
is frenetically spinning on the hamster-wheel of consume-dispose-upgrade... and repeat.
skinflintdesign.co.uk