Penzance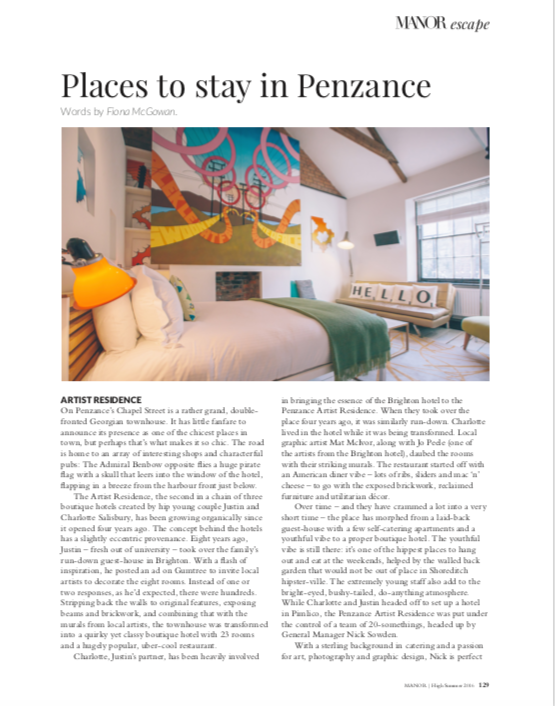 ARTIST RESIDENCE
On Penzance's Chapel Street is a rather grand, double- fronted Georgian townhouse. It has little fanfare to announce its presence as one of the chicest places in town, but perhaps that's what makes it so chic. The road is home to an array of interesting shops and characterful pubs: The Admiral Benbow opposite flies a huge pirate flag with a skull that leers into the window of the hotel, flapping in a breeze from the harbour front just below.
The Artist Residence, the second in a chain of three boutique hotels created by hip young couple Justin and Charlotte Salisbury, has been growing organically since it opened four years ago. The concept behind the hotels has a slightly eccentric provenance. Eight years ago, Justin – fresh out of university – took over the family's run-down guest-house in Brighton. With a flash of inspiration, he posted an ad on Gumtree to invite local artists to decorate the eight rooms. Instead of one or
two responses, as he'd expected, there were hundreds. Stripping back the walls to original features, exposing beams and brickwork, and combining that with the murals from local artists, the townhouse was transformed into a quirky yet classy boutique hotel with 23 rooms and a hugely popular, uber-cool restaurant.
Charlotte, Justin's partner, has been heavily involved in bringing the essence of the Brighton hotel to the Penzance Artist Residence. When they took over the place four years ago, it was similarly run-down. Charlotte lived in the hotel while it was being transformed. Local graphic artist Mat McIvor, along with Jo Peele (one of the artists from the Brighton hotel), daubed the rooms with their striking murals. The restaurant started off with an American diner vibe – lots of ribs, sliders and mac 'n' cheese – to go with the exposed brickwork, reclaimed furniture and utilitarian décor.
Over time – and they have crammed a lot into a very short time – the place has morphed from a laid-back guest-house with a few self-catering apartments and a youthful vibe to a proper boutique hotel. The youthful vibe is still there: it's one of the hippest places to hang out and eat at the weekends, helped by the walled back garden that would not be out of place in Shoreditch hipster-ville. The extremely young staff also add to the bright-eyed, bushy-tailed, do-anything atmosphere. While Charlotte and Justin headed off to set up a hotel in Pimlico, the Penzance Artist Residence was put under the control of a team of 20-somethings, headed up by General Manager Nick Sowden.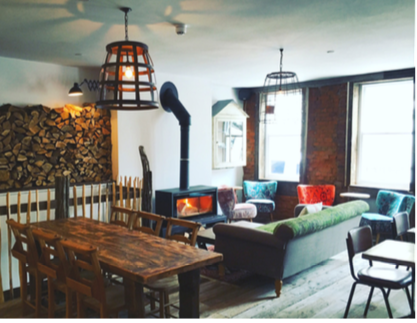 With a sterling background in catering and a passion for art, photography and graphic design, Nick is perfect for the job. He works with the head chef (also only 24) to create a food and drink menu that is pushing boundaries. While not losing touch with the accessible diner-style elements, they are constantly creating imaginative tasting dishes. The food is mostly locally sourced, from the fishmongers in nearby Newlyn, the century-old butcher's up the road and from local producers around the county. The chef is into foraging, too, often bringing in wild garlic and herbs that he has picked himself. A scruffy yard area at the back of the hotel is about to be dug up and planted as a kitchen garden. The menu is heavy on smoked meats, all done on site: a 'Big Green Egg' smoker sits alongside a barbecue on the decking area, and on dry evenings, guests will be able to order and eat their dinner straight from the grill or smoker. A cocktail bar and table tennis table, plus picnic benches and wooden decking, add to the buzzy atmosphere.
Justin and Charlotte explain that the development of both their Brighton and Penzance hotels was done in stages, based not on any grandiose plans but on what they could afford at the time. The layout of the Penzance hotel is currently being altered: the bar is being taken out of the restaurant and put into what was a huge ground- floor apartment. There are still elements that are far from perfect: the finish in some of the hotel's bathrooms still looks a little B&B-y, but the artwork and quirkiness of the interior design more than makes up for it.
While the hotel has very much a 'town' feel – many of its rooms overlook the characterful rooftops, walled gardens and chimney stacks of old Penzance – it is still imbued with the ocean. The higher rooms (particularly the 'Admiral Benbow', where you really do feel as though you are in an old sailing ship) have sea views to the big curve of Mount's Bay, just a couple of streets below.
The atmosphere of the bar and restaurant is a true Cornish blend, catering to arty visitors with a penchant for leftfield design as well as locals from every generation. You are just as likely to find a party of 20-somethings with hipster beards and funky footwear as a couple of elderly artists or a group of parents on day-release from the kids. Most importantly – clientele and décor aside – it feels both comfortable and welcoming, which is about the best endorsement you can get for a hotel.
artistresidencecornwall.co.uk
MYRTLE HOUSE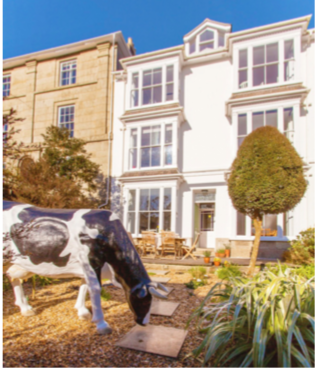 Penzance is a town of many facets: the more genteel neighbourhoods are leafy streets with rows of large terraced townhouses that wouldn't look out of place in Notting Hill; the quiet roads clustered around Morrab Gardens are particularly elegant – the park maintains its secluded Victorian design, with neatly mown lawns, landscaped shrubbery, winding pathways and a delightful wrought-iron bandstand. Myrtle House stands imperiously in a line of merchants' houses, overlooking the gardens and, beyond them, glimpses of the sea stretching out west towards Newlyn and Mousehole.
A socking great Friesian cow grazes on the gravel front garden, indicating that Myrtle House is not your average high-end holiday rental. Admittedly, it's not a real cow, but it's still a bit eccentric to stick a plastic bovine in your front yard. Inside, the décor is just on the right side of quirky, blending period features – lovingly restored fireplaces, wooden floors and great Victorian sash windows – with G-Plan furniture, edgy wallpaper, an enviable collection of Leech Pottery and a few Toby jugs thrown in for comedic value.
If you're going to fend for yourself and spend your holiday in a self-catered house, the kitchen and utilities become rather important. Myrtle doesn't disappoint here: the range cooker is made by uber-luxe brand Lacanche; the big rough-hewn wooden island is both worktop and chopping board, while a farmhouse table is the main draw for the family to gather round. Down in the basement is the all-important utility room, where wetsuits and outdoor gear can be washed and dried (and 'going out clothes' can be ironed). The rather more formal dining room is flooded with light, no matter how gloomy the day, thanks to giant bay windows overlooking Myrtle the cow, chewing on her gravelly cud.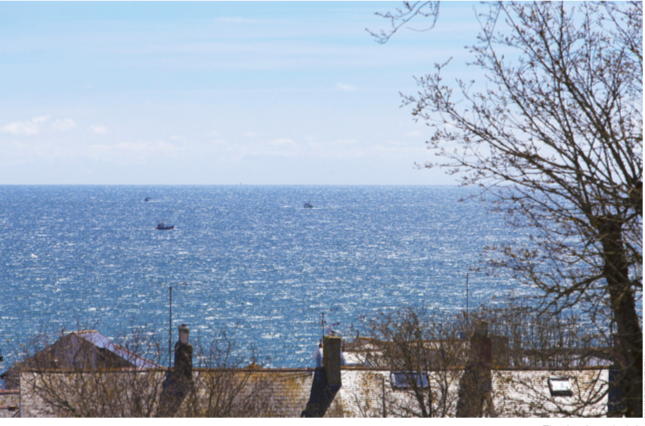 It is a tough call to find a place that juxtaposes such inspiring design features and interesting art with a genuinely homely feel. Most of the rooms upstairs overlook Morrab Gardens, and each room has its own individual personality. If the upstairs sitting room feels rather formal (no soft, sinky sofas here – and the 300-year-old armchair is plain scary if you have sticky- fingered kids around), it more than compensates with the fabulous window seat with its vista of treetops and sea beyond. Some odd, clangy, metal-framed shelves sit alongside spectacular features like the working marble fireplace and large Amanda Slade painting. The bedrooms and en-suites are exactly what you'd expect: high-end finish, flawless fittings and all sorts of vintage oddments and antiques to keep it from feeling too stuffy. The twin room right up in the eaves is a perfect den for kids, too – all funny-angled ceilings, wooden joists and cubbyholes. The whole place is painted in tasteful Farrow & Ball hues, some walls are adorned with Timorous Beasties hand-printed toile wallpaper, and every surface is decorated with carefully thought-out ornaments – from glass Buddhas to cute china birds.

The stairs are lined with books that guests might actually want to read, too (no tatty airport trash here) – entertainment laid-on, no matter what the weather. Bibliophile visitors will be blown away by the Morrab library just on the other side of the gardens. Established in 1818, it is one of few privately owned libraries in the country that are open to the public, and home to some 55,000 books. It is a warren of book-lined rooms, and you can become a member for a week – or just sit in the reading room and take in the atmosphere.
Penzance townhouses were not built with parking in mind, so it is a particular boon for Myrtle House guests that there is designated parking in a gated carpark just a street away. And if the idea of self-catering doesn't appeal, guests can even organise a catering service... Myrtle House is certainly spacious enough for two families or a group of friends to stay, forming a base from which to explore the particular charms of Penzance and the exquisite coastline beyond, all the way to Land's End and back to St Ives on the north coast.
myrtlehousepenzance.co.uk