Presto al Fresco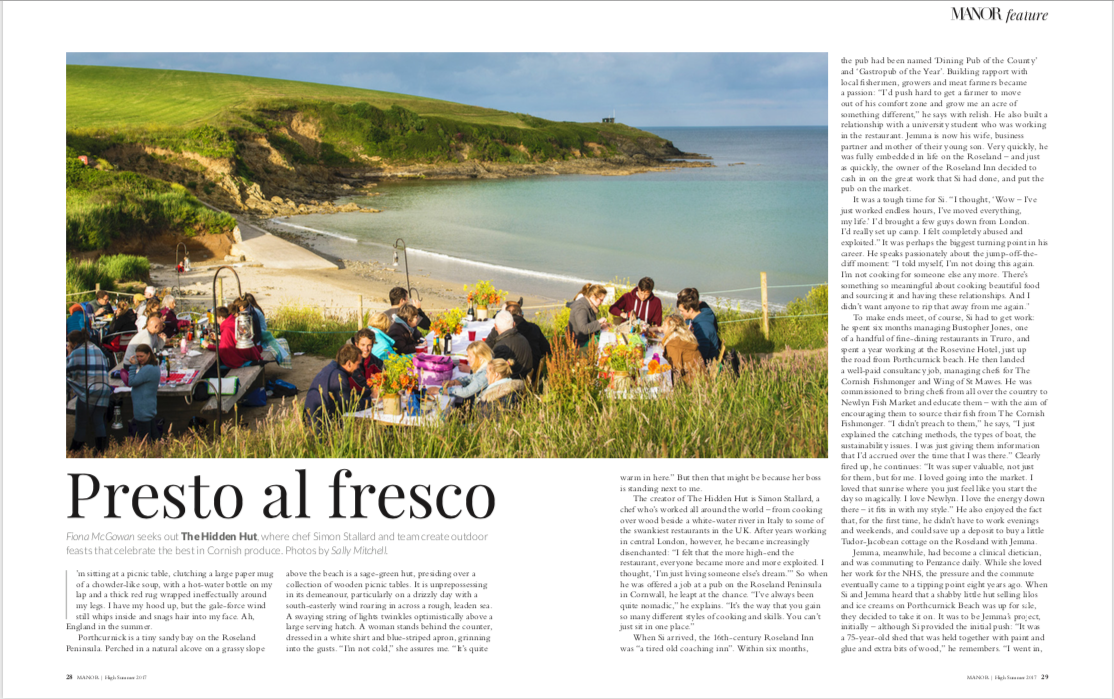 I'm sitting at a picnic table, clutching a large paper mug of a chowder-like soup, with a hot-water bottle on my lap and a thick red rug wrapped ineffectually around my legs. I have my hood up, but the gale-force wind still whips inside and snags hair into my face. Ah, England in the summer.


Porthcurnick is a tiny, sandy bay on the Roseland Peninsula. Perched in a natural alcove on a grassy slope above the beach is a sage-green hut, presiding over a collection of wooden picnic tables. It is unprepossessing in its demeanour, particularly on a drizzly day with a south-easterly wind roaring in across a rough, leaden sea. A swaying string of lights twinkles optimistically above a large serving hatch. A woman stands behind the counter, dressed in a white shirt and blue-striped apron, grinning into the gusts. "I'm not cold," she assures me. "It's quite warm in here." But then that might be because her boss is standing next to me.
The creator of The Hidden Hut is Simon Stallard, a chef who's worked all around the world – from cooking over wood beside a white-water river in Italy to some of the swankiest restaurants in the UK. After years working in central London, however, he became increasingly disenchanted: "I felt that the more high-end the restaurant, everyone became more and more exploited. I thought, 'I'm just living someone else's dream.'" So when he was offered a job at a pub on the Roseland Peninsula in Cornwall, he leapt at the chance. "I've always been quite nomadic," he explains. "It's the way that you gain so many different styles of cooking and skills. You can't just sit in one place."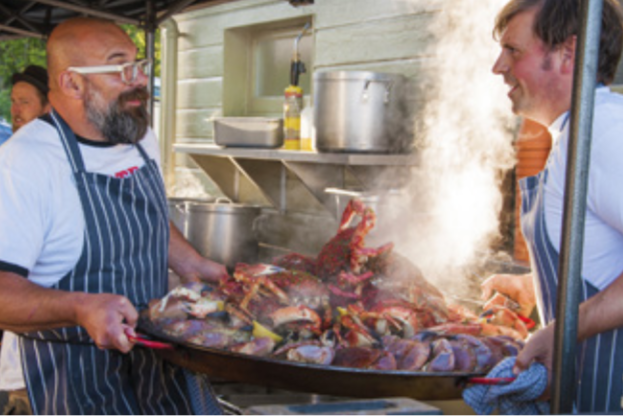 When Si arrived, the 16th-century Roseland Inn was "a tired old coaching inn". Within six months, the pub had been named 'Dining Pub of the County' and 'Gastropub of the Year'. Building rapport with local fishermen, growers and meat farmers became a passion: "I'd push hard to get a farmer to move out of his comfort zone and grow me an acre of something different," he says with relish. He also built a relationship with a university student who was working in the restaurant. Jemma is now his wife, business partner and mother of their young son. Very quickly, he was fully embedded in life on the Roseland – and just as quickly, the owner of the Roseland Inn decided to cash in on the great work that Si had done, and put the pub on the market.
It was a tough time for Si. "I thought, 'Wow – I've just worked endless hours, I've moved everything down here, my whole life...' I'd brought a few guys down from London. I'd really set up camp. I felt completely abused and exploited." It was perhaps the biggest turning point in his career. He speaks passionately about his jump-off-the-cliff moment: "I told myself, I'm not doing this again. I'm not cooking for someone else any more. There's something so meaningful about cooking beautiful food and sourcing it and having these relationships. And I didn't want anyone to rip that away from me again."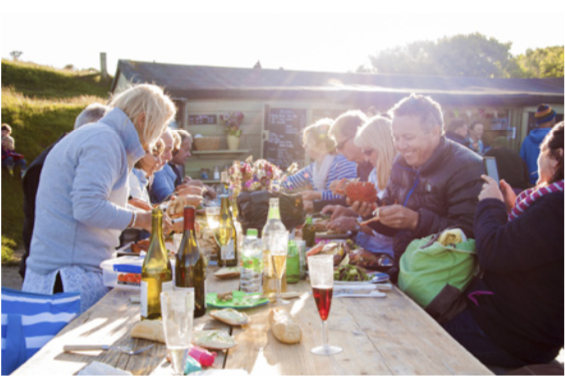 To make ends meet, of course, Si had to get work: he spent six months managing Bustopher Jones, one of a handful of fine-dining restaurants in Truro, and spent a year working at the Rosevine Hotel, just up the road from Porthcurnick beach. He then landed a well-paid consultancy job, managing chefs for The Cornish Fishmonger and Wing of St Mawes. He was commissioned to bring chefs from all over the country to Newlyn Fish Market and educate them – with the aim of encouraging them to source their fish from The Cornish Fishmonger. "I didn't preach to them," he says, "I just explained the catching methods, the types of boat, the sustainability issues. I was just giving them information that I'd accrued over the time that I was there." Clearly fired up, he continues: "It was super valuable, not just for them, but for me. I loved going into the market. I loved that sunrise where you just feel like you start the day so magically. I love Newlyn. I love the energy down there – it fits in with my style." He also enjoyed the fact that, for the first time, he didn't have to work evenings and weekends, and could save up a deposit to buy a little Tudor-Jacobean cottage on the Roseland with Jemma.
Jemma, meanwhile, had become a clinical dietician, and was commuting to Penzance daily. While she loved her work for the NHS, the pressure and the commute eventually came to a tipping point eight years ago. When Si and Jemma heard that a shabby little hut selling lilos and ice creams on Porthcurnick Beach was up for sale, they decided to take it on. It was to be Jemma's project, initially – although Si provided the initial push: "It was a 75-year-old shed that was held together with paint and glue and extra bits of wood," he remembers. "I went in, cleared everything out, painted it, put a bit of flooring in, put some refrigerators in and said, 'We'll give this a go for a year'." To show their commitment to the project, they decided to open seven days a week.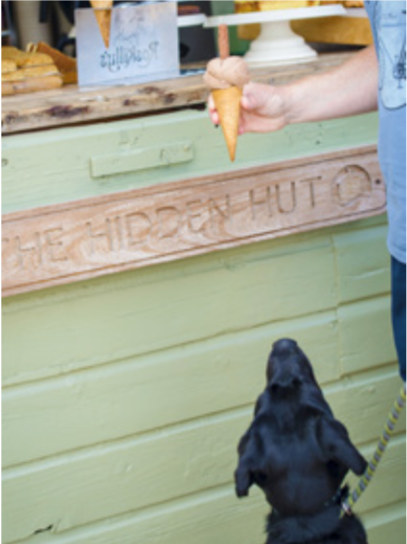 The Hidden Hut began to sell lunches, teas and coffees. Jemma's mum was drawn out of retirement to bake cakes, and Jemma ran the business. Her dietician background and her mum's obsession with using the best ingredients ("I'm only baking if I can use beautiful flours... I'm not compromising on butter... I'm not compromising on any ingredients...") meant that the food was delicious. However, for the first year, the business was not a rollicking success, and Si and Jemma wondered when it would pick up.
Still spending his days educating chefs at Newlyn Fish Market, Si watched the fabulous seafood getting exported to restaurants as far afield as Spain and to central London. He decided to buy a few boxes of mackerel, borrow some kettle grills, chop up some wood and make some salad. They put a notice-board on the road, and reckoned on catering for around 50 people. "The first night, literally, 50 people were in and eating, and there were more and more people coming over the cliff. We said, 'I'm really sorry – we'll have to do it again next week.' So I got enough for 100." He and Jemma borrowed barbecues and grills from friends and prepared for 100 guests. Yet again, they were overwhelmed... The Hidden Hut had found its way onto the radar.
The Feast Nights are now so popular that Si and Jemma sell tickets online. They can sell out within eight seconds and sometimes have as many as 22,000 people applying for them. Si gathered a team of chefs to work in the Hut for the lunchtimes and the once- or twice- monthly feasts. The emphasis was always on having a low impact on the immediate environment. Initially, the kitchen was on a trailer that could be towed in and out. The food for the café is now cooked off-site in a big kitchen unit in nearby Portscatho, and Si proudly explains that The Hidden Hut generates no landfill waste. Packaging is 100% recycled, and they use local recycling company HCA to collect all of their waste from bins that are stored in a barn away from the beach.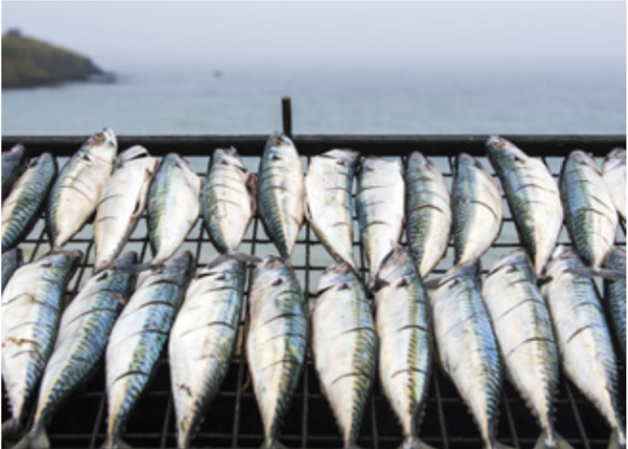 Si's spontaneous style of cooking began brewing back when he worked in Italy: "It was really inspiring working with guys who were just shooting from the hip, rather than this big, planned stuff." And the feasts have just that sense of immediacy. Need a rotisserie capable of turning a grill carrying 150kg of chickens at a slow enough rate to cook them evenly over wood? Bastardise a Stannah stair-lift motor, and attach it to a grill. Need a place to brew top-notch coffee? Buy a derelict public toilet block and turn it into a hipster-cool coffee shop called Tatams (overlooking the harbour in Portscatho, it now has rather classier loos in the back). Want to encourage people to enjoy locally caught fish? Start a fish festival and contribute all the profits to local projects. (Portscatho Fish Festival was so popular it turned into 'Simon Stallard's Barbecue for 1,000 people', and Si decided to knock it on the head and come up with more creative local events).
The word has spread about Simon Stallard, and he receives requests to do events for an array of clients, from small local weddings to banquets for the super-rich. Because the feasts are created entirely off-grid, Si can cater for wood-fired grills in the most isolated of locations. He's run events where all the guests have to be helicoptered in, or brought in on 1920s launches to remote beaches. He's been asked to consult for high-end resorts around the world, to give advice about setting up feast nights. "We massively cherry-pick the jobs we do," says Si, clearly keen not to get overwhelmed by demand. The Hidden Hut and Tatams form the anchor of his work, and Jemma, their son and her family are his bedrock.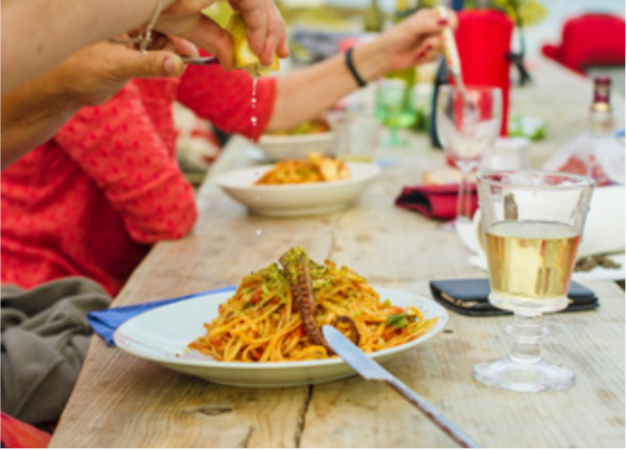 I returned to Porthcurnick on a glorious summer's evening for a Mackerel Feast. The environment could not have been more different. In a golden sunset, the guests sat together on the out-sized picnic tables, while the chefs cooked over huge blackened half-barrel barbecues, blue smoke wafting up to blend with a cobalt sky. Everyone had their own plates and cutlery, people popped their own bottles of fizz, cider and wine, and groups of unconnected people chatted easily across tabletops laden with bags of crisps, crackers, dips and big jugs of wild flowers. Antipasti – pots of olives, nuts and sun-dried tomatoes – could be bought at The Hut (at £5 a pop, it was no surprise that many people had brought their own starters). 
The food was served, canteen-style, at a long wooden counter, with Jemma and the serving team chatting to visitors and doling out buttery baby potatoes, leaves of Romaine lettuce and a whole grilled mackerel with a big drizzle of vinaigrette. It was basic, wholesome food. There was nothing fanciful or imaginative about the fare, and I suspect that the young couple on our table who make a habit of 'foodie experiences' (they mentioned unusual supper clubs and a restaurant where they were served by blind people) might have felt a little let down. But this is what it says on the tin. As Si says, "It's about getting a really cool, robust, beautifully, locally made picnic." It's about the conviviality of dining together with total strangers. It's about eating naturally, cooking naturally and being surrounded by nature.