← Back to portfolio
Riding the Wave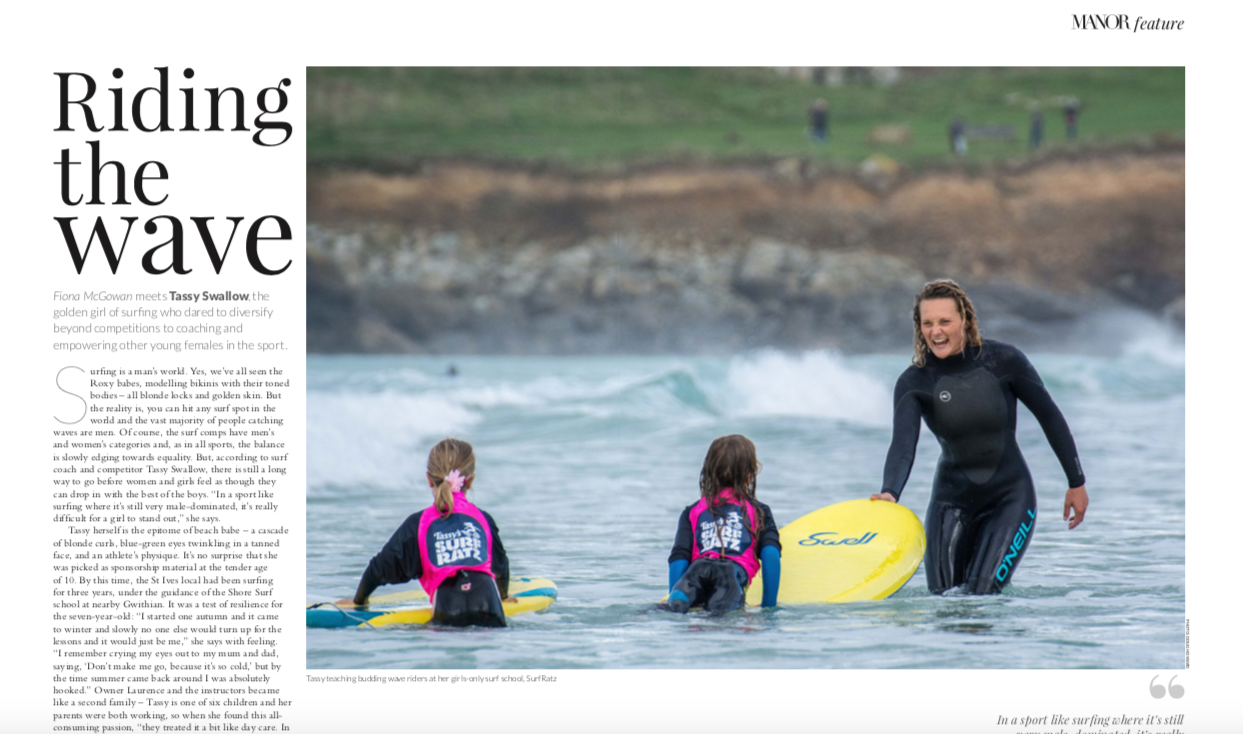 Surfing is a man's world. Yes, we've all seen the Roxy babes modelling bikinis with their toned bodies – all blonde locks and golden skin. But the reality is, you can hit any surf spot in the world and the vast majority of people catching waves are men. Of course, the surf comps have men's and women's categories and, as in all sports, the balance is slowly edging towards equality. But, according to surf coach and competitor Tassy Swallow, there is still a long way to go before women and girls feel as though they can drop in with the best of the boys. "In a sport like surfing where it's still very male-dominated, it's really difficult for a girl to stand out," she says.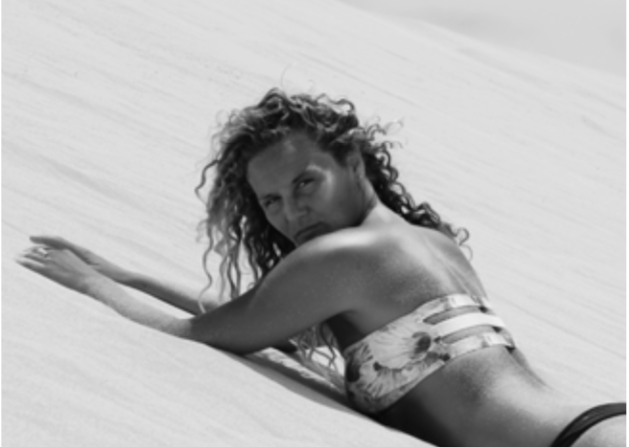 Tassy herself is the epitome of beach babe – a cascade of blonde curls, blue-green eyes twinkling in a tanned face, and an athlete's physique. It's no surprise that she was picked as sponsorship material at the tender age of 10. By this time, the St Ives local had been surfing for three years, under the guidance of the Shore Surf school at nearby Gwithian. It was a test of resilience for the seven-year-old: "I started one autumn and it came to winter and slowly no one else would turn up for the lessons and it would just be me," she says with feeling. "I remember crying my eyes out to my mum and dad, saying, 'Don't make me go, because it's so cold,' but by the time summer came back around I was absolutely hooked." Owner Laurence and the instructors became like a second family – Tassy is one of six children and her parents were both working, so when she found this all- consuming passion, "they treated it a bit like day care. In the holidays, I'd just hang down there from the morning until the evening." Soon, Animal clothing brand offered her sponsorship: "Because I was a little blonde-haired, tanned girl, I looked like the perfect advert for that lifestyle," she explains, "and I loved it because I got all the free clothes." By the time she was around 12, she began to enter competitions...
Fast forward to today. A warm, sunny day in St Ives, we have found a corner tucked away from the hordes in the town's perennially popular Hub bar-diner. Tassy is now 24 – still vibrant with youth, but with a maturity far beyond her years. For the last seven of them, she has been running Surf Ratz, a girls-only surf school, from the beaches in St Ives – in between travelling to surf competitions all over the world. The school is set up for girls from seven to late teens and was born out of Tassy's experience of being on the national and international surf circuit.
Being a sponsored surfer must have seemed like a dream for a teenager like Tassy, but "it can be a double- edged sword". It had its plus sides, for sure. On the one hand, she was supported and included in a team that became a close-knit family; she got to do the sport she loved in some of the most exquisite locations around the world. Initially, while the trips were funded, and the youngsters in Team GB received free products, there was no financial payment, and the children had to return to their schools and studies once the competition was over. Socially and academically, being semi-pro was a bit of a struggle. "It was a tough time," she admits. "The sacrifice that I had to make for all that amazing travelling was that I really had zero social life. Boys, parties, make- up, all that stuff – I was completely out of the loop of it." But looking back on it, it seems as though she might have dodged a bullet.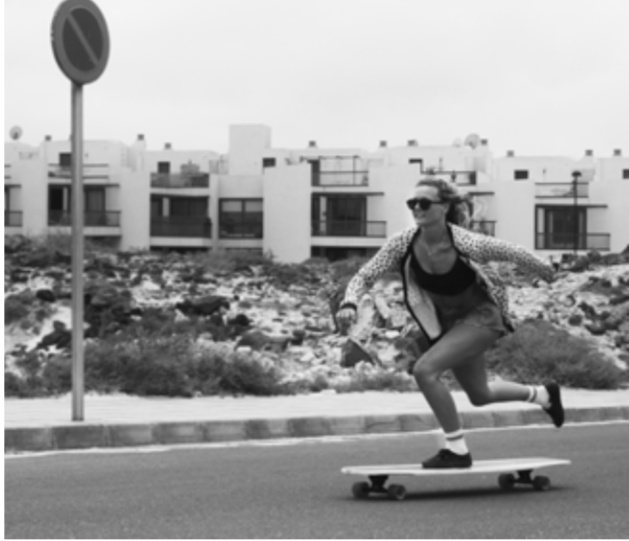 Somehow, out of this crucible of the international surf circuit, Tassy has found a new role. When she started an all-girls surf club, it was partly for financial reasons – back in Cornwall, she needed to support herself and teaching surfing was the obvious choice. But she quickly realised that she could offer support for local girls in other ways than teaching them how to stand up on a wave or coaching them towards competitions. She wanted to mentor these girls. "St Ives is a really amazing place to live, but opportunities are quite small and the friendship groups are quite cliquey," she says. "I try to be really honest with the girls and talk to them about things that have happened to me and the experiences I've had, and the travels."
Tassy has by default become a big sister to her Surf Ratz girls. It's partly to do with only taking a maximum of seven children out at any one time; perhaps partly thanks to being from a big tribe of siblings herself (she originally set up the club for friends of her younger sister), and perhaps thanks to her own mentors: particularly coach Laurence and her own parents. Both parents allowed her to see surfing as a career, not just a pastime. For years, they committed to driving her all over the South West, with the younger two in tow, and her dad encouraged her to start doing competitions at a young age: "When I was about 11, my dad said, 'if you do want to do competitions, you have to learn to lose before you start to become a good winner'. So, I was entering the Under-14 boys comps, because there weren't many divisions for girls at that age. Obviously, I was always losing against the boys, but loving it."
When she was only 20, and still representing Team GB, Tassy made a decision that has altered the current of her life. Hearing about a building that was up for lease on St Ives' iconic 'Island' – the grassy hill overlooking Porthmeor beach – she decided to pitch for it as a clubhouse for her Surf Ratz. She launched a Crowdfunding campaign and raised £12,000 in four weeks, then rallied the support of locals to help renovate the derelict barracks building. It opened its doors in 2016, and in the summer of 2017, Tassy decided to hold a mini-festival to thank the local community for their support. With local bands playing and local businesses selling food and booze, it was a hit. And Tassy discovered a new talent: event planning. 2018 saw the second 'Summer Island Disco' in St Ives – a ticketed event to raise money for the clubhouse.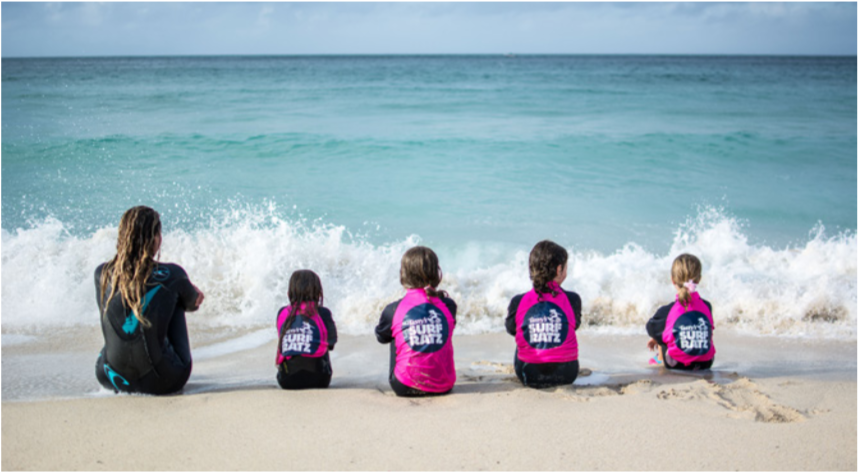 She is now focused on making the SurfHouse a venue for all sorts of community-based events: from yoga, pilates and mindfulness to crafts, sea-school, courses and movie nights – all along the marine and wellness themes. But most importantly, it is a haven for the Surf Ratz – an old-school social club of the likes that seemed to have disappeared in the late 70s. "It's nice for the girls, because it shows them that as well as doing something with them, I've also found this whole new side of things I really love doing that I didn't know I would... or even that I'd be any good at it."
Tassy's ethos is to support girls and women through surfing. Teenage girls particularly often have to negotiate a minefield of so-called 'selfie-obsessed rivalry'. But being in the sea takes all that away. The mobile phones get left on the shore. The girls instinctively empower each other – with the more experienced surfers helping the newbies. And make-up and mugging have no place in the waves. Tassy says that while the local surf schools are fantastic in supporting young surfers, "I'm constantly hearing parents say 'my daughter went to a session there and she hated it because it was really intimidating for her with loads of boys'. But put them in a group of five, six girls, they're full-on, feisty – raaaah," she grins enthusiastically. "Proper sense of empowerment. And that's what I set it up for. Making them feel like they can do anything..." While Tassy has had her wobbles since setting up the SurfHouse, doing a course in business for social entrepreneurs at Dartington Hall was key: "It made me realise that it's OK to be scared shitless. There's a lot of other people that are in the exact same position."
Tassy is still competing – she took part in Boardmasters just a few weeks ago – but now sees her future from a more empowered perspective. Instead of being told where to compete, and being beholden to the social media requirements of her sponsors, she imagines a future where she can make enough of a success of her surf school and SurfHouse to pay her own way around the circuit: "I want to be able to travel where I want and compete where I want... With Surf Ratz and the SurfHouse, I'm not just 'Tassy Swallow, surfer' any more. I think I've got bigger and better things to offer."
tassyssurfratz.com