← Back to portfolio
ShelterBox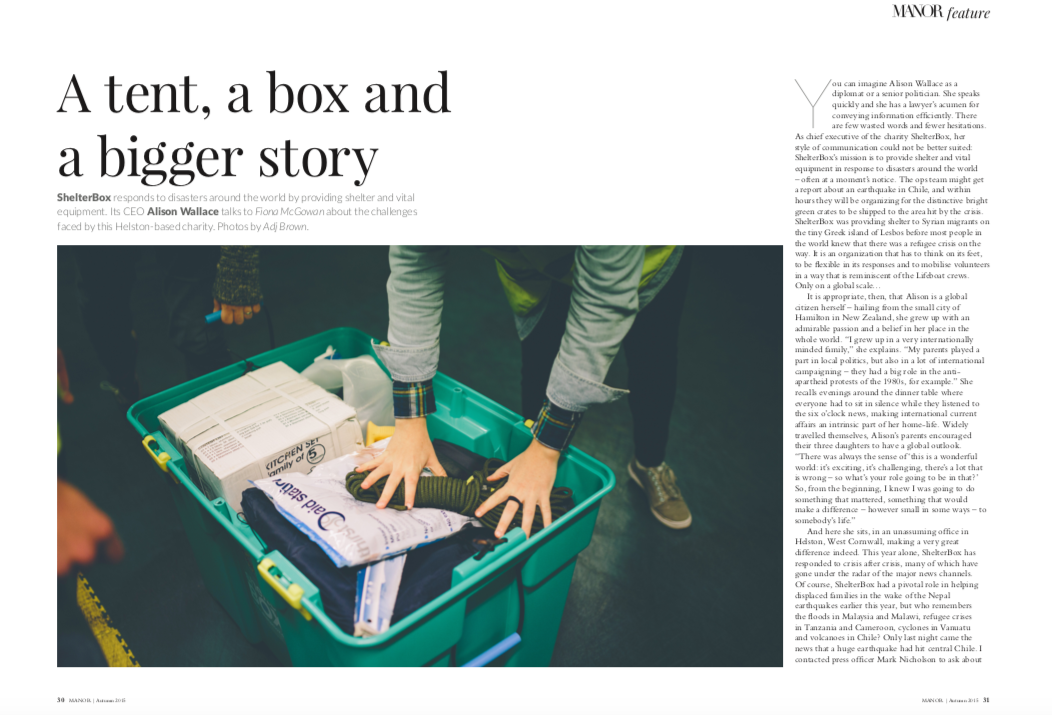 You can imagine Alison Wallace as a diplomat or a senior politician. She speaks quickly and she has a lawyer's acumen for conveying information efficiently. There are few wasted words and fewer hesitations.
As chief executive of the charity ShelterBox, her style of communication could not be better suited: ShelterBox's mission is to provide shelter and vital equipment in response to disasters around the world – often at a moment's notice. The ops team might get a report about an earthquake in Chile, and within hours they will be organising for the distinctive bright green crates to be shipped to the area hit by the crisis. ShelterBox was providing shelter to Syrian migrants on the tiny Greek island of Lesbos before most people in the world knew that there was a refugee crisis on the way. It is an organization that has to think on its feet, to be flexible in its responses and to mobilise volunteers in a way that is reminiscent of the Lifeboat crews. Only on a global scale...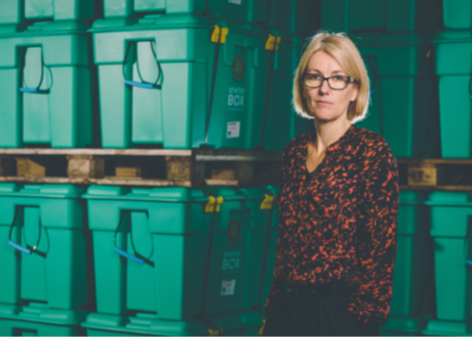 It is appropriate, then, that Alison is a global citizen herself – hailing from the small city of Hamilton in New Zealand, she grew up with an admirable passion and a belief in her place in the whole world. "I grew up in a very internationally minded family," she explains. "My parents played a part in local politics, but also in a lot of international campaigning – they had a big role in the anti-apartheid protests of the 1980s, for example." She recalls evenings around the dinner table where everyone had to sit in silence while they listened to the six o'clock news, making international current affairs an intrinsic part of her home-life. Widely travelled themselves, Alison's parents encouraged their three daughters to have a global outlook. "There was always the sense of 'this is a wonderful world: it's exciting, it's challenging, there's a lot that is wrong – so what's your role going to be in that?' So, from the beginning, I knew I was going to do something that mattered, something that would make a difference – however small in some ways – to somebody's life."
And here she sits, in an unassuming office in Helston, West Cornwall, making a very great difference indeed. This year alone, ShelterBox has responded to crisis after crisis, many of which have gone under the radar of the major news channels. Of course, ShelterBox had a pivotal role in helping displaced families in the wake of the Nepal earthquakes earlier this year, but who remembers the floods in Malaysia and Malawi, refugee crises in Tanzania and Cameroon, cyclones in Vanuatu and volcanoes in Chile? Only last night came the news that a huge earthquake had hit central Chile. I contacted press officer Mark Nicholson to ask about ShelterBox's response. "Our operations team in Helston was aware of the situation within hours via a contact in Santiago," he tells me. "Over the next day, we will be focused on properly assessing whether to deploy [ShelterBox equipment and volunteers]."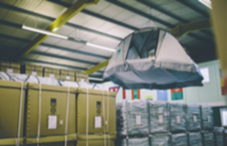 The great humanitarian issue right now is the mass migration of Syrian refugees across Europe. I ask Alison whether providing aid for these people is in ShelterBox's remit, when it usually helps to deal with situations in comparatively smaller locales. It turns out that ShelterBox had already begun to provide shelter to the first waves of desperate people several weeks ago – before many of us were aware that a crisis was building. "I'm very proud of the work that we did," says Alison. "We sent a team to the Greek island of Lesbos four weeks ago. The fact that we were doing that before there was massive international interest is really pertinent to the way that ShelterBox operates."
Unfortunately, the lack of co-ordination and sheer number of people arriving on the island meant that ShelterBox and other organisations could no longer provide help in that location. It is currently aiming to find another location on the mainland, where efforts are better coordinated, and ShelterBox response volunteers can work with other shelter charities as part of the UN-designated 'clusters', which have worked well in the past.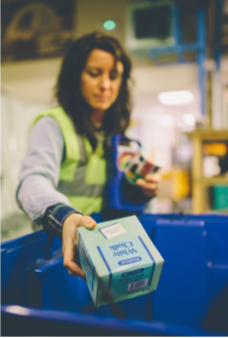 Alison's background in working for campaigning and advocacy organisations, such as British Refugee Council, Friends of the Earth and Amnesty International, gives her an impressive understanding of the wider geopolitical causes of the crises that ShelterBox responds to. "I studied Global Politics at Birkbeck because I wanted to round out some of the experience that I was getting." She can see clearly that everything has a context: "The European refugee crisis is not a single-cause, easily solved, national or even regional issue. It's a geopolitical thing. It brings in Russia, the EU, and the US. The thing with mass migration is that people can move so easily now. They speak multiple languages, they are well educated, they can walk across borders..."
Alison is keen to point out that ShelterBox appears to have a simple remit: "You're displaced from your home. We'll bring a tent. A box with kitchen equipment and household equipment," but it is actually part of a bigger story. "We work in this incredibly complex changing global environment. And we can't do anything without a very clear understanding of how that impacts on our work." ShelterBox has recently joined 400 separate organisations calling on the UK government to make better provision for 20,000 Syrian refugees over the next four or five years. Clearly, advocacy and campaigning is still one of Alison's strong suits.
Britain has had an amazing impact on Alison since she first arrived in 1992, fresh out of law school and thinking that she was going to work in New Zealand and "be like Susan Day in LA Law – doing human rights and labour law, all heroic stuff." In Britain, she sensed that she was in the middle of something. "I think, for me, Britain has always played a very global role. That's always been attractive about the UK: its international news coverage, its role in the European Union and in key UN structures and agencies." She has huge praise for the British public, too: "I think British people are amazing," says Alison sincerely. "The news can sometimes portray them as inward-looking or not caring about others, but time and time again, in all of the roles I've had in this sector, that has been totally disproved. British people are very, very humanitarian-minded."
ShelterBox, she adds, is like the central part of a Venn diagram for her – the overlap between 'international outlook', 'helping others' and 'Britain'. It is inspiring to be with someone so genuinely enthused by the work she does, as well as the human context in which she has carved her career. Learning more about the complexities of her job, though, makes me wonder if she finds it particularly challenging. She spends a portion of her working life in London, where ShelterBox has an office, and the rest at ShelterBox HQ in Helston. She shuttles between the two regularly by train, dashing in and out of high-level meetings. Alison points out that any chief executive works in a similar way – living part-time in Cornwall doesn't seem to faze her. The challenges she faces are simply the challenges of working for a rapid-response aid organization.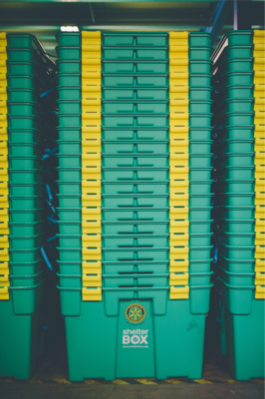 The key to ShelterBox's strategy and success is that it tends to focus on relatively small-scale disasters, which means it can be both flexible and efficient. The organisation has a 'pre-positioning' model, where the big plastic boxes are stored at 20 locations around the world, in transport hubs such as Dubai, so it can be a relatively short hop to bring the boxes to a disaster zone. Another factor is the speed with which information is passed to the organisation. Using resources like Reuters, the International Organisation for Migration, Global Disaster Alert Coordination System and the Met Office, the ops department
can track and flag up any potential flashpoints, but it is the relationships that the organisation has on the ground that make all the difference. Having a close relationship with the world-wide network of the Rotary Club is key to helping ShelterBox get information out and to helping bring in aid using charter planes, to connect with local governments and with local groups. In spite of all this preparation and careful logistical planning, Alison says that the biggest challenge about working at ShelterBox is "the unpredictability, the changeable nature of plans. It's a logistical spider's web." At the same time as overseeing the logistical decisions, Alison is the public face of the agency, maintaining and building relationships with fundraisers and volunteers, and dealing with any inter-organisational issues.
She does, incredibly, manage to spend quality time in Cornwall. "I am, bit by bit, knocking off sections of the South West Coast Path," she says with a smile. "I've made it from Falmouth to Penzance so far. And I'm an amateur, poor and unfit cyclist, and there's a lot of very good off-road cycling for someone like me." Alison is clearly not going to let her hectic work life affect her enjoyment of living right by the stunning Lizard peninsula. "My bike is down here. My walking boots are down here. I'm not moving back to London any time soon."
shelterbox.org