The Alice Factor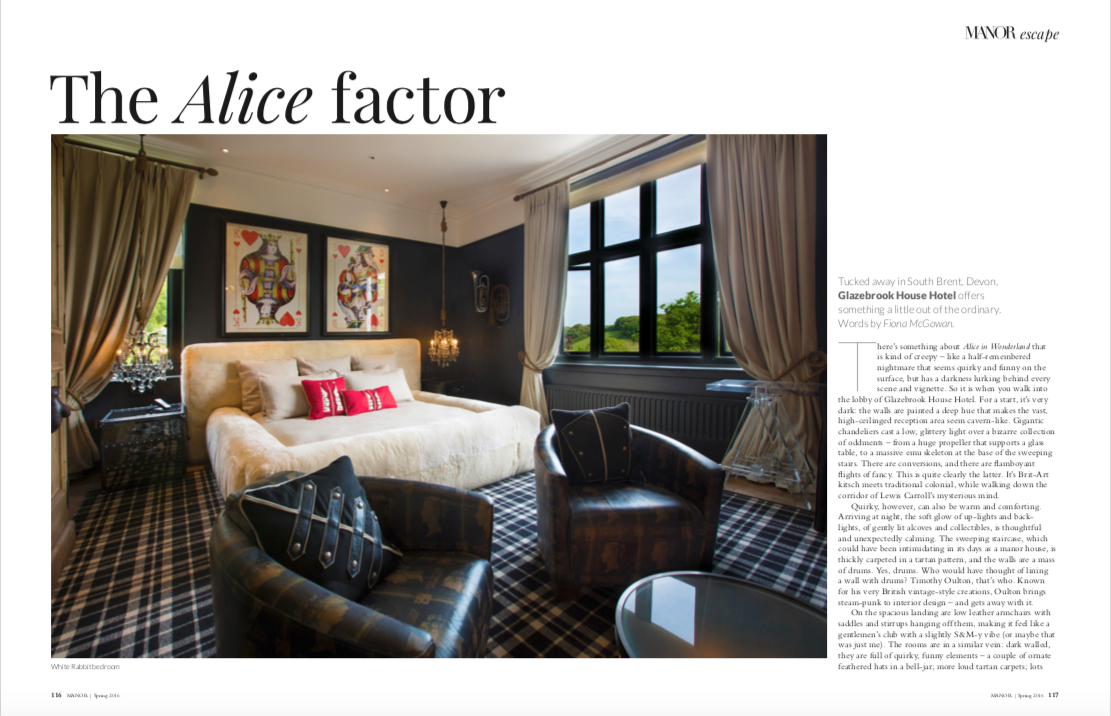 There's something about Alice in Wonderland that is kind of creepy – like a half-remembered nightmare that seems quirky and funny on the surface, but has a darkness lurking behind every scene and vignette. So it is when you walk into the lobby of Glazebrook House Hotel. For a start, it's very dark: the walls are painted a deep hue that makes the vast, high-ceilinged reception area seem cavern-like. Gigantic chandeliers cast a low, glittery light over a bizarre collection of oddments – from a huge propeller that supports a glass table, to a massive emu skeleton at the base of the sweeping stairs. There are conversions, and there are flamboyant flights of fancy. This is quite clearly the latter. It's Brit-Art kitsch meets traditional colonial, while walking down the corridor of Lewis Carroll's mysterious mind.
Quirky, however, can also be warm and comforting. Arriving at night, the soft glow of up-lights and back- lights, of gently lit alcoves and collectibles, is thoughtful and unexpectedly calming. The sweeping staircase, which could have been intimidating in its days as a manor house, is thickly carpeted in a tartan pattern, and the walls are a mass of drums. Yes, drums. Who would have thought of lining a wall with drums? Timothy Oulton, that's who. Known for his very British vintage-style creations, Oulton brings steam-punk to interior design – and gets away with it.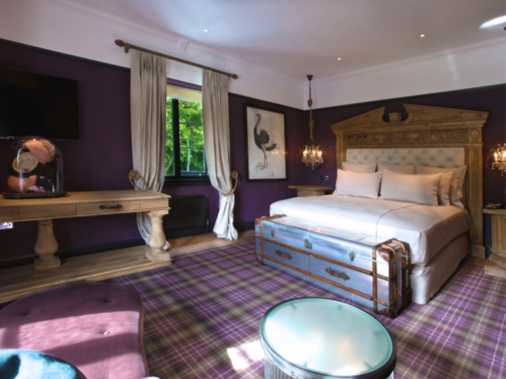 On the spacious landing are low leather armchairs with saddles and stirrups hanging off them, making it feel like a gentlemen's club with a slightly S&M-y vibe (or maybe that was just me). The rooms are in a similar vein: dark walled, they are full of quirky, funny elements – a couple of ornate feathered hats in a bell-jar; more loud tartan carpets; lots of beaten-up leather tautly stretched over low, 60s-style armchairs; oversized, distressed wooden furniture and big silvery travelling trunks. The large sash windows are draped with satisfyingly heavy curtains – completely blocking out the wind or the sound of traffic. A pair of faux-vintage boxing gloves hangs from the wardrobe door and OTT chandeliers are de rigueur. The bathrooms are very shiny: all dark marble and sharp-edged chrome fittings – the geometric black and white floor in my ensuite was enough to induce a hangover before I even went down to dinner.
Lest all of this eccentric design might suggest a lack of comfort, be assured that the form certainly does not overcome function. A hotel is supposed to be a place to get a good night's sleep, and a luxury hotel should add a sense of magnificence to that sleep. Glazebrook achieves this. The soft lighting, deep-cushioned chairs, furry throws and ultra comfy beds make this the sort of place where your dreams might even come close to Through the Looking Glass magic.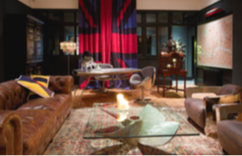 The restaurant is as much about the food as about the décor – although the décor does come a very close second. Who could not be dazzled by a wall entirely covered in blue willow-pattern plates and a floor that is basically a chess board? Run by Michelin-starred chef Anton Piotrowski, the menu is predictably imaginative and mouthwatering – echoing the 'twisted-vintage' style
of the hotel: there's steak and duck breast, Cajun chicken and even good old fish and chips. Don't expect these dishes to taste like pub fare, though – it is the quirky sides, deft cooking and unexpected ingredients (gin and tonic turnips) that up the ante on your palate (and on your wallet – this is not a cheap place to eat out).
Relaxing in the bar before or after dinner is a treat in itself. A big bay window and clusters of heavy leather club chairs make this feel like a proper den. Out of proportion sweetie jars full of Quality Street on the bar shout 'eat me', while the selection of drinks behind it certainly don't need to be labelled 'drink me'. It is here that you might meet Pieter and Fran Hamman, the jovial and welcoming couple who transformed what was previously a dowdy hotel into the chic Shoreditch House-esque place it is today. The South African pair bought Glazebrook as a project after they both retired – Fran has a background in restoration interiors, and Pieter in software development. The 'Alice' theme was mainly Fran's idea, apparently – and one that Oulton was clearly delighted to run with...
Exiting the hotel is like stepping back into reality. Behind you, a slightly dream-like world of outsized objets, butterfly collections and a book-lined room dedicated to tasting whisky and wine; outside, mature woodland and a landscaped garden, with the hum of the nearby A38 audible through the trees. Perhaps you might see an errant flamingo on the croquet lawn, but it all seems pretty unlikely, once you're throwing your holdall into the car and breathing in the fresh Devon air...