The Future is Green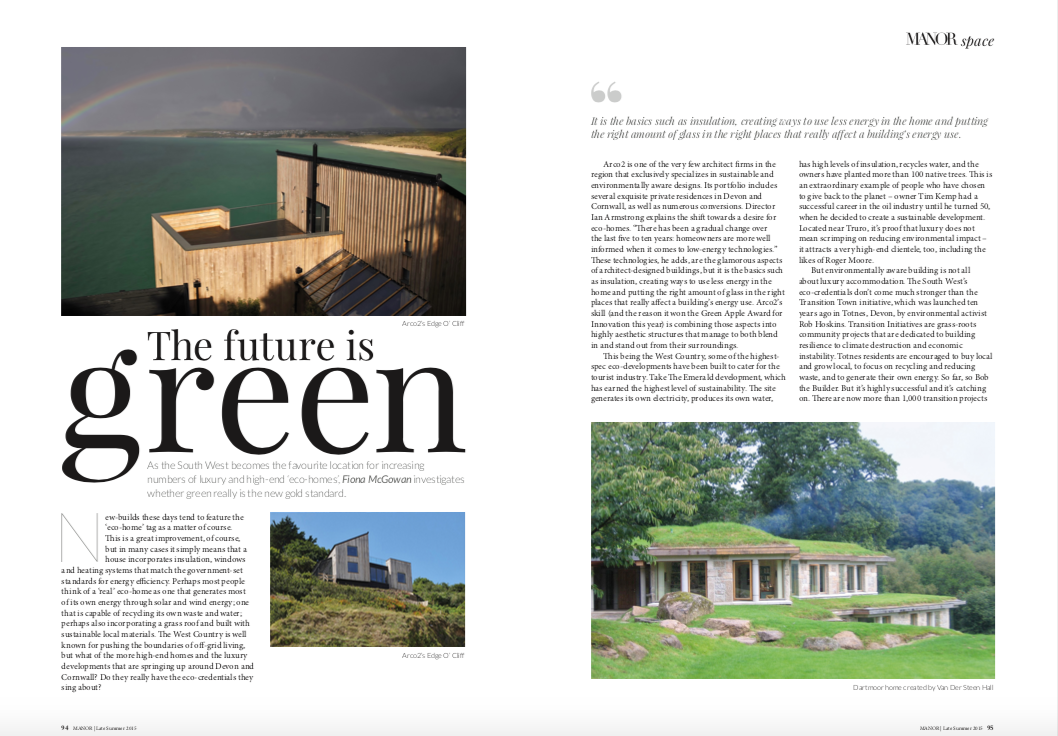 New-builds these days tend to feature the 'eco-home' tag as a matter of course. This is a great improvement, of course, but in many cases it simply means that a house incorporates insulation, windows and heating systems that match the government-set standards for energy efficiency. Perhaps most people think of a 'real' eco-home as one that generates most of its own energy through solar and wind energy; one that is capable of recycling its own waste and water; perhaps also incorporating a grass roof and built with sustainable local materials. The West Country is well known for pushing the boundaries of off-grid living, but what of the more high-end homes and the luxury developments that are springing up around Devon and Cornwall? Do they really have the eco-credentials they sing about?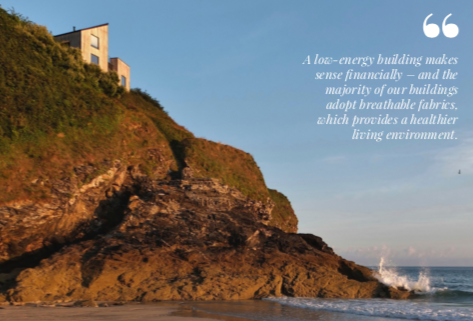 Arco2 is one of the very few architect firms in the region that exclusively specializes in sustainable and environmentally aware designs. Its portfolio includes several exquisite private residences in Devon and Cornwall, as well as numerous conversions. Director Ian Armstrong explains the shift towards a desire for eco-homes. "There has been a gradual change over the last five to ten years: homeowners are more well informed when it comes to low-energy technologies." These technologies, he adds, are the glamorous aspects of architect-designed buildings, but it is the basics such as insulation, creating ways to use less energy in the home and putting the right amount of glass in the right places that really affect a building's energy use. Arco2's skill (and the reason it won the Green Apple Award for Innovation this year) is combining those aspects into highly aesthetic structures that manage to both blend in and stand out from their surroundings.
This being the West Country, some of the highest- spec eco-developments have been built to cater for the tourist industry. Take The Emerald development, which has earned the highest level of sustainability. The site generates its own electricity, produces its own water, has high levels of insulation, recycles water, and the owners have planted more than 100 native trees. This is an extraordinary example of people who have chosen to give back to the planet – owner Tim Kemp had a successful career in the oil industry until he turned 50, when he decided to create a sustainable development. Located near Truro, it's proof that luxury does not mean scrimping on reducing environmental impact – it attracts a very high-end clientele, too, including the likes of Roger Moore.
But environmentally aware building is not all about luxury accommodation. The South West's eco-credentials don't come much stronger than the Transition Town initiative, which was launched ten years ago in Totnes, Devon, by environmental activist Rob Hoskins. Transition Initiatives are grass-roots community projects that are dedicated to building resilience to climate destruction and economic instability. Totnes residents are encouraged to buy local and grow local, to focus on recycling and reducing waste, and to generate their own energy. So far, so Bob the Builder. But it's highly successful and it's catching on. There are now more than 1,000 transition projects in over 40 countries around the world. Currently, the residents of Totnes are aiming to build 25 (admittedly rather ordinary-looking) affordable eco-homes on a site near Dartington village. The project hopes to recycle all of its own greywater and treat its own sewerage.
Community projects that focus on sustainability are springing up all over the region. Prince Charles House near St Austell in Cornwall provides environmentally friendly homes for the elderly – those who have a real tendency to get into fuel poverty. The green- friendly element is combined with a social-friendly layout, enabling those who are alone and possibly disabled to interact easily with their neighbours. Everyone's favourite shark-in-a-tank man is getting in on the act, too. Artist Damien Hirst is hoping to build an eco-community of 700 homes in Ilfracombe in Devon, although there has been a fair amount of local resistance – it will certainly increase the local population exponentially. It seems that the long-term benefits to the area have swung the local council in favour of the plans, however. Watch this space to see if Hirst and architect MRJ Rundell + Associates (who designed the White Cube Hoxton Square gallery in London) will succeed in gently transforming this patch of quiet Devon countryside.
Individual homes are littered (and usually well hidden, once completed and sold) throughout the secluded countryside and cliffs of the South West. In Cornwall, Arco2's Edge O' Cliff house overlooks a giant stretch of beach near St Ives. The house was built using natural materials, predominantly timber, most of which was locally sourced. The building is airtight and has
an A-rated EPC, which basically means it is extremely comfortable and energy efficient. It is naturally day-lit, so artificial lighting is less necessary, and has been designed to use as little water as possible. Nick Donaldson, architect at Arco2, explains a particular issue when it comes to designing houses with sea views. "On the north coast of Cornwall, there are spectacular views to the north and west, so there's always pressure to add lots of glass facing that direction. But for a highly insulated, low-energy building, that's bad news – it causes an overheating problem in the summer and heat loss in the winter: not good for comfort or energy use."
Nick points to the Tate Gallery in St Ives to show how amazing views can be captured without the energy loss: "There's a window in the Tate that faces Porthmeor beach to the north. It's a fairly small window, but gives the most spectacular picture-framed view of the sand, sea and sky – so much more powerful than a wall of glass could ever be. You can clearly see how this has influenced the design of Edge O' Cliff."
Another one of Arco2's projects is the Zero Carbon House in Cornwall, which benefits from passive solar heating (daylight warms a glazed core of the house, and the heat is then channelled and stored) as well as regular solar panels. It is built using 85% sustainably sourced timber and is super- insulated using lamb's wool (which is obviously fully sustainable and environmentally friendly).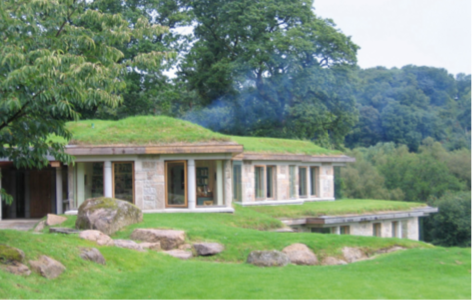 Tucked right into a green slope near Manaton on Dartmoor is a large four-bedroom house designed by Devon architects Van Der Steen Hall. It is an architectural gem with low environmental impact, which resulted in the architects winning the RIBA Arnold Sayers Housing Design Award. Not too far
away, in the tree-lined Teign Valley, Lyneham Coombe was marketed as a luxury eco-home and had a brief flirtation with fame when it was rented by rock band Muse. Architects Van Ellen Sheryn were given a brief to avoid copper and lead products, to incorporate the natural spring water in the grounds and to add a rainwater-harvesting system. The house is built from timber, and its open-plan crucifix frame maximizes the view out to the woody landscape surrounding it. While not completely green (there are no solar panels or any other obvious attempt to use renewables), this luxury home gives enough of a nod to the environment to make it a striking example of that gradual shift towards more eco-friendly new-builds.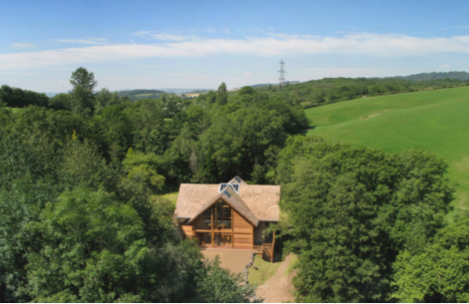 There's a practical drive behind all of this, too. As Ian Dickinson of Arco2 comments, "A low-energy building makes sense financially – and the majority of our buildings adopt breathable fabrics, which provide a healthier living environment." Many homeowners who are planning new-builds, he says, are also keen to support the local economy by using local materials and labour. As building regulations become more strict in focusing on energy efficiency, even developers are starting to get in on the act – particularly as environmentally friendly buzz-words are becoming powerful marketing tools. In spite of an apparently relentless growth in housing, it seems to be a hopeful time – and it is the luxury eco-homes that are blazing a trail into a greener future.
arco2.co.uk vanellensheryn.com vandersteenhall.co.uk