What's in a Gin?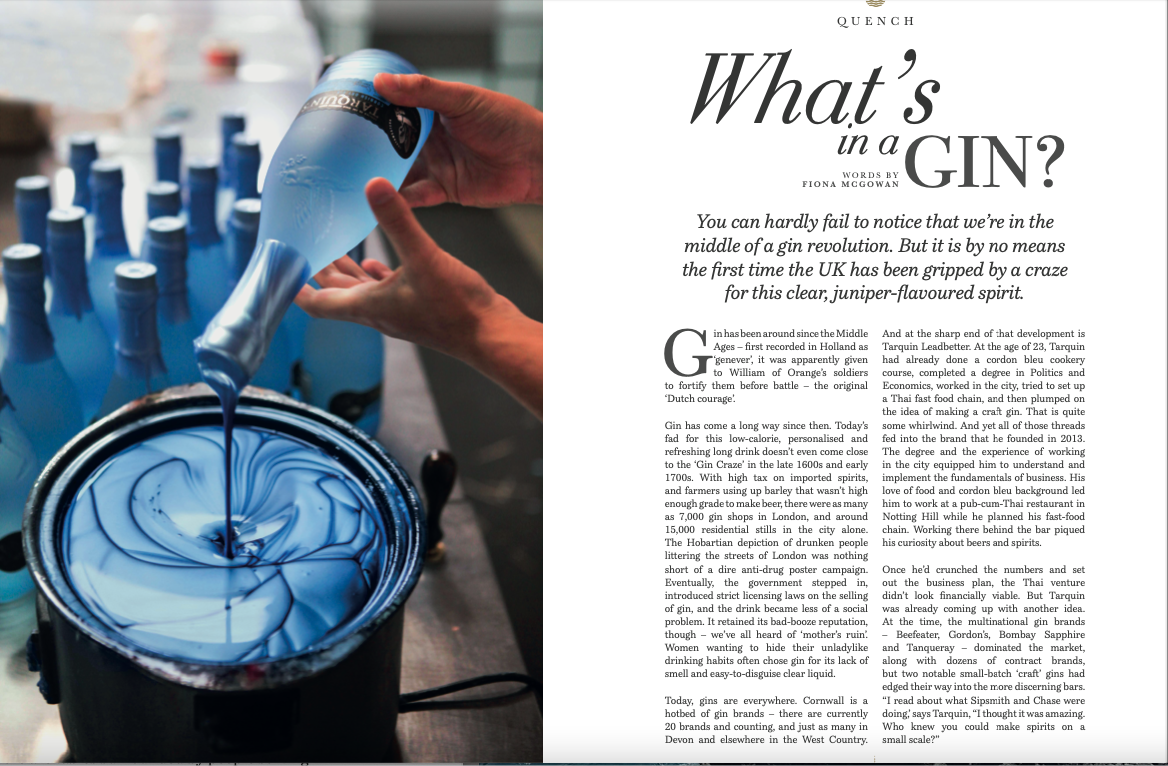 Gin has been around since the Middle Ages – first recorded in Holland as 'genever', it was apparently given to William of Orange's soldiers to fortify them before battle – the original 'Dutch courage'.
Gin has come a long way since then. Today's fad for this low-calorie, personalised and refreshing long drink doesn't even come close to the 'Gin Craze' in the late 1600s and early 1700s. With high tax on imported spirits, and farmers using up barley that wasn't high enough grade to make beer, there were as many as 7,000 gin shops in London, and around 15,000 residential stills in the city alone. 􏰈he 􏰇obar􏰅􏰆an dep􏰆c􏰅􏰆on o􏰉 dr􏰊n􏰋en people littering the streets of London was nothing short of a dire anti-drug poster campaign. Eventually, the government stepped in, introduced strict licensing laws on the selling of gin, and the drink became less of a social problem. It retained its bad-booze reputation, though – we've all heard of 'mother's ruin'. Women wanting to hide their unladylike drinking habits often chose gin for its lack of smell and easy-to-disguise clear liquid.
Today, gins are everywhere. Cornwall is a hotbed of gin brands – there are currently 20 brands and counting, and just as many in Devon and elsewhere in the West Country.
And at the sharp end of that development is Tarquin Leadbetter. At the age of 23, Tarquin had already done a cordon bleu cookery course, completed a degree in Politics and Economics, worked in the city, tried to set up a Thai fast food chain, and then plumped on the idea of making a craft gin. That is some whirlwind. And yet all of those threads fed into the brand that he founded in 2013. The degree and the experience of working in the city equipped him to understand and implement the fundamentals of business. His love of food and cordon bleu background led him to work at a pub-cum-Thai restaurant in Notting Hill while he planned his fast food chain. Working there behind the bar piqued his curiosity about beers and spirits.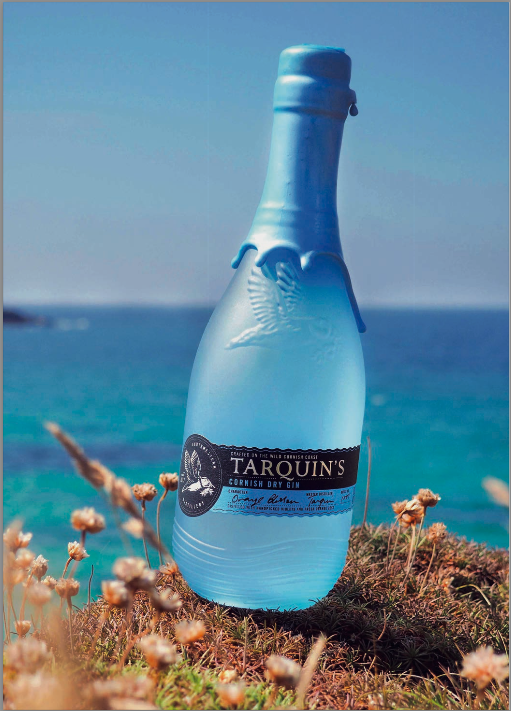 Once he'd crunched the numbers and set out the business plan, the Thai venture didn't look financially viable. But Tarquin was already coming up with another idea. At the time, the multinational gin brands – Beefeater, Gordon's, Bombay Sapphire and Tanqueray – dominated the market, along with dozens of contract brands, but two notable small-batch 'craft gins' had edged their way into the more discerning bars. 'I read about what Sipsmith and Chase were doing,' says Tarquin, "I thought it was amazing. Who knew you could make spirits on a small scale?"
Hailing from Devon, Tarquin hit on the idea of making a regional craft gin. "There are lots of regional craft beers and ciders," he knew, but no-one was applying that model to distilling gin.
Tarquin is an exceptionally driven young man. Once he had made the decision to make his own gin, he spent months developing his palate. Distilling bottle after bottle of gin with each of the classic botanicals on his kitchen stove, he taught himself to recognise the subtle, individual flavours of juniper, cardamom, citrus peel, almond, violet and numerous other herbs and spices. After tinkering and tasting, and tinkering some more, he came up with his ideal recipe. A recipe that is still only known by Tarquin himself. And then he focussed on his location.
With his older sister, he set up the Southwestern Distillery – initially just a rented industrial unit in the middle of some fields somewhere outside of Wadebridge inCornwall. "Coming here was a no-brainer," he admits. "There and then, I thought, what I want to do is move back to the West Country and make booze. I spent all my holidays in north Cornwall, and my grandparents had a house near here." It seemed pretty simple to a 23-year-old, with the insouciance of youth: "I could live by the sea, go surfing, not pay any rent and have low overheads... If I go bust, I go bust." He looks around the small space that has now been turned into a dedicated visitor centre for Tarquin's Gin, "I rented this space for £300 a month. Did it all on a shoestring." A £50,000 inheritance, though, enabled to start up the business without needing a loan or being beholden to investors.
He bought the first of the quaint, wood-fired Portuguese copper stills. Three of them remain in the distillery: one in the visitor centre, and two in the larger space that now houses the production hub of the current distillery. They are seven-plus-foot high, pot bellied vessels, with pointy onion-shaped lids and thick copper pipes twisting out of them. "Originally, they came from North Africa," explains Tarquin, raising his voice to be heard over the sound of heavy machinery. We are leaning on the balustrade of a viewing platform that overlooks the busy factory floor. "The Portuguese farmers use them for their excess produce," he continues. "Whatever they pick, and they don't use, they'll ferment it and use it for local brandy."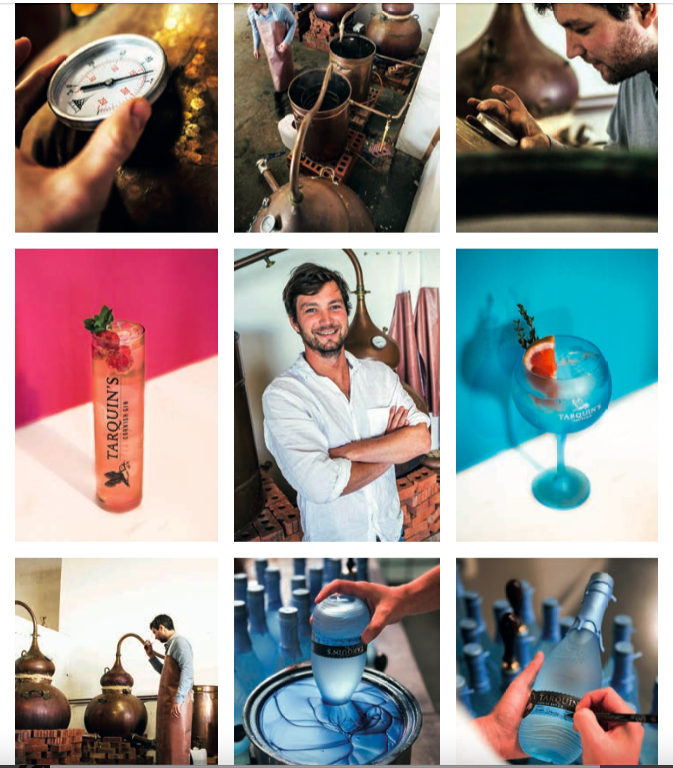 He elaborates that the flavour of the gin doesn't just come from the ingredients that are added, but by the very process of distillation. The slope of the arm (tube) as it hits the dispenser has an effect on the way the alcohol vapour condenses, and this affects the strength of the flavour. With the enthusiasm of an alchemist, he points out the big, shiny new copper still in the far corner. It's been specially made for Tarquin's in Italy – a high-tech version of the original stills. After a lot of trial and error, the new still has been programmed to perfectly mimic the results that were achieved in the older stills.
There are tables surrounded by people sorting out the bottles. They are part of a 38-strong team working for Southwestern Distillery. On one side are huge plastic crates containing the magic blend of ingredients, waiting for Tarquin to supervise the specific measurements of each flavouring.
In the quiet of the visitor centre, he runs through the complex combination of botanicals. Visitors are invited to sift their hands through the herbs and spices contained in 12 large jars; to crush the juniper berries (actually the kernels of the juniper's cone) to release their piney, resinous scent. There's angelica root, cardamom, coriander seeds, liqourice and the root of an iris (orus root). Each one has its own impact on the other. "It's a bit like perfume," Tarquin says, "flavouring by distillation."
Part of the reason that gin is so popular is that it is easy to personalise, and it's not surrounded by any sort of snobbery either. Not only can you choose from a massive array of subtly different gins, but there are now flavoured gins – from rhubarb to raspberry and from hops to parma violets. Not to mention the selection of mixers – premium tonics with additional
flavours such as elderflower, angostoura bitters or rose. Tarquin has firmly embraced the new wave of gin production, but keeping ahead of the game is vital: especially as the marketplace is becoming increasingly crowded.
The base of gin is clear, pure ethanol. A 96.3% alcohol, it's a neutral grain spirit made from
barley, wheat or rye. "The idea of a London Dry style of gin is that you use alcohol as your blank canvas. You then add botanicals – which is any fruit, herb, plant or spice – in our unique recipe, you're infusing it into that base to create a gin whose flavour is predominantly flavoured with juniper berries."
Having created a gin that people loved was just the beginning. With any small-batch craft distiller or brewer, the biggest challenge is consistency. Unlike with mass-made products that can be churned out in precisely the same conditions in giant factories, small producers such as Southwestern Distillery have to deal with the tiniest of discrepancies. Tarquin – ever the adaptive businessman – decided to write unique batch character tasting notes for each batch. It's a clever marketingtool – justifying a slight difference by making it a USP. The bottles are all hand-dipped in wax for their distinctive melted candle look.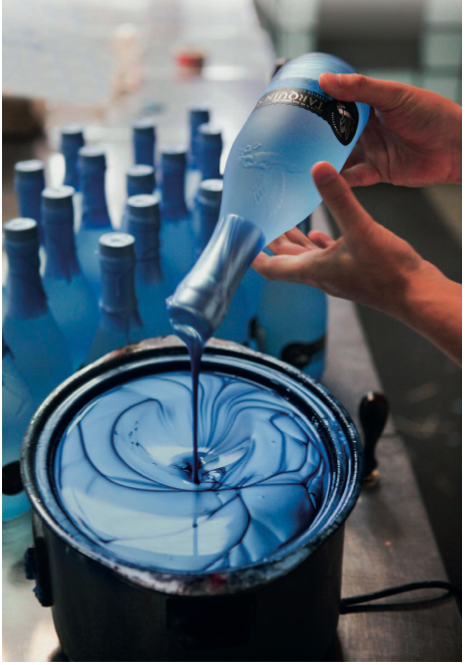 Visitors taking part in the tasting tour are invited to hand-dip their own bottle to take away with them. There is now a veritable gallery of varieties of Tarquin's Gin – the classic house gin, the international award-winning navy strength gin (yes – it is STRONG); there are special flavour collaborations with Tresco's Hell Bay, Rick Stein, Eden Project and Sharps
Brewery, and flavoured gins (blackberry and honey, rhubarb and raspberry or strawberry and lime) that have been produced so as maintain a 38% alcohol content – artfully avoiding slippage into the alcopoppy world of high-sugar gin liqueurs.
The business has grown organically since Tarquin sold the first load of bottles out of the back of his car to the Gurnard's
Head gastropub in west Cornwall. It's still not in any supermarkets, but it probably won't be long before it graces the shelves of Waitrose or M&S. The staff has been growing along with the brand – new employees bringing their knowledge from the likes of Bacardi and Bombay Sapphire to help expand the sales and business development. With his eye on building a family business to last well into the future, Tarquin has been smart enough to brand his business as a distillery, rather than a gin company. This means that, if gin does slip out of favour, he is positioned to branch out into other spirits. The next step, though, is for Tarquin to carve out more time for himself. He doesn't get out to surf as much as he used to, he says – and it's time to re-shape his business structure to help him to return to his original dream: live by the sea, make booze and go surfing.
tarquinsgin.com