Combating the Plastic Peril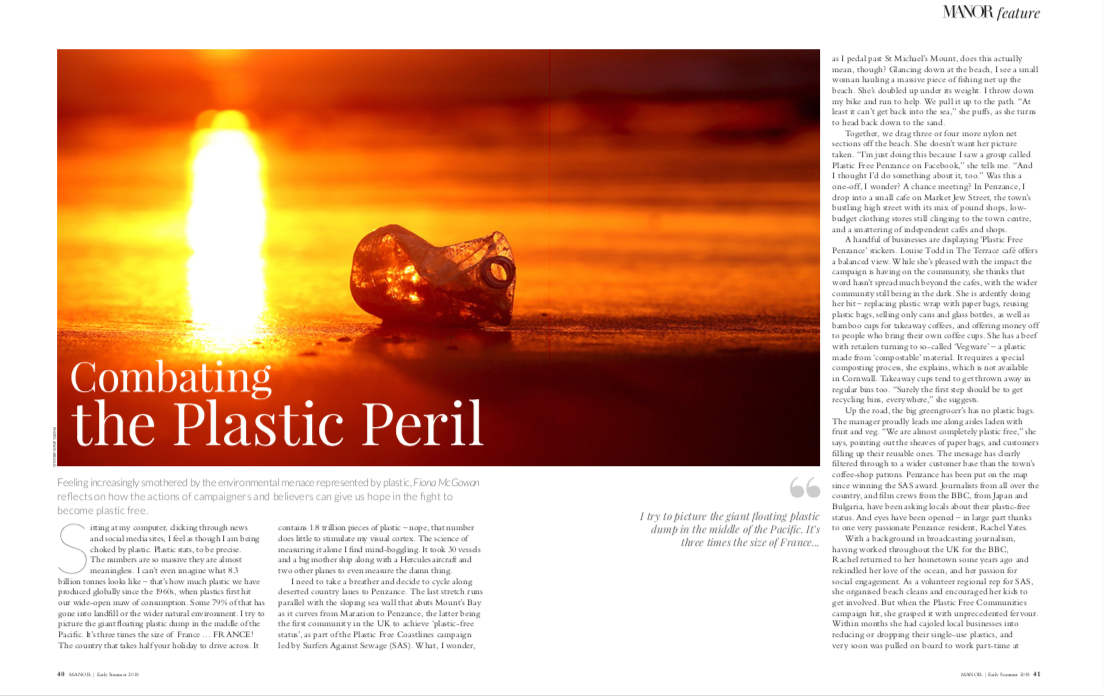 Sitting at my computer, clicking through news and social media sites, I feel as though I am being choked by plastic. Plastic stats, to be precise. The numbers are so massive they are almost meaningless. I can't even imagine what 8.3 billion tonnes looks like – that's how much plastic we have produced globally since the 1960s, when plastics first hit our wide-open maw of consumption. Some 79% of that has gone into landfill or the wider natural environment. I try to picture the giant floating plastic dump in the middle of the Pacific. It's three times the size of France ... FRANCE! The country that takes half your holiday to drive across. It contains 1.8 trillion pieces of plastic – nope, that number does little to stimulate my visual cortex. The science of measuring it alone I find mind-boggling. It took 30 vessels and a big mother ship along with a Hercules aircraft and two other planes to even measure the damn thing.
I need to take a breather and decide to cycle along deserted country lanes to Penzance. The last stretch runs parallel with the sloping sea wall that abuts Mount's Bay as it curves from Marazion to Penzance, the latter being the first community in the UK to achieve 'plastic-free status', as part of the Plastic Free Coastlines campaign led by Surfers Against Sewage (SAS). What, I wonder, as I pedal past St Michael's Mount, does this actually mean, though? Glancing down at the beach, I see a small woman hauling a massive piece of fishing net up the beach. She's doubled up under its weight. I throw down my bike and run to help. We pull it up to the path. "At least it can't get back into the sea," she puffs, as she turns to head back down to the sand.
Together, we drag three or four more nylon net sections off the beach. She doesn't want her picture taken. "I'm just doing this because I saw a group called Plastic Free Penzance on Facebook," she tells me. "And I thought I'd do something about it, too." Was this a one-off, I wonder? A chance meeting? In Penzance, I drop into a small cafe on Market Jew Street, the town's bustling high street with its mix of pound shops, low- budget clothing stores still clinging to the town centre, and a smattering of independent cafés and shops.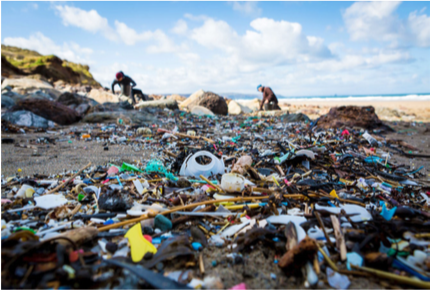 A handful of businesses are displaying 'Plastic Free Penzance' stickers. Louise Todd in The Terrace café offers a balanced view. While she's pleased with the impact the campaign is having on the community, she thinks that word hasn't spread much beyond the cafes, with the wider community still being in the dark. She is ardently doing her bit – replacing plastic wrap with paper bags, reusing plastic bags, selling only cans and glass bottles, as well as bamboo cups for takeaway coffees, and offering money off to people who bring their own coffee cups. She has a beef with retailers turning to so-called 'Vegware' – a plastic made from 'compostable' material. It requires a special composting process, she explains, which is not available in Cornwall. Takeaway cups tend to get thrown away in regular bins too. "Surely the first step should be to get recycling bins, everywhere," she suggests.
Up the road, the big greengrocer's has no plastic bags. The manager proudly leads me along aisles laden with fruit and veg. "We are almost completely plastic free," she says, pointing out the sheaves of paper bags, and customers filling up their reusable ones. The message has clearly filtered through to a wider customer base than the town's coffee-shop patrons. Penzance has been put on the map since winning the SAS award. Journalists from all over the country, and film crews from the BBC, from Japan and Bulgaria, have been asking locals about their plastic-free status. And eyes have been opened – in large part thanks to one very passionate Penzance resident, Rachel Yates.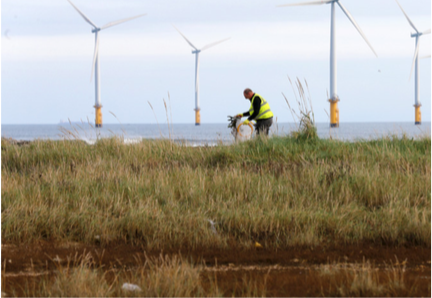 With a background in broadcasting journalism, having worked throughout the UK for the BBC, Rachel returned to her hometown some years ago and rekindled her love of the ocean, and her passion for social engagement. As a volunteer regional rep for SAS, she organised beach cleans and encouraged her kids to get involved. But when the Plastic Free Communities campaign hit, she grasped it with unprecedented fervour. Within months she had cajoled local businesses into reducing or dropping their single-use plastics, and very soon was pulled on board to work part-time at SAS's office near St Agnes. She's now mentoring other communities around the country who need advice and support in their aim to go plastic free.
In the few months that she's been working on the campaign, Rachel has been overwhelmed by the positive responses she's had – not just from the individuals who have signed up for plastic-free status, but from the hitherto- unheard-of collaboration in the town. The Chamber of Commerce, the local Business Improvement District, the Penwith District Tourism Association, the town council and a number of business mentors have all joined forces to ensure that everyone is committed to the programme. "There is a changing tide in Penzance, there's more of a can-do attitude," she says, "so we're looking closely at how we need to lead the way – how we can be more innovative."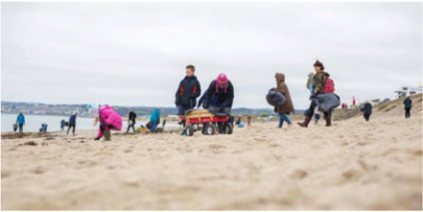 Working at the SAS HQ, she can now see how the Plastic Free Coastlines campaign has well and truly taken hold in communities around the country. It's in schools, businesses and local authorities, and the mantle has even been taken up inland on waterways and in the countryside. Rachel, like many others, attributes the sudden leap in interest to the 'Blue Planet effect', after David Attenborough's latest documentary powered its way into the public consciousness. SAS's plastic-free campaign tapped right into that newly awakened passion. "If we all decide not to buy bottled water any more, it's a small step to take, but it makes a massive impact on the amount of plastic in the environment," says Rachel. "I think that's why it's captured people's imaginations and their enthusiasm – it's something that's doable." The Blue Planet effect may arguably have altered behaviour at the highest levels, too, with both the government and the monarchy riding the anti-plastic wave. The Queen has banned single-use plastics from all her estates, and Michael Gove has recently announced a national deposit scheme for plastic bottles.
Surfers Against Sewage have been campaigning about plastics for donkey's years. CEO Hugo Tagholm knows that successful campaigns have to work on many platforms. While the regular beach cleans have a huge impact, they will not alter social behaviour. And although getting the word out in schools is vital – particularly for the 'trickle-up' method of children educating their parents – it can't change the behaviour of big retailers. "I always think of it as the tool kit approach," says Hugo. He speaks fast and with the punchiness of a consummate lobbyist. "We need education. We need business change. We need to create new products. We need people to consume in a different way. We need the legislation to drive all of that. So everyone's got their part to play."
He has been at the sharp end of marine conservation campaigning for 10 years now, and knows what an important role organisations like SAS have in influencing the government. "Let's look at the plastic bag charge," he says. "Surfers Against Sewage lobbied for that for two years before it came into being. It wasn't just behaviour change overnight. It wasn't just people deciding they didn't want plastic bags and taking reusable bags to the stores – it was legislation that did that. And that's reduced circulation of plastic bags by nine billion." Similarly, the microbead ban came in at legislative level. Like a great military campaign, the charge for change needs to come from all angles: from the alteration of individual behaviour, to a collective local community effort, and to a change in legislation. One will not happen without the other. Seat belt laws and smoking bans, Hugo reminds me, only came into being because people campaigned, and because government listened.
The Plastic Free Coastlines campaign is a very democratic process: just consider the woman dragging the nets off the beach, thanks to social media and a personal connection with the environment; the community leader who fired up a whole region with her stamina and drive; the chief exec of a surfy marine conservation charity; the members of parliament who actually listened to their constituents; and the lobbyists who are fighting for a better world.
I cycle back along the bay and see a handful of dog walkers. At least three of them are carrying large plastic bags and filling them with rubbish. I stop to talk to one woman. They are not part of an organised team, she tells me: "I just do it because I walk my dog here every day and I want to keep it clean. It's about caring for the environment you live in."