Cut from a Different Cloth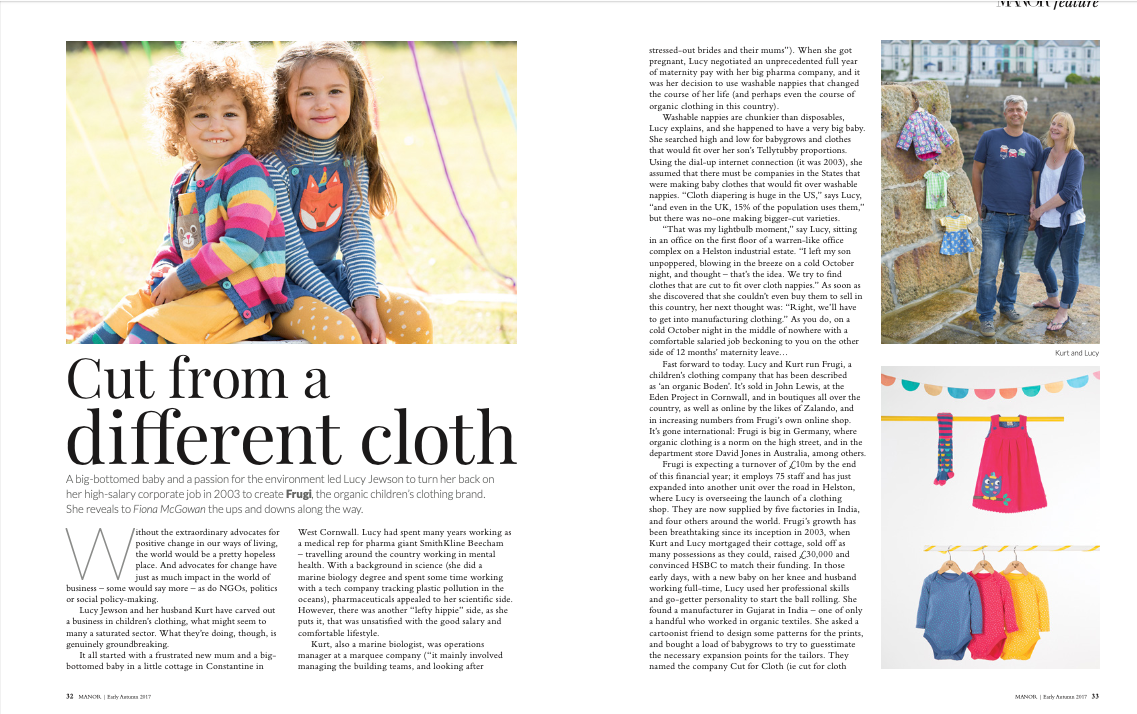 Without the extraordinary advocates for positive change in our ways of living, the world would be a pretty hopeless place. And advocates for change have just as much impact in the world of business – some would say more – as do NGOs, politics or social policy-making.
Lucy Jewson and her husband Kurt have carved out a business in children's clothing, what might seem to many a saturated sector. What they're doing, though, is genuinely groundbreaking.
It all started with a frustrated new mum and a big- bottomed baby in a little cottage in Constantine in West Cornwall. Lucy had spent many years working as a medical rep for pharma giant SmithKline Beecham – travelling around the country working in mental health. With a background in science (she did a marine biology degree and spent some time working with a tech company tracking plastic pollution in the oceans), pharmaceuticals appealed to her scientific side. However, there was another "lefty hippie" side, as she puts it, that was unsatisfied with the good salary and comfortable lifestyle.
Kurt, also a marine biologist, was operations manager at a marquee company ("it mainly involved managing the building teams, and looking after stressed-out brides and their mums"). When she got pregnant, Lucy negotiated an unprecedented full year of maternity pay with her big pharma company, and it was her decision to use washable nappies that changed the course of her life (and perhaps even the course of organic clothing in this country).
Washable nappies are chunkier than disposables, Lucy explains, and she happened to have a very big baby. She searched high and low for babygrows and clothes that would fit over her son's Tellytubby proportions. Using the dial-up internet connection (it was 2003), she assumed that there must be companies in the States that were making baby clothes that would fit over washable nappies. "Cloth diapering is huge in the US," says Lucy, "and even in the UK, 15% of the population uses them," but there was no-one making bigger-cut varieties.
"That was my lightbulb moment," say Lucy, sitting in an office on the first floor of a warren-like office complex on a Helston industrial estate. "I left my son unpoppered, blowing in the breeze on a cold October night, and thought – that's the idea. We try to find clothes that are cut to fit over cloth nappies." As soon as she discovered that she couldn't even buy them to sell in this country, her next thought was: "Right, we'll have to get into manufacturing clothing." As you do, on a cold October night in the middle of nowhere with a comfortable salaried job beckoning to you on the other side of 12 months' maternity leave...
Fast forward to today. Lucy and Kurt run Frugi, a children's clothing company that has been described as 'an organic Boden'. It's sold in John Lewis, at the Eden Project in Cornwall, and in boutiques all over the country, as well as online by the likes of Zalando, and in increasing numbers from Frugi's own online shop.


It's gone international: Frugi is big in Germany, where organic clothing is a norm on the high street, and in the department store David Jones in Australia, among others.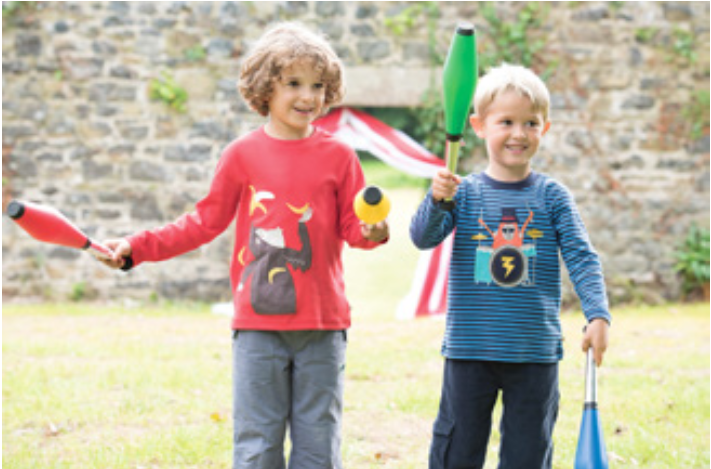 Frugi is expecting a turnover of £10m by the end of this financial year; it employs 75 staff and has just expanded into another unit over the road in Helston, where Lucy is overseeing the launch of a clothing shop. They are now supplied by five factories in India, and four others around the world. Frugi's growth has been breathtaking since its inception in 2003, when Kurt and Lucy mortgaged their cottage, sold off as many possessions as they could, raised £30,000 and convinced HSBC to match their funding. 
In those early days, with a new baby on her knee and husband working full-time, Lucy used her professional skills and go-getter personality to start the ball rolling. She found a manufacturer in Gujarat in India – one of only a handful who worked in organic textiles. She asked a cartoonist friend to design some patterns for the prints, and bought a load of babygrows to try to guesstimate the necessary expansion points for the tailors. They named the company Cut for Cloth (ie cut for cloth  nappies), and launched less than a year after her lightbulb moment.
The brand grew as fast as her toddler. Another baby arrived on the scene – Lucy and Kurt's second boy was born two years later – and they moved the business from their cottage to a converted barn on a nearby farm.The new baby was brought into the office and shunted between Lucy, Kurt and their friend and first employee Sy (who is still with the business today).
Lucy Jewson is clearly in possession of some outstanding determination, which is strongly linked to an ethical drive – a desire to change the world for the better. From growing up by the sea at Mullion on the Lizard Peninsula, to reading Let My People Go Surfing by Yvon Chouinard, the legendary founder of Patagonia clothing, Lucy's inspiration is born of a deep respect for the environment, but she is a sharp-minded realist, too.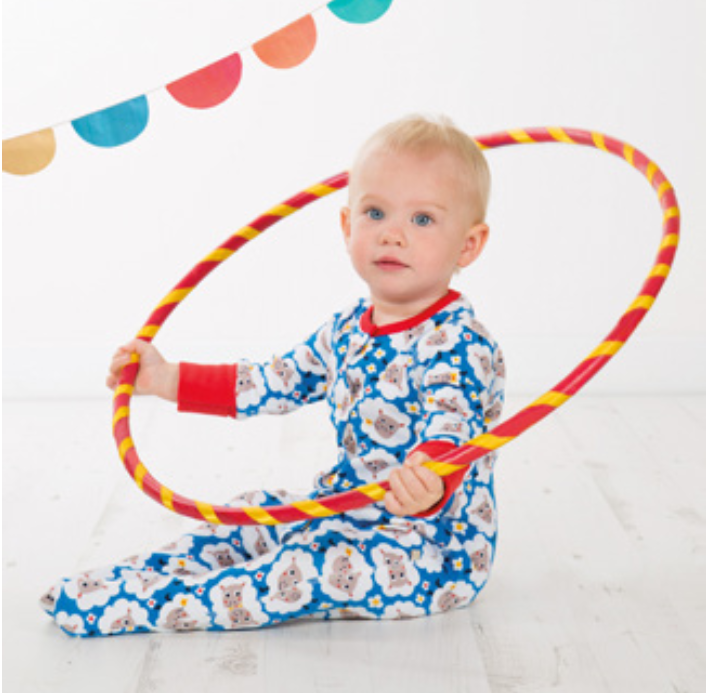 She knew that her clothing line had to be gorgeous, not just right-on: "Because people buy out of vanity," she says, "not out of ethics. No matter how ethical people are, they're never going to buy something just because of its ethical credentials." She and Kurt wanted to bring bright colours to the organic clothing market, and make clothes that children want to wear. Now, inspired by Patagonia, Frugi has also expanded into outerwear made from recycled plastic bottles.
Making a success of an organic clothing company is not the only positive change that Lucy, Kurt and their team are making. After reading Chouinard's book, Lucy was inspired to join his 1% for the Planet charity, where 1% of profits go to chosen environmental causes, and she recently set up the in-house initiative Little Clothes Big Change, in order to donate more to children's charities. In the last year, Frugi donated £80,000, including to Cornwall Wildlife Trust, Pump Aid, The Conservation Society, Anna's Hope (for children and young people with brain tumours), The Sick Children's Trust, and to an orphanage in Mumbai.
Lucy reckons that much of the success of the business comes from her willingness to take advice, and she's the ultimate networker, her sales background clearly helping her to connect with people who can offer counsel. 
She's also never been afraid to admit her ignorance: from the very beginning, when she phoned the supplier in India and told him she had no idea about manufacturing textiles ("he took pity on me and agreed to make our babygrows"), to asking for help from big businessmen such as Sir John Banham, Boden's CEO Julian Granville, and Eden's Tim Smit. She's hobnobbed with Richard Branson, Innocent Drinks' Richard Reed, and now has Ian Scott, a bigwig from Marks & Spencer and Mulberry, on her board of directors.
Life, of course, has its way of throwing curveballs. Nearly two years ago, Kurt Jewson was diagnosed with aggressive prostate cancer, with a very poor prognosis for survival. What followed was 18 months of hell,
with Kurt undergoing chemo and radiotherapy, and several weeks of being literally "at death's door" after contracting septicaemia. 
It changed Lucy's outlook on everything. Since 2003, her life had been more than full-on. "It's tricky," she says, reflecting on the last 13 years, "because you do have to give everything your all. I started the business thinking I'd have that work-life balance. But, actually, if you're really going to go for something and do it properly, it isn't a work-life balance at all."
She sits back in her chair and takes a deep breath. Eight or nine months ago, she tells me, she was literally just about holding it together. But recently, they were told that Kurt was in remission and he was taken off hormone therapy. Her relief is palpable. The episode has had a huge impact on the way she lives her life. 
"When something like this happens to you, it changes your attitude to life totally. It brings everything into Technicolor. It sounds like such a cliché, but I realise that I've made an awful lot of sacrifices to get this business to where it is. It has forced me to take more time," she adds, "to take more stock of what I want out of life. I'm taking an extra day off a week to spend with the kids and with Kurt. To live a little bit more."

Outside of their microcosm in Cornwall, Lucy has her eyes set on the rest of the world, and not just in the expansion of Frugi. As an environmentalist, she worries about the state of the polar ice caps, the prediction that in 10 years' time there'll be more plastics than fish in our oceans, and the fact that "we've just become these consumerist hoovers" – and, of course, the prevalence of super-cheap clothing with its inherent sweatshop evils within the supply chain. 
She's fearful that Brexit will destroy businesses that trade with European countries (not least Frugi, whose exports to Germany would collapse if there was an import tariff), and is looking at targeting the Asian market to remove dependency on European sales. From an ethical perspective, she's going to keep on keeping on. "We're making more of a difference today than we were 13 years ago, when we started," she says. "We can just do what we're doing and tell our story as much as we can, recruiting people along the way."