Force of Nature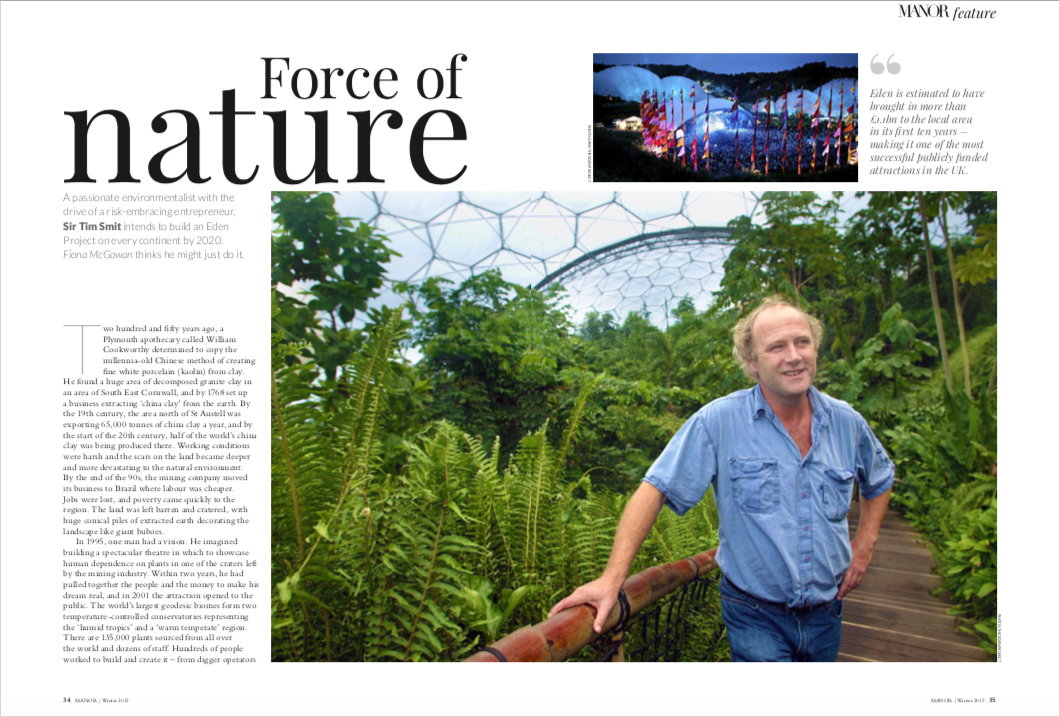 Two hundred and fifty years ago, a Plymouth apothecary called William Cookworthy determined to copy the millennia-old Chinese method of creating fine white porcelain (kaolin) from clay.
He found a huge area of decomposed granite clay in an area of South East Cornwall, and by 1768 set up a business extracting 'china clay' from the earth. By the 19th century, the area north of St Austell was exporting 65,000 tonnes of china clay a year, and by the start of the 20th century, half of the world's china clay was being produced there. Working conditions were harsh and the scars on the land became deeper and more devastating to the natural environment.
By the end of the 90s, the mining company moved its business to Brazil where labour was cheaper. Jobs were lost, and poverty came quickly to the region. The land was left barren and cratered, with huge conical piles of extracted earth decorating the landscape like giant buboes.
In 1995, one man had a vision. He imagined building a spectacular theatre in which to showcase human dependence on plants in one of the craters left by the mining industry. Within two years, he had pulled together the people and the money to make his dream real, and in 2001 the attraction opened to the public. The world's largest geodesic biomes form two temperature-controlled conservatories representing the 'humid tropics' and a 'warm temperate' region. There are 135,000 plants sourced from all over the world and dozens of staff. Hundreds of people worked to build and create it – from digger operators and specially trained 'roped-access' builders, who precariously stretched giant pieces of plastic across the frames of the biomes, to horticulturists, performers and artists. It is nothing short of miraculous that this happened with a starting budget of £3,000.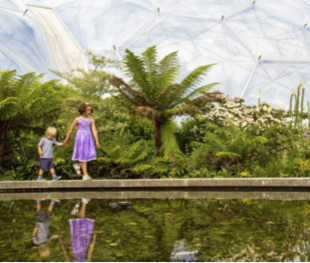 Tim Smit, the man behind the Eden Project, was awarded a CBE and made a Knight of the British Empire (KBE) and has been given countless honorary degrees and awards for his commitment and service to the community.
He is a man of almost as many facets as the giant geodesic domes of his brainchild. A mix of "very upper class English" and "blue-collar Dutch", Smit was educated at a private boarding school and co- owns a private school with his sister, yet is highly critical of England's education system. He studied Archaeology and Anthropology at Durham, yet is nothing short of scathing about higher education. His pronouncements about "middle-class fads", such as the love of all things organic, the prevalence of gardening shows and the "Chelsea and Hampton Court" shows, seem in stark contrast to the universal and lasting popularity of his earlier brainchild, The Lost Gardens of Heligan, as well as the Eden Project, both of which surely tap into the very 'middle-class' enthusiasm that he decries.
Most people are aware of the contradictions in our society, and the class structure that is so riven with ancient social chasms. I wanted to know if Tim had seen a shift in a way of thinking – perhaps a more general leaning towards concern for the environment and absorbing norms of eco sense into everyday life. I wasn't going to get a straight answer, but I did get a lot of fascinating philosophising. This is a man with a mission. It may not be a clear and direct one, but the ultimate goal is to build an educational Eden- style attraction on every continent on the planet by the time he's 65. He's now 61. This may seem like a Quixotic dream to those who don't know the man. But having met him and learned a little about his dynamic and unpredictable risk-taking attitude to achieving his goals, it's not so crazy.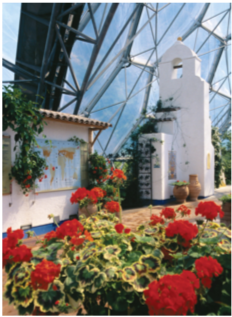 When drawn to discuss his roots, he baulks. "The trouble is, most men try to write their history backwards as if it made sense. Mine makes no sense." He describes a childhood spent playing outside in the walled garden of the family estate in Cheshire, discovering frogs and ladybirds, testing himself with perilous leaps from swings, and working out the physics of hitting a tin can with stones from different angles. "As children," he says, "we all thought like Eddie Izzard, didn't we? You know – 'I wonder what those moles are doing right now? Eating Special K cereal of course!'"
What Tim and Eddie Izzard seem to have in common is that they are still very much in touch with their internal child. Their streams of consciousness are at once brilliant and surreal. Smit's was obviously a childhood of play and imagination, although it's anyone's guess whether that was inhibited or encouraged at boarding school. Smit studied Archaeology and Anthropology at university "because I liked detective work. I liked the idea of finding things in the sands of Araby and all that." But it turned out to be nothing like his romanticised ideal: "It was prehistoric and it was muddy – freezing bloody days in Northumberland with a Gale Force 8 coming in from the East."
There's a fine line between humour and fury when Tim talks about his past – the anecdotes are well placed and probably oft-told (he is regularly asked to speak at events, and his book, Eden, is partly an epic tale of his erratic life path), but there is always a sort of pent-up crossness. Just as he claims to "loathe" the education system, he also "loathes" the music industry (he went from Durham into a rock band and thence became a successful producer in the "seedy" world of the 80s pop music industry), and yet the very pop music that he describes as "dull, confection, sugar candy" now fills the Eden Project stadium to packed audiences every summer during the hugely successful Eden Sessions.
Looking at Tim's apparently eclectic journey to founding the Eden Project, it is easy to see several constants. One is personal, passionate energy. Whether he's ranting about the music industry, talking about the bereavement of areas that have lost their industrial output ("there is a collective grief in Cornwall"), or discussing the future of horticulture and education in this country, the intensity of his engagement is awe-inspiring.
The other is an unshakeable passion for the environment which manifests in encouraging a sensible and realistic social engagement with protecting it. During a serendipitously rainy holiday to Cornwall, Tim and his then-wife bought a dilapidated farmhouse whose walls were stapled with fertiliser bags to keep out the damp from an encroaching pond. They sold their house in London within 48 hours ("It was the 80s, you could do that then") and spent the next two years renovating the farmhouse. Oh, and then there was the pot-bellied Vietnamese pig called Horace who liked to "warm his arse on the Rayburn" – whom he mated with a female called Doris – which then led (naturally) to Tim and his wife setting up a rare-breed farm. Like all entrepreneurs, Tim is a tremendous risk-taker, and revels in the stories of taking on improbable projects, then running out of money and having to make things work by sheer force of character and hard work. His charm has clearly enabled him to infect others with his enthusiasm: the derelict estate inherited by his friend John Nelson was hacked away by the two of them and various volunteers until it eventually became re-created as the working garden now called The Lost Gardens of Heligan.
The genesis of Eden is well documented – it was the combination of Tim Smit's drive, utter self-belief and the engagement of influential and passionate individuals that enabled the disused clay pit in one of the poorest areas of the UK to be transformed into the now-iconic visitor attraction. It has drawn more than 15 million people to the attraction itself, and it's estimated to have brought in more than £1.1bn to the local area in its first ten years – making it one of the most successful publicly funded attractions in the UK. By 2012, however, visitor numbers were falling – a combination of bad weather, drop-off in numbers visiting Cornwall and the country-wide recession meant that drastic measures had to be taken. In 2013, there was a major round of redundancies, and a change in management structure, which led to Tim stepping down from his Chief Executive role and moving into a new subsidiary: Eden Regeneration – focused on seeding new projects.
There could be little better for Tim's tirelessly creative mind than to be running such a business – you get the impression that he works best when envisioning gigantic projects from a shoestring budget: the resourcefulness required puts his charisma and motivational forcefulness into over-drive. After two years spent courting the Chinese, Tim and the Eden Regeneration team have signed a deal to build a huge structure with the same educational and environmental intent as the Eden Project, outside the city of Qingdao in China. It is a huge undertaking. The city is located in Eastern China and has nearly 9 million inhabitants. The area around it draws in more than 63 million visitors annually – mainly
for the expansive beaches and the horticultural shows at gigantic purpose-built venues. 
The Eden Regeneration concept, then, fits extremely well – even more so because, as Tim says, "Like every site we look at, it is poisoned. It is poisoned by salt and nitrates – they used to do salt panning and prawn breeding there." The site sits at the confluence of rivers and is surrounded by marshland. One of the principle aims of the project is to restore the marsh to its former beauty. A new city is being built nearby, which will house around 300,000 people. As Tim gives a rudimentary outline of the plans, the scale is breathtaking. It is hard to imagine the engineering feat that will incorporate a 'cloud forest' and enclosed weather systems like thunder and lightning. Unlike the Eden Project in Cornwall, the focus will mainly be on "the underground and the water worlds".
The western media often portrays China in a negative light. We hear about its appalling recent environmental history and the constraints put upon those who speak out against the government. However, Tim has a very different view. "I think China is just so exciting. It's just going to explode in a good way," he enthuses. "The Chinese say: 'We've developed rapidly, which has damaged our environment. But we had to make that push to take our people out of poverty, to get to a critical mass where as an economy we could be in charge of our fate. Now it's up to us to put a similar push into the environment.' And they really believe it. People of this generation talk to me all the time about it. And really senior people. It is the big obsession."
In a characteristic leap of logic, he goes on to say that the West Country should be building bridges with the Chinese. "If we could teach Mandarin to every youngster from age three to 18, I would do that. Because the Chinese could be our greatest friends, and the technologies that we have a competency in here are things that our friends in China will want. And in so doing, we could create an expertise in the West Country. We've already got mining and land remediation expertise in various companies here, as well as in the Camborne School of Mines. Exeter University has a lot of interest in that, as well as a huge amount of interest in public health and environmental health, which is going to be the biggest single issue in China."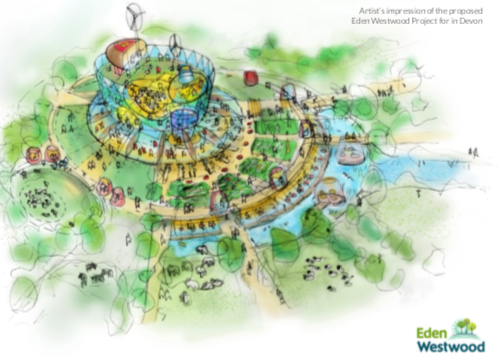 Running concurrently is another plan to build an attraction near Tiverton Parkway aimed a "celebrating the best of Devon". If the local council approves it, Eden Westwood will have at its heart an educational structure called The Ark, with a focus on a sustainable future, showcasing locally produced food and drink. Plans extend to creating an artificial surf lagoon, an exhibition centre, designer retail outlet, an agricultural education and innovation centre, and a farm shop with local produce and freshly made food.
It is thrilling to bear witness to this kind of thinking – both lateral and aspirational – and just as thrilling to think that there are people like Tim Smit who are capable of pushing these concepts forwards and actually succeeding. Where others might sit around the dinner table coming up with theories for how things could change, he gets out there and begins to engineer it all. An Eden Project in every continent by 2020? Watch this space.