Save Our Seas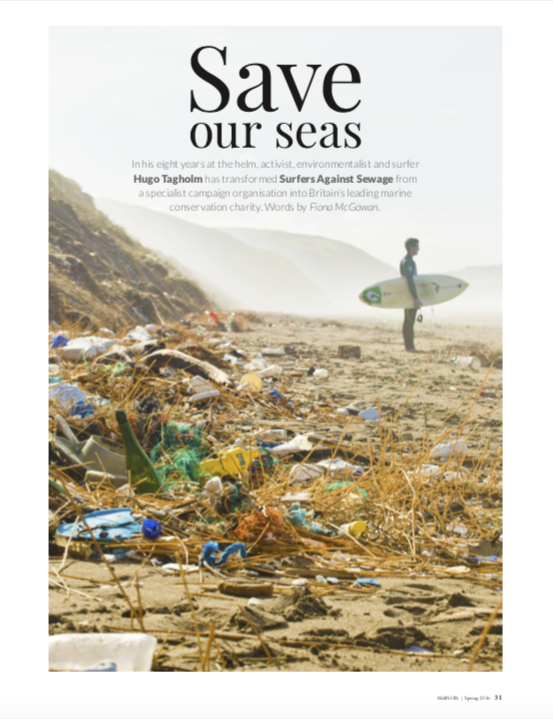 "When I was little, I used to go mudlarking on the Thames with my dad. We'd go looking for clay pipes and other things that the dockers used to chuck overboard in the pre-developed Docklands. A lot more inert than the plastics and dangerous things that are washed up today." Hugo Tagholm's journey from a childhood in Islington to being the boss of marine protection charity Surfers Against Sewage (SAS) is a trajectory that forms an almost perfect arc. Growing up, the middle brother of three boys, he was obsessed with nature: "My childhood memories are of these hot summer days – London days, which are always much stiller than down in the South West – in the pond at the end of our garden, catching anything I could find, and just being so passionate about the environment around me and how I could interact with it."
Holidays were spent on the beaches of Devon and Cornwall, trawling rockpools and streams, collecting shells and being immersed in the ocean. Surfing soon took hold, enhanced by visits to south west France's surfing meccas. Hugo is a man who has managed to marry his twin passions of surfing and the environment in one life-affirming job. And what a driving force he is – transforming a relatively specialist campaign organisation into Britain's leading marine conservation charity in his eight years at the helm.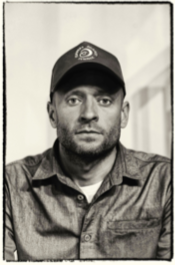 Recently, the beaches of Cornwall became littered with an influx of lurid pink bottles.
The contrast between the muted hues of a winter beach in stormy weather with thousands of day-glo magenta bottles has a surreal kind of beauty... if you can ignore the devastation that it represents. Within minutes of the first Facebook and Twitter images of the bottles, beach cleans were being organised by Surfers Against Sewage and local communities. Dog walkers were posting pictures of themselves mustering together and taking bag-loads of the Vanish bottles away. The community spirit, when it comes to local beaches, is strong and instantaneous. It is this passion, this connectedness with the ocean and the natural environment, that has helped to drive Hugo and Surfers Against Sewage from being a 'single-issue campaign group' when it was founded in the early 1990s to being recognised and emulated around the world for its innovative responses to marine pollution.
Clearly, it's not just about sewage any more; although the effluence that pollutes the waters of the UK continues – especially as sewage plants grow older and the coastal-dwelling population soars. There's a down-side to humans wanting a better, more natural lifestyle – they begin to overwhelm infrastructure that is simply not designed
to cope. It only takes a few days of rain, and the sewage warnings are up again: surfers and bathers alike being called off the beaches by lifeguards, as visible streams of brown effluence pour into the sea.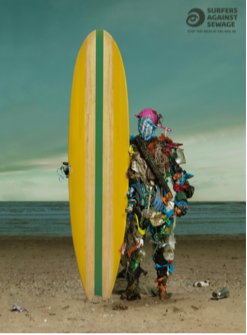 These days, SAS is just as focused on marine litter as it is on the untreated waste being 'accidentally' pumped into the water. Hugo moved to Cornwall eight years ago when he got the job as chief executive of Surfers Against Sewage. He had been working in the charity sector for his entire career. Having cut his teeth with Sarah Brown on her children's charity Piggy Bank Kids, he learned the machinations of government legislation, of lobbying and making voices heard in Parliament. Moving into environmental charities was a given, with his life-long passion for nature. This is a man whose biggest hero growing up was David Attenborough (with The Beatles collectively coming a close second). When he met Attenborough at a book signing recently, he admits he was completely star-struck (even more than when he met Paul McCartney when he created a
surf board design for SAS).
Hugo's energy, drive and motivational force leaves you breathless – he comes across as a person who thrives on challenges and pushes his way through the toughest setbacks with the determination and focus of a surfer on a giant wave. Like many heads of charities, he wears numerous hats and skitters between roles: from joining SAS beach cleans to organising conferences and liaising with celebrity ambassadors. Last summer, on Ocean Plastic Awareness Day, he hung out on Fistral Beach with Prince Charles. "He was genuinely engaged," says Hugo. "To be able to spend an hour with the future monarch was a great privilege. We brought together all the grassroots activists – Marine Conservation Society, National Trust, Keep Britain Tidy, Clean Cornwall – and then we did a briefing with lots of innovation around things like deposit schemes on plastic bottles and reverse vending machines and carpets made out of re-spun marine litter. Then I presented Prince Charles with a skateboard made out of marine litter. He said he would give it to his grandson for his birthday."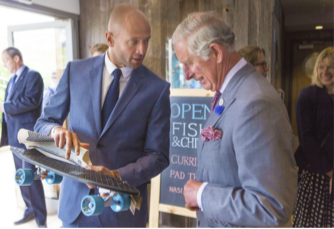 And he meets his surfing heroes all the time. Hugo reminisces about running up to famous big wave surfer Tom Curren on a beach in France, asking for his autograph. "Little did I think that, 30 years later, I would be bringing him down as one of the guests of honour and presenting him with the Global Wave Champion Award at Parliament for his contribution to setting up Surfrider Foundation Europe. That was quite a nice full-circle journey. Almost emotional, in that marking of time."
Despite its size, SAS really does pack a punch. "I came in with this vision and this experience, and I could see the organisation's got a great history," says Hugo. "But I was conscious of it needing to redefine itself. So we created lots of different programmes and charitable initiatives within SAS to drive that forward."
Look at any area of marine conservation or any programme set up to help improve the coastal environment, and the chances are that Surfers Against Sewage is involved. Planning and hosting the Global Wave Conference, being a central part of the Break the Bag Habit Coalition, which led to the 5p bag tax and an 80% reduction in the number of people using plastic bags across the country, or getting the likes of Tracey Emin, Damien Hirst and Paul McCartney to design surfboards to be auctioned off as a fundraiser – Hugo has been spearheading it all.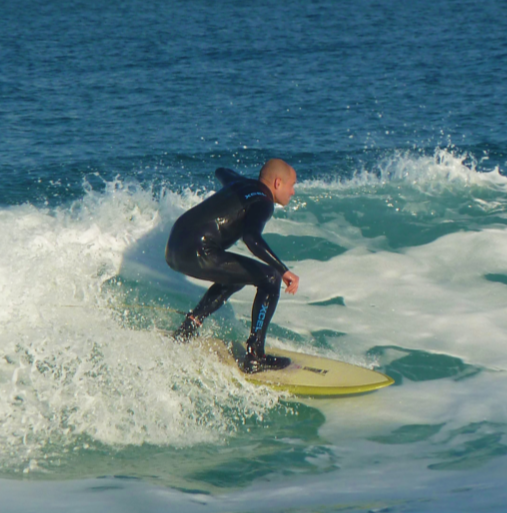 At the charity's HQ, perched on a clifftop overlooking the surfy beach of St Agnes, there are a mere 11 employees (seven more than when Hugo started back in 2008) – so how does SAS get its neoprene-clad fingers in so many pies? The vast majority of it comes down to community spirit. The organisation has 75 regional employees around the country, who mobilise a whopping 15,000 community volunteers annually for beach cleans, demonstrations and beach litter surveys. It has an enviable breakdown of spend, too: 84% of the money that comes in from fundraising, memberships and corporate sponsorship goes directly into protecting the UK's coastline.
As a father of an eight-year-old boy and a believer that the only way to stay positive is to make changes for future generations, education is something that is dear to Hugo's heart. This year, Surfers Against Sewage is teaming up with Clean Cornwall and The Eden Project to get the message into schools in the West Country that looking after the oceans and coastline is everyone's responsibility. "Our Seas for Life programme is about personal responsibility, what you can do in your household, about where the issue is going, about the solutions in a wider context," says Hugo.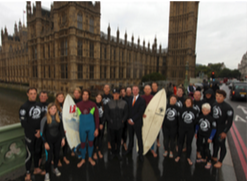 After the success with changing people's attitudes to single-use plastic bags, the charity's focus has turned to plastic drinks bottles. "They are one of the most prevalent finds on our beaches," explains Hugo. "They are used for seconds and they last for hundreds of years in the environment. Indeed, they then break down into smaller pieces and enter the food chain. So we're not only littering, but we're polluting our own food source, which is crazy." Of course, there's a plan of action to change all that, too. In Cornwall, SAS and St Austell Brewery will be trialling a scheme to get people to refill bottles: "We give out lots of metal bottles or plastic ones that are re-usable time and time again, without lots of the harmful chemicals in them, so we just encourage people to drink what is a great resource here. Clean tapwater, basically."
The amount of marine litter on the coastline of the UK has more than doubled in the last 15 years. It is a true crisis, and one that Hugo and his team are more than ready to face head-on, making changes from the higher echelons of Whitehall to the assembly halls of primary schools, and mobilising communities that care for the marine environment. It makes me wonder how much time Hugo gets to indulge in the very passion that drew him to this job in the first place. He smiles and spreads his hands philosophically. "While I'm a surfer and get in the water as much as possible, it's not part of my day job. My day job is running a really effective environmental charity and creating lots of opportunities to safeguard beaches and oceans for the future. That's my mission."
sas.org.uk